With some unique mobile-specific features, Apex Legends Mobile flawlessly mimics the enjoyable and compelling shooter experience of Apex Legends. It is safe to sum up that Apex Mobile is a surprisingly entertaining battle royale experience, bringing everything Apex Legends does on PC/console to mobile devices in a way that is sometimes even better than the original.
Apex Legends Mobile: Essentials
On May 17, Respawn released the eagerly anticipated Apex Legends Mobile for iOS and Android. Before this, the game had intensive beta testing and a soft launch in 10 locations.
Apex Legends Mobile is a free-to-play game similar to the PC and console versions, where you can choose from various heroes, each with their unique powers to fight your foes. Although Apex Legends Mobile is in the same genre as Fortnite, for instance, it feels very different from other titles because of these characters.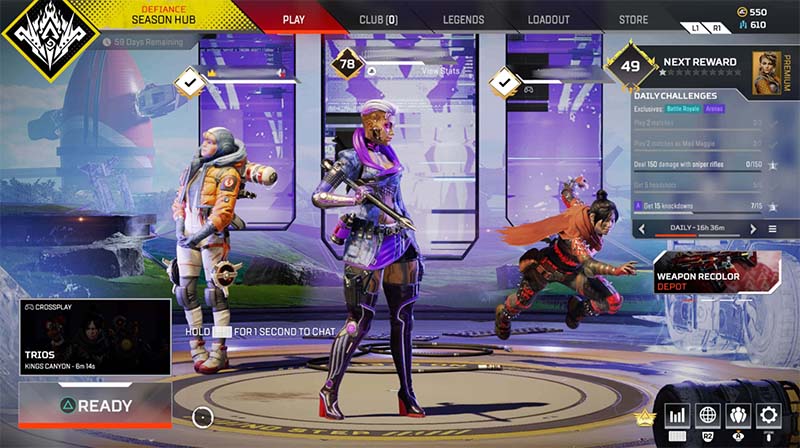 Gameplay
Apex Legends Mobile is one of the latest battle royale games for mobile devices adapted after the massive success of the title on other platforms. However, a vital keynote to the gameplay is that this title lacks cross-play and cross-progression with its brothers.
Instead, as it adapts the well-known gameplay to the new platform, Apex Legends Mobile is more akin to Call of Duty: Mobile, Diablo Immortal, League of Legends: Wild Rift, or PUBG Mobile. But, of course, you still drop into the large arena, scavenge for weapons, and compete to lead your group to the finish line in this first-person battle royale, so don't panic. Still, minor adjustments enhance the experience for mobile users.
To experience the game, you can freely switch between the standard first-person perspective and a new third-person perspective. The latter is beneficial when you cannot use headphones but want to observe where shots are coming from. Furthermore, you can also instruct the game to visualize sounds.
The touch controls of the game are a bit tricky. The UI is also overwhelmed and cluttered with the icons for executing various actions. However, you can still adjust to carry out all the necessary things to live.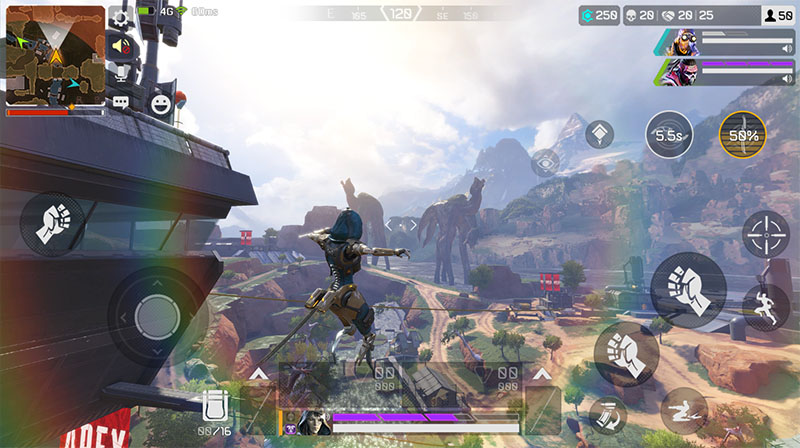 Overall, Apex Legends' gameplay is still enjoyable enough to get through this subpar encounter. It performs a great job of rewarding skill, has a superb gun feel that is undeniably derived from a great shooter heritage, and you won't have to worry about playing against people who use a keyboard and mouse, at least.
Game Atmosphere
Even though Apex Legends Mobile is a brand-new game, experienced gamers will immediately recognize its modes and features. Expect to advance more quickly as a faster tempo is required for the mobile experience.
One of the good features of Apex Mobile is that it automatically picks up loot and unlocks doors, so you don't have to keep moving your fingers all over the screen to move forward and around. However, it only detects the same sort of ammo that you are currently using; it does not simply gather up everything around you. Instead, when you equip a weapon, it will automatically fill the number of slots it requires in your inventory with ammo and healing supplies.
The battle royale game in Apex Mobile also includes team deathmatch, ranked battle royale, and occasionally unlocked limited-time modes. Team deathmatch has maps based on Kings Canyon and World's Edge. These maps were virtually unchanged from the PC/console versions, except for a few additional loot box possibilities scattered around the levels and minor tweaks to places of interest. Also, the maps feel just right for mobile and are incredibly exciting to explore.
Overall, the game atmosphere is quite pleasant to witness a mix of new and old POIs without noticing any quality changes in the map's locations or treasures. More significantly, you can enjoy battle royale encounters with larger matches lasting 20 to 25 minutes – a reasonable time for a game on a handheld device.
Artwork
We know how crucial it is to play a fast-paced FPS game like Apex Legends on a mobile device at the best frame rate possible. So respawn, and Tencent enhanced the mobile experience for iPhone and Android smartphones, giving players a wide range of graphic and frame rate options.
Five frame rates and six graphics quality levels are available from Apex Mobile. The game also suggests a suitable option based on your device's hardware. In addition, FPS counters may be shown in the game's HUD, which is one of Apex Mobile's most outstanding visual options. When you play the game with this option enabled, the in-game FPS and latency will be displayed at the top.
Currently, Apex Legends Mobile supports up to 80FPS max. Even on the lowest settings, though, you can clearly see objects on the ground, and the textures appear detailed.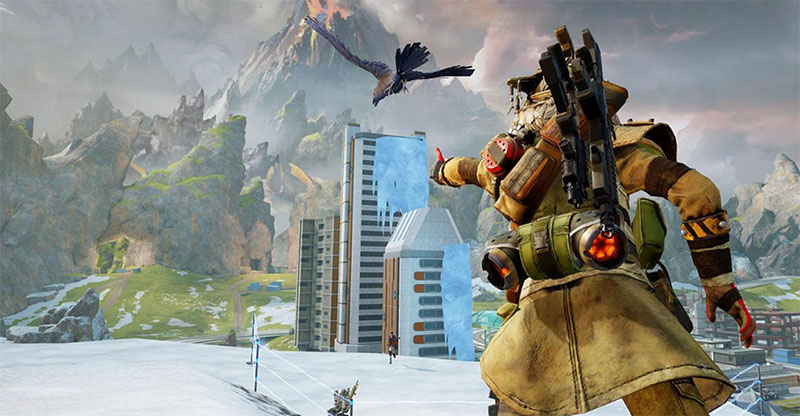 Tech Compatibility
Android
Android 6.0 or later, 3GB of RAM, 4GB of storage, and a Snapdragon 435, Hisilicon Kirin 650, Mediatek Helio P20, or Exynos 7420 CPU are requirements for Android players' devices.
iOS
iOS 11 or later, 2GB of RAM, 4GB of storage space, and an A9 CPU are requirements for iOS gamers.
Despite the low-end requirements, the game is pretty demanding in graphics and CPU powers. While testing the game on iOS and Android, the game lags in nearly every battle royale encounter, having such occurrences more often with the Android. In addition, the game occasionally slowed down in TDM and battle royale modes.
Thanks to Apex Legends Mobile's ability to change graphics settings, you can lower the graphics quality for better performance. Then again, expect to have the situation could be considerably worse on low-end devices, especially Android.
Apex Legends Mobile: F2P or P2P
Apex Legends Mobile is a free-to-play game. Of course, there are payable elements, but the game is perfectly balanced and allows you to progress smoothly on a F2P experience. That means you'll unlock cosmetics, including exclusive mobile cosmetics. You'll also unlock additional characters.
Review Summary
When looking for an entertaining and competitive game, turn to Apex Legends Mobile. It's thrilling and approachable all at once to team up with pals and experiment with different Legend ability combinations in search of that rewarding Champion win screen.
No match is ever the same as another, regardless of the mode or map. Further, the regular upgrades prevent the gunplay from getting monotonous and repetitive. You may easily find yourself waiting in line for "just one more game" for hours.
Download Apex Legends Mobile for:
Was this article helpful?