In today's digital age, finding a potential partner has become as easy as swiping right on your smartphone. Dating apps have revolutionized the way people meet and interact, providing a convenient platform for singles to connect with one another. Among the myriad of options available, Tinder, Bumble, and Hinge have emerged as three popular dating apps, each with its own unique features and approach to dating. In this article, we will compare these three apps to help you determine which one best fits your dating style.
Tinder: The Pioneer of Swiping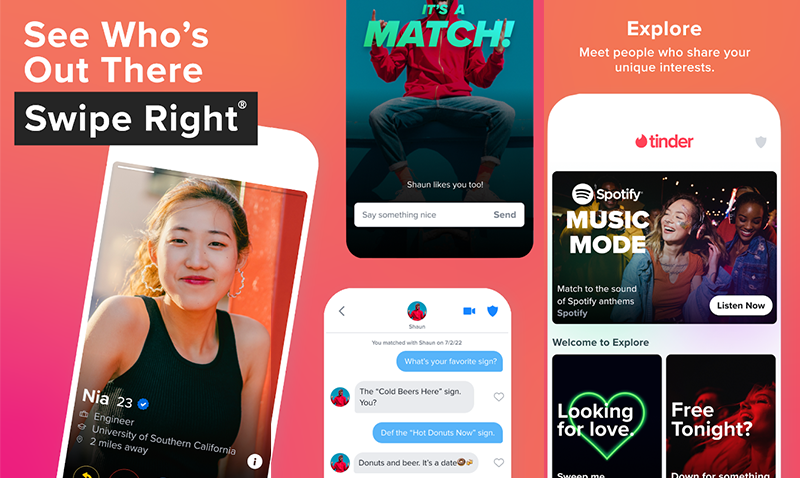 Download Tinder App for:
Tinder is undoubtedly the app that popularized the swipe-based dating culture. It offers a simple and user-friendly interface where users can swipe right if they're interested or swipe left to pass on a potential match. The app primarily focuses on physical appearance, with users typically making quick judgments based on profile pictures and a brief bio. Tinder is known for its casual approach to dating and has a large user base, making it ideal for those seeking a variety of options and a more casual dating experience. Tinder, launched in 2012, is a pioneering dating app known for its swipe-based interface. Users swipe right to express interest in a potential match and left to pass. With a large user base, Tinder offers a wide range of options for casual dating and relationships. Additional features like "Super Like" and paid subscriptions enhance the experience. However, the emphasis on appearance can make it challenging to find meaningful connections. Overall, Tinder remains popular due to its user-friendly interface and accessibility, making it a go-to choice for diverse dating experiences.
Bumble: Empowering Women and Promoting Equality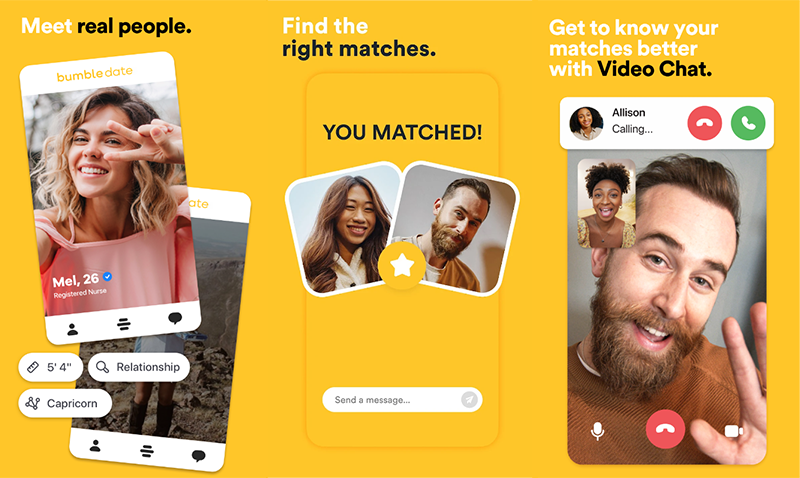 Download Bumble App for:
Bumble stands out from other dating apps by flipping traditional gender dynamics. On Bumble, women initiate the conversation, putting them in control of the dating process. Once a match is made, the woman has 24 hours to send a message, and the man has an additional 24 hours to respond. This approach helps to foster a more empowering and respectful environment for women. Bumble also offers a BFF mode for those looking for platonic friendships and a networking mode for professional connections. If you value female empowerment and want to be proactive in initiating conversations, Bumble may be the right choice for you.
With safety features and a user-friendly interface, Bumble creates a comfortable and inclusive online dating space. Its unique approach and focus on empowerment have contributed to its rising popularity. Whether you're seeking romance, friendships, or networking, Bumble offers an empowering and enjoyable experience.
Hinge: Building Meaningful Connections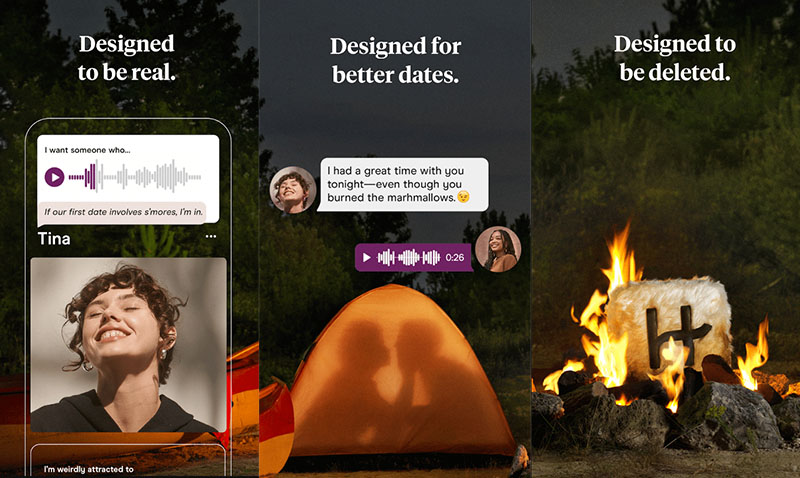 Download Hinge App for:
Hinge differentiates itself by focusing on building meaningful connections rather than casual encounters. The app encourages users to create detailed profiles that showcase their personality, interests, and preferences. Instead of solely relying on swipes, Hinge prompts users to like specific aspects of a person's profile, such as a photo or a response to a unique question. This approach helps spark more engaging and personalized conversations, making it ideal for those seeking deeper connections and long-term relationships.
Hinge is a popular dating app that focuses on building meaningful connections. It encourages users to create detailed profiles and prompts engaging conversations based on shared interests. Hinge aims to move beyond superficial judgments and attract individuals looking for deeper relationships. With its user-friendly interface and thoughtful features, Hinge offers a more intentional and engaging dating experience.
Which One Fits Your Dating Style?
Choosing the right dating app depends on your dating style and what you're looking for in a potential partner. If you're open to casual dating and enjoy the simplicity of swiping, Tinder may be a good fit. It offers a large user base and a wide range of options. On the other hand, if you value empowerment and want to take the lead in initiating conversations, Bumble provides a platform where women are in control. Finally, if you prioritize building meaningful connections and prefer a more personalized approach, Hinge offers a thoughtful and engaging dating experience.
It's worth noting that while these apps have distinct features, people's experiences may vary widely. Ultimately, the success of any dating app depends on your efforts in presenting yourself authentically, engaging in meaningful conversations, and being open to new possibilities.
In conclusion, Tinder, Bumble, and Hinge each cater to different dating styles and preferences. Whether you're seeking casual dating, empowering connections, or meaningful relationships, there's an app out there for you. Take the time to explore these platforms, experiment with different approaches, and see which one resonates with your dating style. Remember, the key to success lies in being true to yourself and being open to the exciting possibilities that the digital dating world has to offer.
Was this article helpful?