You have undoubtedly heard of this smartphone game that has rocketed to the top of the Play Store and App Store. If you are alive and not actually blind or deaf, that is. Still, even though the title headed both app stores, the game hit extreme lows on almost every platform for customer reviews, with people questioning the game developers' ethics.
We're talking about the video game Coin Master and why it creates such a swirl around the name while still attracting players.
The secret of the spin
In Coin Master, you supposedly use the money you win from playing slots to build a village. When you have sufficiently developed your town, you can enter the following one, which raises the worth of your awards. Additional social mechanics allow you to raid the "Coin Master" by unearthing hidden riches in their town. You can also assault other players' villages anytime to demolish their buildings; and win coins.
Other than that, there isn't much more, actually. Even adding card collections and pets, which bestows special bonuses on various game activities, does not significantly increase the game's complexity.
But the real deal is that the game's goal is not acquiring coins necessarily. Usually, your daily free spins net you at least a few hundred thousand coins, which is nearly enough to buy you a new structure. So instead, Coin Master ensnares you with its energy system, a relentless barrage of push notifications and in-game pop-ups, ongoing events, and the intricate features of its perpetually rotating one-armed bandit.
Got that real big energy?
The core of the entire game is the energy system.
Five free spins are awarded to you every hour, and you can bank up to 50 spins at once. That's plenty if you play casually, but not enough if you want to play for a long time.
As you advance through the game's early levels, you eventually gain access to the option to place your spins on auto-spin and multiply them up to three times. With a further 2x spin for good measure, your 50 spins swiftly reduce to 16 on the 3x multiplier. If you put that on auto-spin, you can finish in minutes, especially if no raids or attacks interrupt your session.
And when those spins are through, the barrage of in-game notifications starts.
When you run out of spins and choose not to check in using Facebook, you will receive up to four notifications, each with the matching message:
Log in for free spins, view this ad for another spin, and invite friends for more spins.
But, hey, if you know anything about the game, you would have had that coming. The game makers', Moon Active, YouTube videos for the game all have more dislikes than likes. That should tell people something different from the fact that the company accepts the saying that "No publicity is bad publicity" relatively straightforward, or not?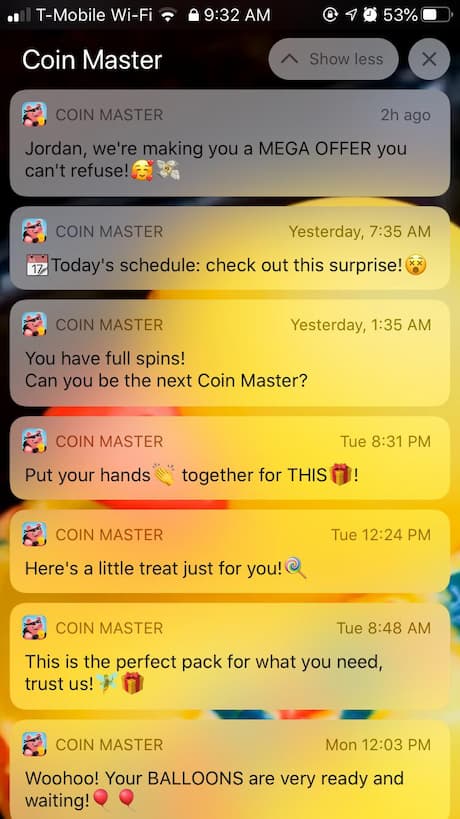 Why are people (still) playing Coin Master?
Coin Master is aware that players aren't necessarily playing for the money. The possibility to keep spinning and repeatedly experience the same modest endorphin high is what it's all about.
Even the slot machine is made to keep you coming back for more. You'll occasionally watch the wheels spin tantalizingly near a significant victory before halting early or, if lucky, landing on the exact correct image and the frequent stops to go off and raid a settlement. Even in auto-spin mode, such an effect is present.
Coin Master won't let you off the hook, even if you're trying to burn through your spins as rapidly as possible. You experience both highs and lows equally as a result. And through one of the continually added events, there's typically some metagame going on concurrently.
For example, while you're playing, balloons will float up; tap them to earn free spins. In addition, there could be free coins and spins if one of your pets is actively looking for treasure. Because some events are so generous, it's possible to play Coin Master for almost 30 minutes without spending a dime.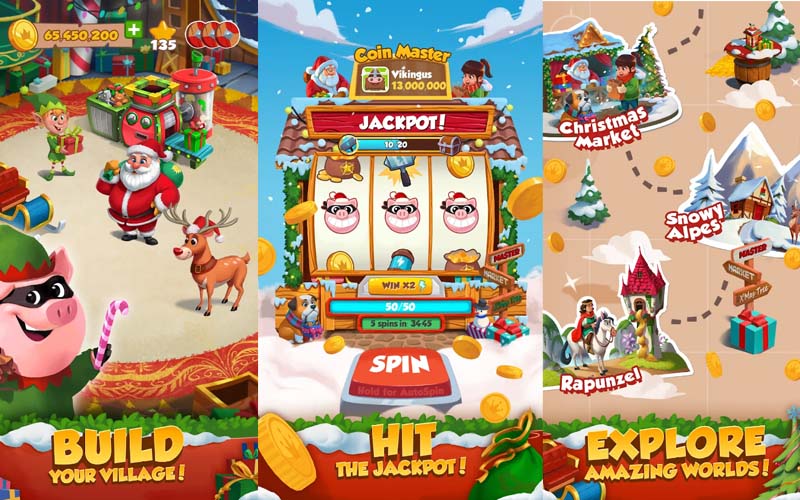 However, after you run out of spins, the rush of adrenaline from consistent wins doesn't just fade away. No matter what, you want to keep moving forward. Because of this, Coin Master continues to make a sizable profit. It's not about the social mechanics, the advancement, or even the possible coin showers – though they surely assist.
It's the sensation of spinning the wheel. As the last drum lands on your third pig, it makes tiny, gradual twists. Additionally, the barrage of notifications keeps you from playing right now. People have started and continue to play Coin Master because of this.
Download Coin Master for:
Was this article helpful?