While new gaming genres and styles have emerged, one genre that is evergreen and always enjoyable to play is the shooting game.
This list contains 8 free-to-play shooter games you can play on your Android device.
#1. "Call of Duty: Mobile" by Activision
Call of Duty: Mobile by Activision is a mobile shooter game that takes the standard Call of Duty franchise to your smartphone. This title features HD gaming similar to that found on PCs and consoles, as well as a set of simple and adaptable controls.
The game is divided into seasons, and with each new season, a new tale is constructed, and fresh content is made available to users. You may play PvP, Battle Royale, and exciting multiplayer modes like Domination, Kill-confirmed, and Team Deathmatch in Call of Duty: Mobile. You can also enjoy popular maps from previous CoD games, such as Raid, Shipment, and Standoff.
As you continue through the game, you will unlock and get access to weapons, costumes, operators, scorestreaks, and gear pieces, allowing you to freely customize your loadouts and play however you like. You can play in competitive rank mode, engage in both competitive and social play, or join a clan to build a sense of community. There are two types of in-game currency in Call of Duty: Mobile:
Credits: Credits are earned as you play the game, and COD points must be purchased with real money.
COD Points: Using COD points allows you access to special upgrades.
Prop Hunt, One Shot, Rapid Fire, Capture the Flag, Gun Game, Attack of the Undead, and Snipers Only are among the game's unique multiplayer modes. You can play in a two-person team or a four-person squad in the Battle Royale mode.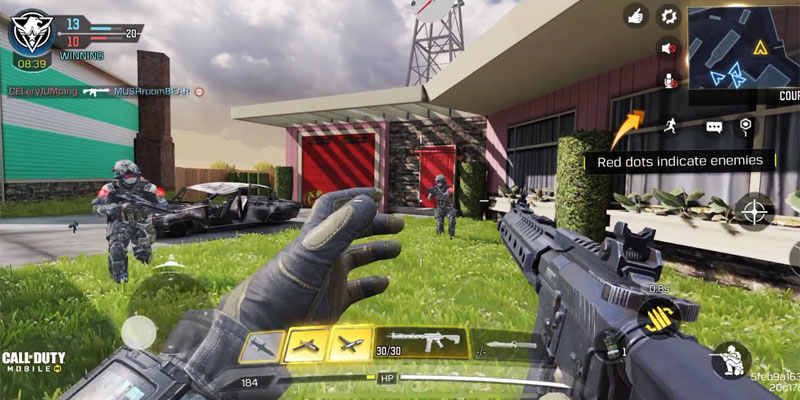 At the start of the game, each player selects a skill, and each team has a jump leader who picks where the team will land on the map. The map contains a variety of tools, vehicles, and supplies that each player can use to improve their team's chances of survival, but each player starts with only a knife. The Battle Royale mode can accommodate up to 100 players.
Call of Duty: Mobile's Battle Royale mode also contains restricted modes such as Battle Royale Alcatraz, Battle Royale Blackout, Battle Royale Blitz, 20v20 Warfare, and the Sniper Challenge. In the game's 2019 Zombies mode, players must gather supplies for survival while fending off hordes of zombies.
#2. "PUBG Mobile" by Tencent Games
Tencent Games' PUBG Mobile has become a household name in recent years because of its fantastic gameplay and graphics, which have also contributed to its skyrocketing popularity.
The game takes place on a massive island with a wide range of geological elements. After everyone has parachuted onto the map, a border appears, which gradually shrinks over the next five minutes. The phrase "safe zone" refers to the entire area within the boundary. If the player does not quickly return to the safe zone after leaving it, their health will begin to decline at a rate of one HP per second.
Furthermore, the game includes Red Zones, which can be encountered at random on the map. Users must immediately hide or escape Red Zones when they have been declared since they are about to be airstriked.
The map contains every weapon that a player is capable of utilizing. If players want to win the game, they must seek the best armament. Users in PUBG Mobile have access to a wide range of weapons, including flamethrowers, assault rifles, and SMGs. Unique packages in the game, including armament, can be located at random periods on the map. These sets feature a variety of primary and secondary weapons, protective apparel such as jackets and helmets, and first aid kits.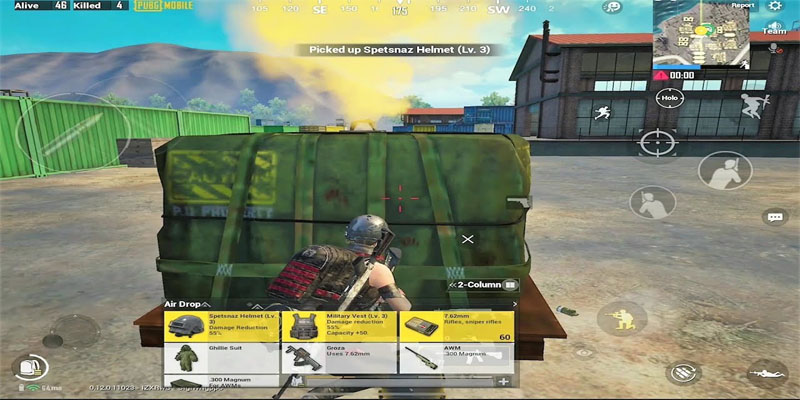 Players in PUBG Mobile can compete on a variety of maps, each with its own design. Users may also try out a variety of game modes, such as Payload, 4v4 Arena games, and Infection Mode.
#3. "Apex Legends Mobile" by Electronic Arts
Apex Legends Mobile, which was launched by Electronic Arts in 2022, is the next game on our list. Apex Legends Mobile, rather than being a mobile adaptation of the popular console and PC Battle Royale game, is an entirely new version of the game designed with mobile consumers in mind. Apex Legends' key selling point is its titular Legends, each of whom has specific skills that may be used in-game while competing with other players for survival on the map.
Apex Legends Mobile's central concept is the same as those of other battle royale games. After forming teams, players are dropped into a map area of their choice. Once on the ground, players can pick up any weapons they come across and use them for hunting down opponents until only one team remains at the end of the game.
For example, Bloodhound, one of the most well-known Legends, has the Tracker skill, which may be used to learn where other players are. Bloodhound's Eye of the Allfather ability helps them to see the clever traps their opponents have set for them. These skills indicate that Bloodhound is a Legend who specializes in attacking and pushing the attack. Users would be best served by selecting Legends whose gaming preferences correspond to their abilities, as this would result in more successful combat and a higher probability of survival in-game.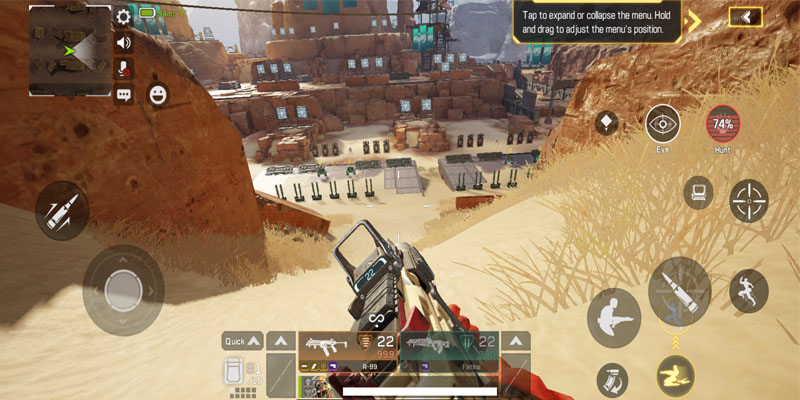 In addition to the Battle Royale mode, Apex Legends Mobile users have access to a variety of other game modes. Players can choose the weapons they want to use in the game before they spawn in both the "Team Deathmatch" mode and the "Quick Battle" mode, which is a condensed version of the original Battle Royale format. Once in the Team Deathmatch, the user must eliminate as many members of the other team as possible in order to attain a score cap. The game is won by the team that scores the most goals first.
Apex Legends Mobile contains a slew of exclusive content only available on mobile platforms, as well as a massive arsenal of weaponry and magnificent settings and arenas. The game includes a controller connection and a user interface that may be customized.
#4. "Free Fire MAX" by Garena International
Garena International's Free Fire MAX is a Battle Royale game that is part of the immensely famous Free Fire series. When the sequel game to Free Fire, Free Fire MAX, was published, many players were perplexed about the differences between the two games. In essence, Free Fire MAX is a complete graphic overhaul of the previous game, with higher visual effects, improved gameplay, and improved fighting.
The core components of both games are the same. Free Fire MAX, like PUBG or the Battle Royale mode in Call of Duty: Mobile, is a Battle Royale game in which 50 people launch on a specified map at the same time and participate in combat until only one person or squad remains. The game begins with a plane flying over the island that will serve as the map for the contest. The island is separated into various sections, each having its own distinct landscape characteristics, such as lakes, bridges, and other architectural features. There are numerous sorts of weapons and artillery available on the island's surface, including shotguns, handguns, automatic rifles, and snipers in Free Fire MAX.
You can also find explosives and safety jackets to extend your life and reduce damage from other players' firearms. You can either go looking for other players and kill them as you find them once you've found the weapons and artillery you'll need to slaughter foes and survive, or you can design a strategy to lure enemies to your hiding spot and kill them once they're in your line of sight. The island's diverse physical characteristics and architectural styles keep players on their toes and force them to adapt fast to any new situation.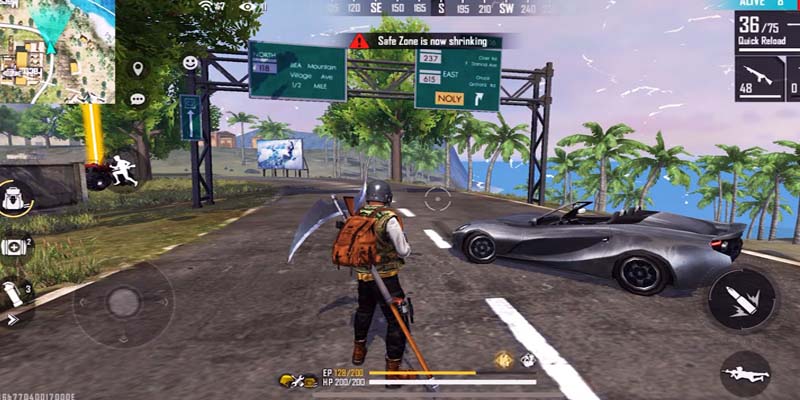 Players must grasp the need to adapt tactics to the demands of the game as well as the immediate threat offered by other players.
As previously stated, one of the fundamental changes introduced by Free Fire MAX is significantly better graphics. This also suggests that your device requires more significant storage space and higher system requirements for the game to perform correctly. As a result, if your phone is unable to handle the game's system requirements, using BlueStacks to play Free Fire MAX on a computer or laptop is a terrific alternative. Furthermore, playing on a laptop or computer allows you to have more precise and accurate control over your character's and weapons' movements, which are two essential needs for winning matches in Free Fire MAX.
#5. "Infinity Ops" by Azur Interactive Games
Azur Interactive's Infinity Ops is a cyberpunk shooter game. As the title suggests, Infinity Ops is set in a distant future in which humanity has discovered the mysteries of interplanetary travel and has thus met other species and advanced its own race to other planets. What follows is a long sequence of interplanetary skirmishes and warfare, and the user finds themselves in the game within this context.
Infinity Ops is organized into classes, with each user having the choice of choosing one of four classes: Recruit, Saboteur, Tank, or Assault. Each of these classes has its own set of advantages and disadvantages, as well as a distinct playstyle. So, in order to get the most out of the game and enjoy it the most, the user needs to learn about the different classes and select the one that best suits their playstyle. In the game, you can also form clans to locate other gamers to play Infinity Ops with. The game features fantastic PvP combat, with a diverse arsenal of weapons ranging from assault rifles and grenades to plasma rifles and laser machine guns. In the game, you may even unlock and use jetpacks to make your travel faster and more enjoyable.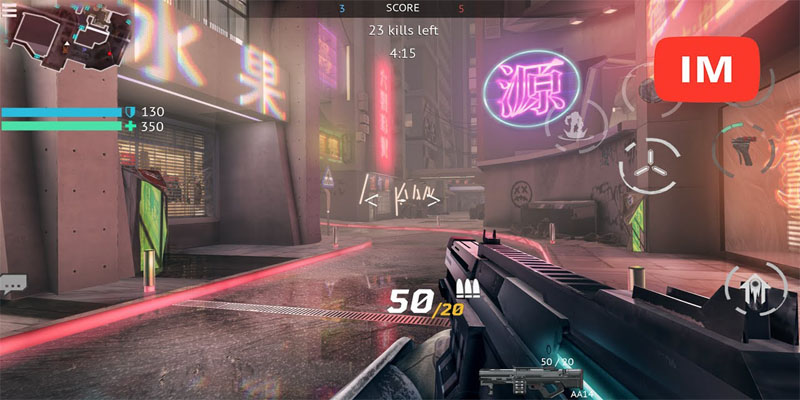 Users can check out four distinct game types in the game.
The first is Team Deathmatch, in which two teams compete to see who can score the most points in the shortest amount of time. The first team to reach the score threshold wins the match.
The second mode is called Deathmatch. While similar to Team Deathmatch, it's every man for himself in Deathmatch, and you must try to obtain the most significant score by the end of the round to win the match.
Hardcore is the next game mode. In Hardcore, every hit you receive or dish out does double the damage, drastically increasing the odds of players dying and necessitating strong strategy and a lot of experience to win these battles.
The final mode is Custom Game, in which you can make your own rules and invite your friends to join you in playing the game.
#6. "Dead Effect 2" by BadFly Interactive
Badfly Interactive's survival horror game Dead Effect 2 is set in space. Top scientists from Earth board the starship ESS Meridian to search for a new planet. Finally, these researchers abuse their talents and wind up producing terrifying monsters. These monsters are the result of a virus that spreads quickly and has no cure. The user, as the only survivor of this disaster, must now figure out how to protect the ESS Meridian while also defending themselves against the incapacitating sickness. Gunnar Davis, Kay Raynar, and Jane Frey are the three standard class character options, and each has a distinct fighting style. Gunnar Davis prefers heavy weaponry, while Kay Raynar prefers melee weapons, and Jane Frey prefers shotguns.
There are over 40 upgradeable weapons, 100 upgradeable gear sets, and 100 upgradeable body implants to choose from. Dead Effect 2 is a video game that predominantly combines horror and sci-fi adventure elements. There are zombies, drones, mutts, demons, and warriors in it. As you go through the game, a woman named Dannette, a brain-damaged mechanic named Minikin, and a scientist named Dr. Bielik will guide you toward objectives and assist you in acquiring skill-based points and physical enhancements.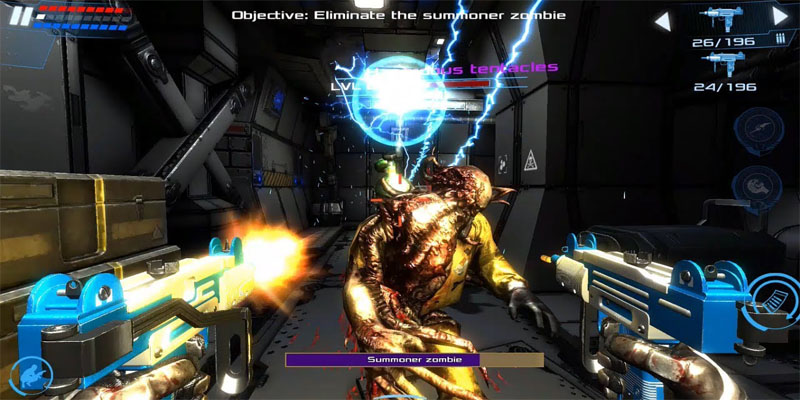 There are various story modes in Dead Effect 2, including Generic Missions, Biohazard Mode, Survival Mode, Infestation Mode, and Lone Wolf Missions. There's also a lot of gunplay. Each game mode presents a unique challenge. In Infestation, for example, you must actively engage the undead enemy troops in combat, whereas, in Survival Mode, your goal is simply to avoid being attacked by them. These story modes assist players in gaining more collecting credits for enhancements while keeping them engaged in the game and preventing repetition over time. You must solve relatively fundamental challenges on a regular basis in order to obtain ammunition.
The many spaceship-based segments in Dead Effect 2 include stunning visuals and believable aural effects. The content is engaging, the gameplay is captivating, and the soundtrack is terrific. The 20 action-packed story missions in Dead Effect 2 will keep you engaged.
#7. "Into the Dead 2" by PikPok
PikPok Games created and released Into The Dead 2 in 2017, a zombie-apocalypse survival game. It has been noted that Into The Dead 2's gameplay is excessively straightforward and that there aren't many gameplay options. Because there is no option to turn around, the user is compelled to move forward while wielding their weapon, evading zombies to the left and right while shooting them. However, the plot is intriguing and provides the gamer with a wealth of material to examine. Into The Dead 2 follows a man who must fight zombies in order to save his family and ensure their survival. Despite having a tired plot, Into The Dead 2 breathes new life into it with seven chapters and over sixty stages for players to accomplish.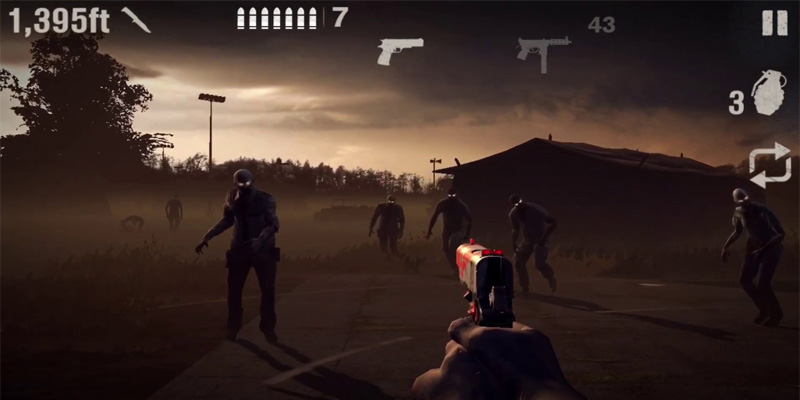 In Into The Dead 2, a survival game, you must conserve your ammunition and try to be as exact as possible because hordes of zombies will charge at you at breakneck speed. In the game, you can also recruit animal pals who will help you survive and fight the undead. There are numerous weapons available, and as you progress through the game, you can upgrade their potency.
If you want to attempt something other than the primary campaign mode, you can play a slew of minigames in Into The Dead 2. Because of its eerie and gloomy graphics and superb sound design, Into The Dead 2 is a fantastic game to play offline.
#8. "Unkilled" by Madfinger Games
Unkilled, produced by Madfinger Games, is the next game on our list of the best shooter games for Android. Unkilled, a zombie apocalypse survival game, is seen as a spiritual successor to Madfinger's Dead Trigger 2. In the first 10 days after its release in 2015, it was downloaded three million times. The game's plot revolves around Joe, a member of a WOLFPACK unit from a private military company entrusted with preventing the zombie apocalypse from spreading globally and killing billions of humans. Joe is dispatched to New York, where he must use his powers and any weapons at his disposal to combat zombies and save the city.
This game is considered the series' successor because it plays so similarly to the Dead Trigger series. Unkilled requires you to walk around and battle hordes of the undead until you fulfill your mission, despite the fact that you still need to kill waves of zombies attempting to capture you. This is not a strategy game in which you use various strategies to fulfill tasks. Despite this, there are some essential differences between Unkilled and the Dead Trigger series. The story mode of the game is the first and most important.
Unkilled has over 100 missions for you to complete, which means there is a lot of content and action for you to enjoy. Dead Trigger 2 has an adequate campaign mode with over 16 missions to finish. These levels are also not interchangeable. The missions in Unkilled may require you to find and save a human who has gone missing somewhere in New York or to destroy a target that is critical to stopping the zombie apocalypse, but the first level may just require you to eliminate all the zombies in front of you. The trigger is automatic, and the controls are simple to operate. This means that you don't have to aim and fire; simply point your rifle at the swarm of zombies, and it will begin firing on its own.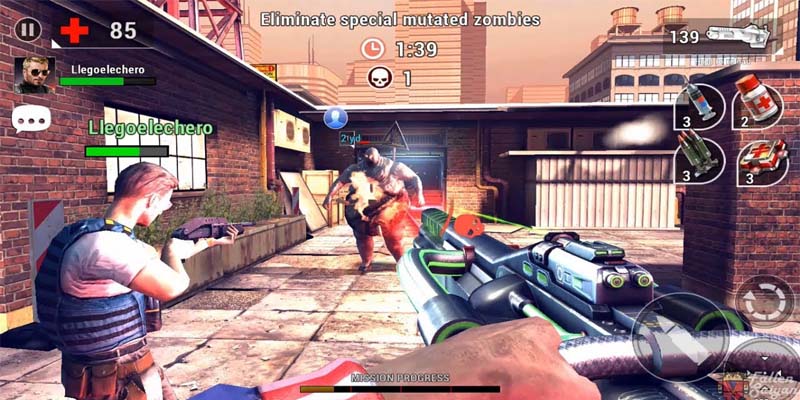 Unkilled's aesthetics are also outstanding, with a vibrantly colored atmosphere and distinct and occasionally humorous character designs. Even if the game's language isn't the best in the industry, Unkilled achieves its objectives and provides a good gaming experience.
Was this article helpful?