Earlier this year, Disney and Kabam announced that Disney Mirrorverse will become available for iOS and Android on June 23, 2022. As promised, the game appeared on both markets and only a month later climbed to be the third most popular RPG on the App Store.
Disney Mirrorverse: Essentials
Disney is renowned mainly for its characters that are suitable for families.
The released title, however, is expected to turn such assumptions upside down. As a result, what might have opened up a new universe for Disney is now merely the latest generic mobile game.
Disney Mirrorverse, created by Kabam, the mobile game studio behind Marvel: Contest of Champions and The Lord of the Rings: Legends of Middle-Earth, immerses players in a divergent version of the Disney universe where iconic figures like Mickey Mouse, Belle, and Maleficent have been transformed into more powerful fighter-style characters.
Gameplay
Disney Mirrorverse, which takes its lead from Kingdom Heart, combines modern and vintage Disney characters in a different setting. In this role-playing action game, heroes and villains coexist happily. But when Fractured foes start attacking, they must assemble a powerful group of Mirrorverse Guardians to defend their realm.
Any action RPG must have combat, and Disney Mirrorverse delivers an excellent combat experience. Ranged, Support, Melee, and Tank are the four categories each Guardian belongs to. Characters are retained true to their nature, which is a beautiful touch. For example, holding a frying pan, Rapunzel is a Melee Guardian, but Merida from Brave is a Ranged Guardian.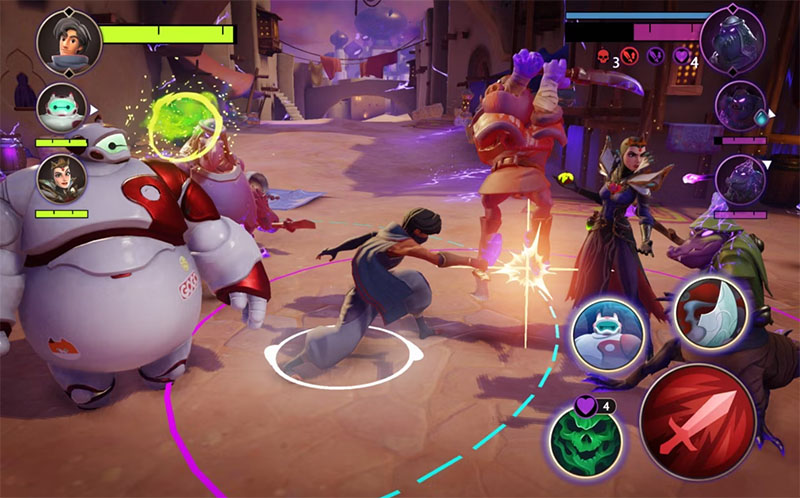 Players can only dispatch one hero into battle at a time at first. However, second and third team member positions will become available as the game progresses. The people you send out to fight don't really matter, but as the challenge rises, you'll want to mix up the Guardians on your squad to cover all your bases. Battles in Disney Mirrorverse last three rounds and are segmented into chapters.
Simple controls are used. Slide the virtual joystick to avoid, hit the special attack button to launch a devastating assault, and tap the primary attack button to deal with a regular attack. By clicking on the characters' images, you can easily switch which member of the squad you are in control of.
Overall, the controls are simple to use, and the battle looks impressive. Unfortunately, once you've witnessed one fight, you've seen them all. Although you can play with various champions with varying skills, every battle has the same basic structure. Simply keep pressing buttons, advance to the next stage, then keep pressing buttons (against a somewhat more powerful foe), and eventually, you'll get some goodies. Although the gaming cycle isn't the worst, I became tired of how straightforward it was after an hour.
Game Atmosphere
I've been a longtime fan of Kingdom Hearts for years, so entering the Disney Mirrorverse is a strangely familiar experience. The aesthetic might be compared to Square Enix's take of Disney's history, albeit with a few modifications to better match the multiverse setting where we face different versions of the most iconic characters.
The Mirrorverse gets most of its charm from this – the personalities. Because at its core, Mirrorverse is merely another half-baked role-playing game for iOS and Android that functions very similarly to Echoes of Mana. For instance, the imagination put into creating hard-boiled warrior versions of my childhood's most beloved heroes and villains ensures that Mirrorverse retains its appeal long after I've grown tired of how the adventure actually functions. Because there isn't much more to learn once I've mastered the game's core principles and mechanics.
Unfortunately, Mirrorverse's gameplay doesn't leave me with any enduring memories. Still, it has given Disney and Kabam the creative license to reimagine some of their most well-known characters to fit in more challenging action settings. Of course, that's a lot to aspire for from a business as established as Disney, but at least some of the foundation has been set with Mirrorverse.
Artwork
The most fascinating aspect of Disney Mirrorverse is how creatively beloved Disney characters are transformed into seasoned warriors. Each design incorporates elements from a specific character's backstory and uses those elements to provide unique character abilities.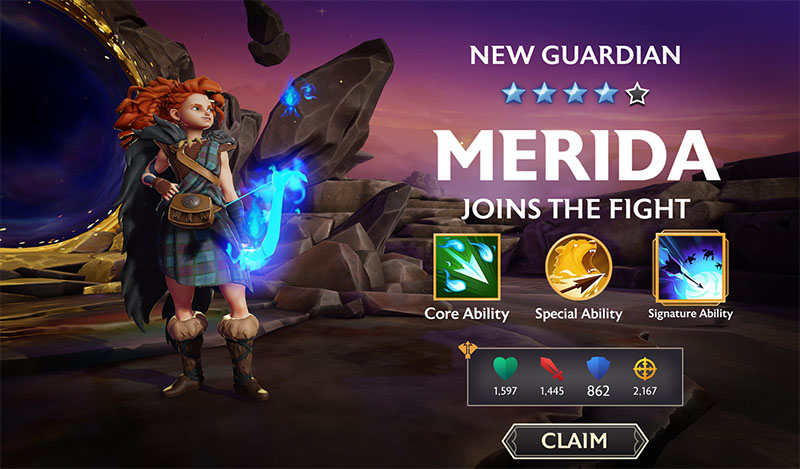 Well-known characters are successfully brought to screens in 3D form thanks to the excellent artwork.
The audio quality is also pleasantly surprising, with the orchestra, in particular, doing a remarkable job of evoking the sense of an epic quest against the evil powers of the Mirrorverse. Unfortunately, though the soundtrack's change is as minimal as during the game's action sequences, it also gets progressively more grating the more you play.
Tech Compatibility
Mirrorverse runs smoothly from a technical standpoint, and even while the frame rate occasionally drops when there are too many effects on the screen at once, it never becomes an issue. Additionally, relatively quick load speeds and optimized menus make it simple to get going right away at the beginning of a session.
You must adhere to the following OS requirements for the game to operate as intended:
Android
Minimum OS – 9.0 (sometimes referred to as Pie)
Minimum RAM – 2 GB
OpenGL 3.1 or better
Disney Mirrorverse: F2P or P2P
The pay-to-win tactics of Disney Mirrorverse suffocate the game's moments, which are nonetheless present. It delivers distinct, inventive, and brutal interpretations of your beloved Disney characters. Still, you spend more time getting through paywalls than taking out opponents, making it difficult not to feel frustrated. The spectacle of the conflicts and the variety of game types, though, might be redeeming qualities for some.
It is definitely a game you can play without spending a dime. However, It becomes increasingly evident that I'll likely have to spend more time than I'd want to grind in one of Mirrorverse's less alluring side quests as the game's complexity eventually catches up with me. If I don't want to do that, I can pay money to speed up the process. But even if I go the ground path, I still have to suffer from the tiny lightning-shaped cash needed to begin a task. If it runs out, I have to wait for it to recharge or replenish my energy bank with consumables, which can, of course, also be created by the fantastic powers of my wallet.
Review Summary
Disney Mirrorverse, a brand-new mobile RPG, provides players various game modes and options to keep them occupied. Still, it also employs aggressive sales tactics that force players to buy premium bundles and equipment even when they aren't essential.
Regarding gameplay, Disney Mirrorverse provides a breathtaking cinematic experience that entices you to unwind while watching your favorite characters' square battle. One of the top Android games for 2022 may be Kabam because of the developer's attention to detail and polish. You won't want to miss Disney Mirrorverse if you're a lover of Disney and Pixar, and character collecting/team building is your thing.
Download Disney Mirrorverse for:
Was this article helpful?