The option to play music from any music app while recording a video is helpful for any fledgling content creator and podcaster. However, you may have noticed that switching your iPhone's Camera app to Video mode instantly pauses playing music. This makes it hard to add music to your videos. But there is a simple way to record video while your music keeps playing.
In this article, we will show you how to capture a video while listening to music on your iPhone with no third-party apps.
How to Play Music and Record Video Simultaneously on Your iPhone
You won't need any music or camera apps for this trick to work, and you can replicate it in all iOS 14 and above versions with no third-party apps required. Instead, you need to start recording your videos in a slightly different way.
Here's what you need to do:
Select and play the song you want to hear in your video.
Open the Camera app and stay in the Photo mode.
Hold the shutter button at the bottom of the screen to start recording your video. Hold it down while you're shooting, or slide it to the right to lock it in video mode.
When you're done, release the shutter button or press it again.
You will save your video to your Camera Roll as usual, and when you play it back, your music will be in the background. For the best results, ensure your iPhone's speaker volume is turned up and you're not using headphones.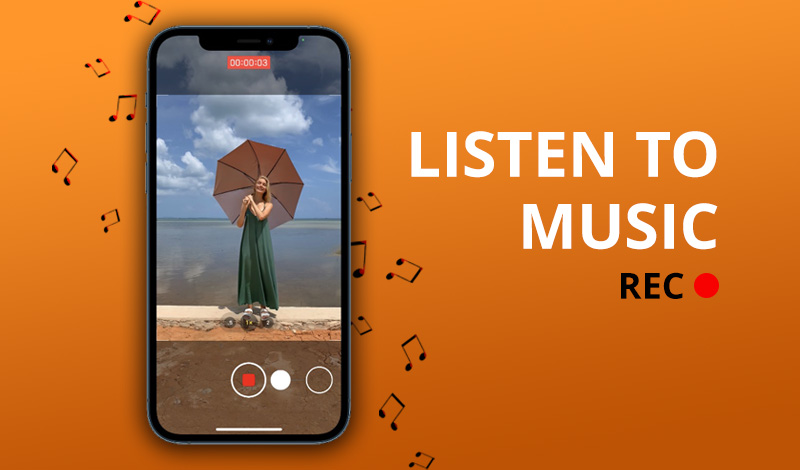 Screen Record Your iPhone While Playing Music
Your iPhone also has the ability to record your screen while playing music in the background. If you want to use this option instead, follow these instructions to activate the feature:
Click on Settings.
Click on Control Centre.
Make sure that the option for Screen Recording is turned on.
You can now record your iPhone's screen while it plays music. When you record your screen, a red icon will appear at the top of your screen. When you tap on this icon, the recording will stop and be saved in your Photos.
All done!
With these easy methods, you can easily incorporate music into any visual medium. The best aspect of this method is that it can be completed solely on your iPhone without using any additional devices or apps. If you have any questions, leave them in the comments section below.
Was this article helpful?