Did you know that with your Netflix subscription, you can play a surprisingly large variety of fantastic mobile games, like Dungeon Dwarves, Into The Breach, and Before Your Eyes?
However, a recent study shows that less than 1% of Netflix subscribers use the streaming service to play games. According to Apptopia analytics on this research, most Netflix subscribers simply aren't doing it. Frankly, while some people do not care about the games, others have no idea that these games exist in the first place. Let alone how to access them.
This simple tutorial will help you maximize the use of your Netflix subscription, including those video games.
How do you play games on Netflix?
You might not even be aware that Netflix has games if you solely use your TV to watch Netflix. Unfortunately, even on their mobile app, gaming is not exactly in the spotlight, justifying the statistics from above. Yet, here is a quick guide on accessing Netflix games on any iOS or Android device.
Start by downloading the Netflix app on your device. That could be any Android phone, tablet & iPhone, iPad, or iPod touch.
Open the app and scroll down to the Netflix Games section in the Netflix app.
Find a game you want to play by scrolling through the selection.
The Netflix Games page will open when you click the game tile.
When you click "Get Game," your preferred app store—either Google Play or the Apple app store—will open.
Click on the download button to begin downloading the specified game using this app store as usual.
The games will also be added to your home screen, barring any settings on your device that prevent it. Then again, you may find your chosen titles in the Netflix Games section of the app again.
It is important to note that you can access the corresponding app stores on iOS and Android and perform a straight search for Netflix Games there. You will be requested to log into Netflix before you can start watching if you are not already.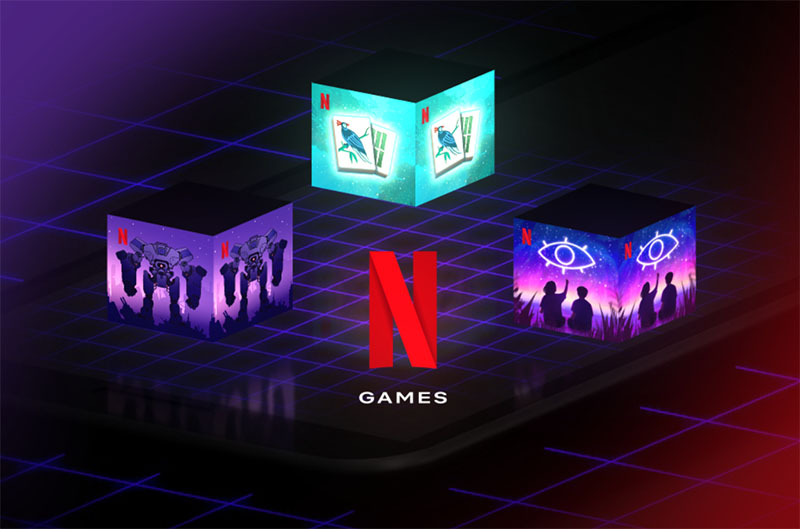 Netflix Games FAQ
How many games does Netflix have?
More than 30 mobile games are now available on Netflix's platform. The goal is to have 50 games available by the end of 2022, including both original creations and adaptations of the franchise's IP, such as the upcoming The Queen's Gambit chess simulator. Netflix is expanding in that direction and has already bought three independent game studios this year: Boss Fight Entertainment, Night School Studio, the developer of Oxenfree, and Next Games.
Do Netflix Games cost extra?
The best part is that using the Netflix gaming service doesn't cost you anything more if you already have a Netflix subscription. Your current membership is sufficient, and the games that are available for download in the app should be visible to you. No ads. No fees. No in-app purchases.
What games are on Netflix Games?
Included with your Netflix membership, you get access to over 25 exclusive mobile games. These titles fall under genres such as Action, Arcade, Card, Racing, RPG, Party and Puzzle, Simulation, Sports, Strategy, and Tabletop, with the following examples: Stranger Things 3: The Game, OXENFREE, Exploding Kittens, Asphalt Xtreme, Moonlighter, and even classics like Mahjong Solitaire, plus more.
Is Netflix Games available in your country?
On November 2, 2021, Netflix declared that it had expanded its gaming service to more than 190 nations, including the US and Canada. According to Netflix, its mobile games are accessible in various languages and default to the settings you've specified in your Netflix profile by default.
Why did Netflix add games?
The corporation has been releasing the games since last November as a way to keep customers interested between episodes of shows. Only subscribers have access to the games, which must be downloaded as separate apps.
Are Netflix games only on mobile?
Netflix launched its games for users of its iOS and Android app. You cannot play the games natively from a TV.
Does anyone play Netflix games?
According to research data, only 1% of all platform subscribers play any of the games. Still, with 221 million Netflix customers, that translates to an average of 1.7 million daily users and 23.3 million downloads in total.
Was this article helpful?