A gacha mechanism in the turn-based strategic RPG game Raid: Shadow Legends collects dozens of characters, or Champions, as they are known in the game. In its single-player version, the game offers a weak and predictable plot saved by a fantastic graphical display. A mix that is somewhat unusual for mobile games.
Raid Shadow Legends: Essentials
Raid Shadow Legends by Plarium Global LTD was made available on February 26. With headquarters in Herzliya, Israel, Plarium also has offices in the United States, the United Kingdom, Russia, and Ukraine.
They concentrate on creating social, web-based, and mobile entertainment, often with MMO roots. Before Raid Shadow Legends, they released games like Throne: Kingdom at War, Stormfall, Total Domination, Soldiers, Inc., Vikings: War of Clans, Terminator Genisys: Future War, and Sparta: War of Empires.
Prior to the release of Raid: Shadow Legends, titles like "Soldiers" and "Stormfall" had the most rapid growth rates and most lucrative commercial success throughout their respective years of release. However, beyond all predictions, Raid: Shadow Legends grew to become the biggest Plarium game, achieving more than 10 million downloads a year after its release. That makes it one of the top-grossing Gacha games on Google Play. And despite the aggressive marketing approach, to which many of the community reacted negatively when the game was released, its overall rating is steadily improving. 
The reason why the game's Metascore is constantly fluctuating is that the community has different opinions about it:
Those that play the game regularly give it a rating of 5.
In contrast, everyone else bothered by the continual ads on social media quickly gives it a rating of 1.
Because of the strong marketing for Raid Shadow Legends, some players have begun creating sarcastic memes about the game. In fact, one of the most searched terms related to the game is "raid shadow legends meme."
Gameplay
Raid Shadow Legends' gameplay is quite similar to those of other previous games of its type. A player is in charge of a group of four Champions, each equipped with at least two active skills. The playing order is determined by the character's pace. The players then choose which abilities will be deployed and when to use their advantages and foes' disadvantages in an attempt to win the battle.
Although there are many different PvE and PvP components in Raid Shadow Legends, victory in battle is ultimately what matters. Therefore, it is significant to note that as the player advances through the game, a certain amount of content will eventually become playable on auto-play. This essentially means that the player will reach a point where he doesn't need to do anything to win battles if they have the appropriate squad and enough power.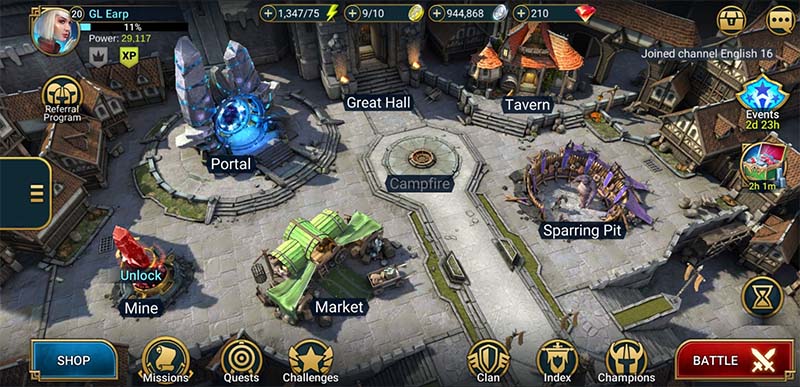 Four distinct ways of equipping and enhancing all Champions are available. That is their rank, level, talents, and ability, all of which have the potential to make a difference. And that is where Raid Shadow Legends is practically identical to some of the other Gachas. Still, it differs in one meaningful way, which is likely why it is more well-liked than those other games. It is the combined effect of the graphics with the game atmosphere they help to create.
Game Atmosphere
It's important to note that Raid Shadow Legends doesn't really add anything new to the Gacha mobile genre when discussing the ambiance.
Players must gather as many champions as possible and employ them in various game modes to receive multiple rewards, which helps enhance the collected roster.
When it comes to the Champions, most are only available through summoning, and summon chances are comparable to those in other games. This means that players depend on luck and cannot plan their growth. While some Champions can be acquired through events, Fusion, or daily logins, the final strength of your squad will ultimately depend on RNG, which can be highly upsetting.
It is crucial to note that there can be an infinite number of summons if you are prepared to spend enough money, which indicates that this is a pay-to-win game, plain and simple. Of course, more summons means more possibilities for receiving coveted Champions.
Artwork
Raid Shadow Legends has incredible graphics. In this game, all models look like Tolkien-based artwork, in contrast to the majority of popular Gachas, where all models are Anima-based.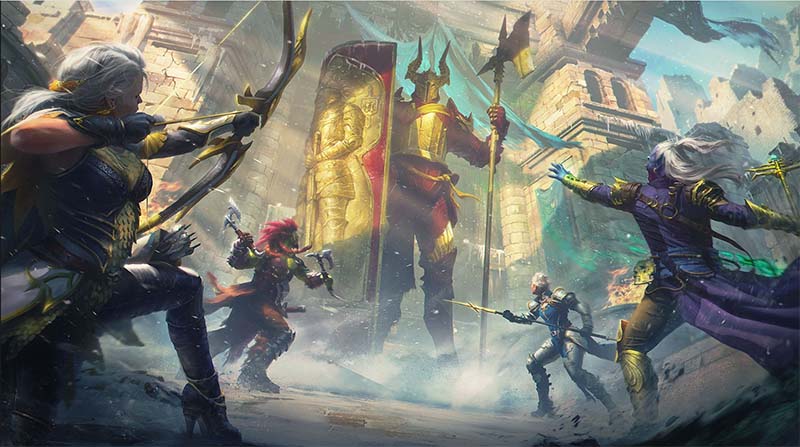 In Raid Shadow Legends, a knight is a knight in the truest sense of that word. The same holds true for every other race or class. Models may be seen from all sides, and they are so exquisite that you will simply stand and gaze at some Champions, admiring their appearance without moving. Furthermore, all characters have their unique actions animated in battles, which looks fantastic. And if this doesn't trigger you, wait until you see how incredibly terrifying bosses are when using their special powers.
Tech Compatibility
Despite all of the above, the game is not demanding and is compatible with any respectable mobile device.
The minimum requirements on mobile devices are:
On Android:
OS: Android 5.1
Processor: Snapdragon 450
RAM: 2 GB
On iOS:
OS: iOS 9 or newer
Device: iPhone 6s or newer
Processor: Apple A9(64-bit)
RAM: 2 GB
Overall, do not expect the game to use more than 100 MB of the device's memory during normal gameplay (combat modes are slightly more demanding, though).
Raid Shadow Legends: F2P or P2P
The entire game of Raid Shadow Legends is a pay-to-win affair. Although This should not imply that it cannot be played for free, but free-to-play players must participate for at least a year to assemble a good team. Even then, they will be far behind those purchasing Offers and Packs. And the cost of those things is absurdly high.
For the record, free-to-play players only occasionally receive certain items, such as Sacred Shards, when they meet challenging prerequisites and after months of continuous logging in. Overall, Raid Shadow Legends is a very pricey game unfavorable to free-to-play users.
Review Summary
Despite intrusive and pushy advertising, Raid Shadow Legends won the hearts of its users. Raid Shadow Legends earned itself as one of the top 5 Hero Collector games with over 10 million installations and an average rating of 4. This game will endure for a long time thanks to its stunning and fantastic models and straightforward but engaging gameplay.
Unfortunately, the pay-to-win element will turn off many players, which is the primary problem when discussing the game's negative aspects. Raid Shadow Legends, however, is the Plarium's golden egg, which will be tenderly raised in the future.
Yet, feel free to give Raid Shadow Legends a shot if you want to experience the timeless Tolkien atmosphere, and you adore Gacha games.
Download Raid: Shadow Legends for:
Was this article helpful?