The market for high-quality ebook apps for smartphones and tablets has exploded in recent years, and consumers can now choose among them easily. When it comes to reading books, bookworms used to have only a few significant free options on the iPad, but now there are more and more high-quality apps for Android and iOS devices that support not only paid and free ebooks but also audiobooks and a wide range of file types.
You need to check out these top apps if you're an ebook reader.
Kobo, owned by Rakuten, is a serious contender to Amazon, with millions of ebooks and an increasing number of audiobooks. The Kobo apps for iOS and Android are clearly where the company focuses its efforts. These apps provide a wide range of customization options for readers, including font size, style, and color.
In addition to this, you may get the Kobo app for Windows 10 through the Microsoft Store. However, the desktop version of the software is more regularly updated and has more functionality, so Windows users should get that instead. Macs may use the desktop application as well.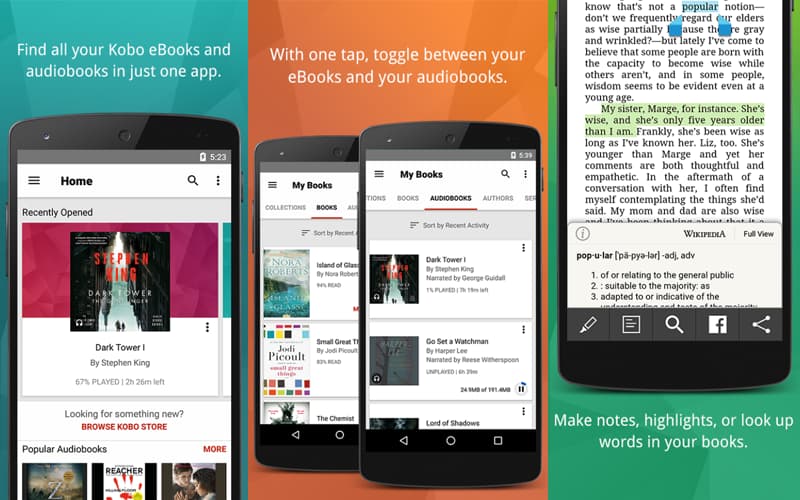 Pros
There are lots of ways to change how you read.
The official Kobo app is available for most phones.
Cons
The Windows app is so old that you can't even sign in with Facebook.
The only way to get audiobooks is through iOS and Android apps.
Download Kobo Books for:
Akin to Netflix, but with a focus on children's literature, Epic! provides its users with access to a vast collection of digital books and audiobooks. The parents can create individual profiles for each of their kids, and the kids can subsequently modify their profiles to reflect their own preferences.
Epic! has a wide range of apps available for Windows, Android, and iOS. There are a number of recent publications as well, such as a series of books about well-known pop culture personalities, in addition to the classic children's books that are accessible for download. In addition to the countless short video clips produced by DreamWorksTV, children can also choose from a range of family-friendly comic books.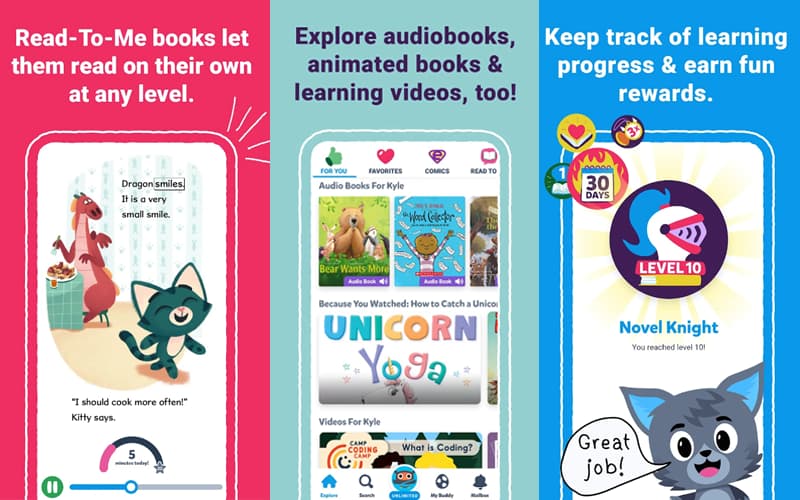 Pros
Lots of games inside the app to get kids to read more.
Great selection of both old and new books for kids.
Cons
You have 30 days to use the app for free, and then you have to pay a monthly fee.
Changing settings is a challenging thing to do.
Download Epic! for:
If you read ebooks on your iPhone or iPad and have them in a variety of formats, the Yomu EBook Reader is a great app to have.
Yomu, which means "to read" in Japanese, works with all of the most common ebook file formats, including those used by the Amazon Kindle and the ComiXology comic book reading apps. Once installed, any iOS web browser app will recognize Yomu as a source for saving ebook files when importing from any major cloud service like iCloud or Google Drive.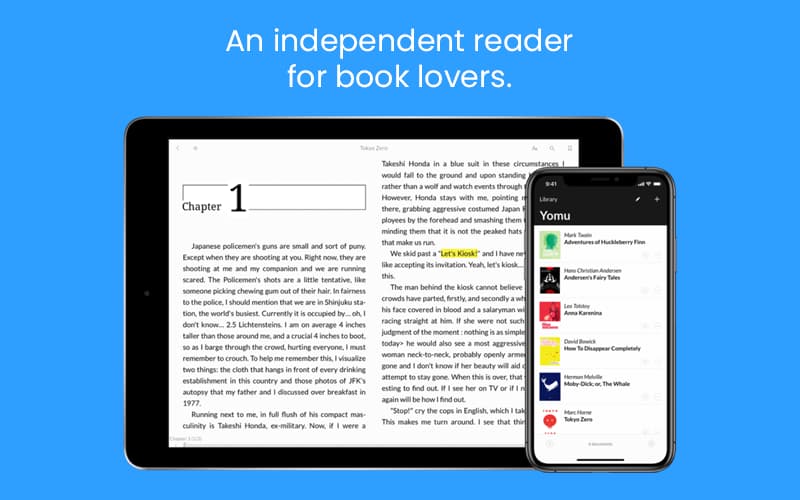 Pros
Most common text formats are all supported, including PDF, MOBI, EPUB, AZW, and AZW3.
Any iOS web browser can save eBooks to the Yomu app.
Cons
After adding books, it takes a lot of searching to find the settings menu.
The main menu is where download links should be, not in the tutorial.
Download Yomu EBook Reader for:
Due to its compatibility with Android versions as far back as Android 2.3, AIReader is a widely used reading app on Android. It's important to note that the ebook reading experience isn't as fluid as it could be on older devices, but it's still good, and most major file formats will operate on any Android smartphone.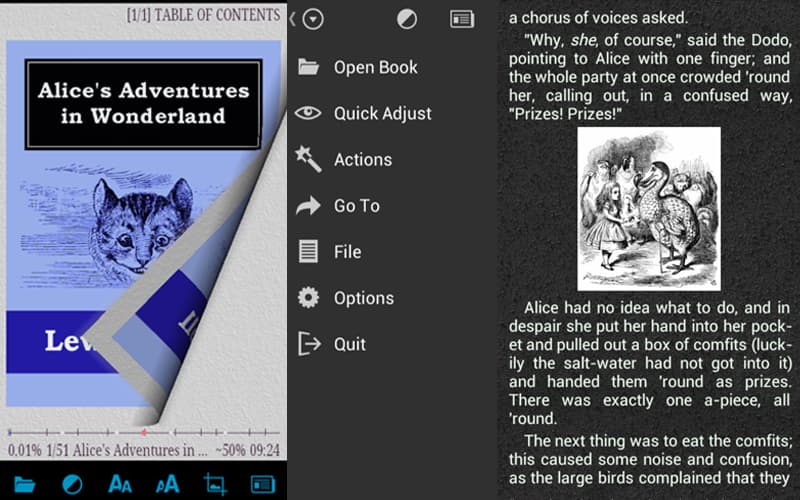 Pros
Helps a lot of Android devices, with Android 2.3 as the minimum OS requirement.
There can be more than one profile for each app setting.
Cons
There's no way to open PDF files.
On less expensive Android tablets, scrolling can be very jerky.
Download AIReader for:
It goes without saying that Google's official app for reading ebooks and listening to audiobooks purchased from the Google Play Store is called Google Play Books. Although the book selection is smaller than that of Amazon, it is still sufficient to satisfy the needs of the casual reader. Those that read daily may realize that they want more after a while.
The good news is that you don't have to pay for a membership to use Google Play Books. You can use it to listen to an audiobook or read an ebook you bought over the weekend, then put it aside for a week or so without feeling bad about wasting money.
When you do want to read, you'll have a great time with this software because it's highly reliable and intuitive and features some of the best page-turn animations available on the market.
For those already well-versed in Google's services, Google Play Books is an excellent choice.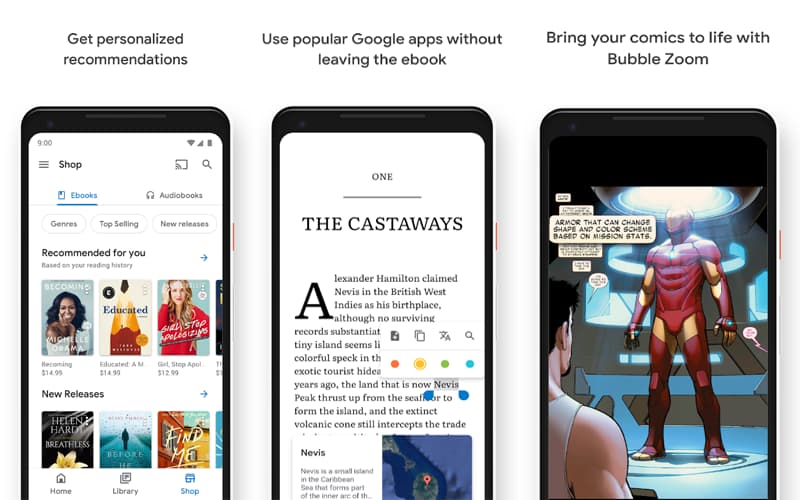 Pros
A page-turn animation makes reading very smooth, and it looks great.
Works great on cheap and low-end Android tablets.
Cons
When you want to learn more about a book, the app needs to switch to the Google Play app.
It has a lot less to choose from than Amazon.
Download Google Play Books for:
The Media365 app is available for both iOS and Android, and it allows users to read any of the books in its library for free in exchange for the odd full-screen advertisement. A great number of independent and specialized works, such as those in the Harry Potter series, can be found on the Media 365 platform because authors have the option of self-publishing there.
You can change the text size with a simple two-finger pinch on the screen, and the Media 365 collection has eBooks in 15 different languages. The program can also read aloud to you from a text you've uploaded.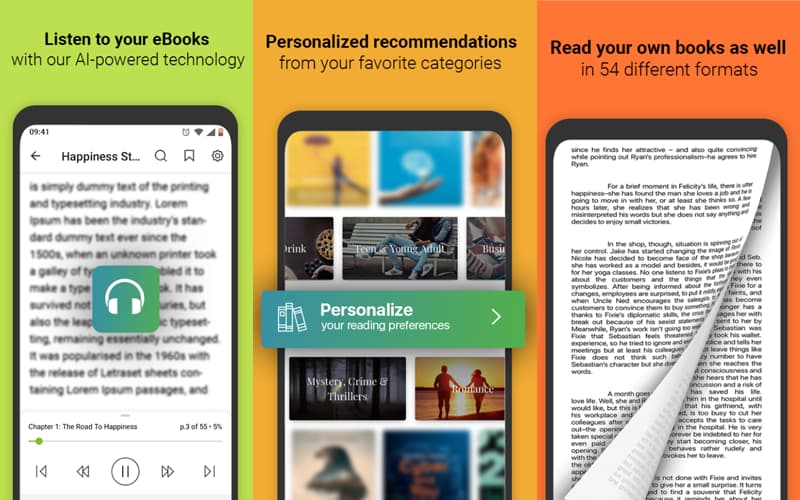 Pros
There is a huge collection of popular and specialized ebooks that you can read for free.
You can bring your own ebook files into the app to read.
Cons
For offline reading, you have to pay an extra $1.99.
It needs at least iOS 10, which means some older Apple devices can't use it.
Download Media365 for:
Amazon allows its consumers to read Kindle ebooks without purchasing a Kindle eReader device by developing certified Kindle apps for iOS, Android, Mac, and Windows.
The Kindle app allows you to read any Kindle-branded ebook from the Amazon website. Furthermore, it also has a number of features that sets the app apart from the competition. These features include a built-in dictionary and Amazon's X-Ray technology, which gives you additional information about the book's characters and the world as you read it.
While convenient, the Amazon Kindle app has its flaws. Since Apple takes a cut of every sale made through their apps, the iOS version does not support purchasing Kindle ebooks, and the Windows app is optimized for older desktop computers rather than touchscreen devices. But you can still buy eBooks from Amazon's website or the Kindle reader for Android, and they'll sync up with the Kindle app for iOS practically instantly.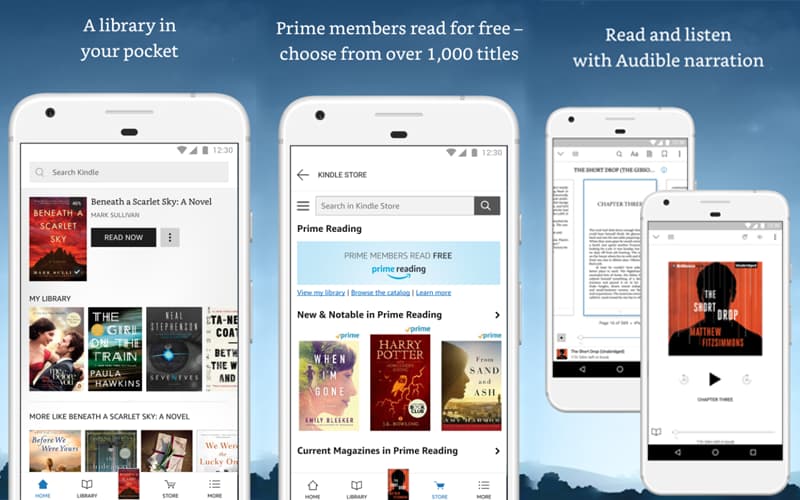 Pros
You can choose from a huge number of ebooks.
The app gets new versions very often.
Cons
The Kindle app for Windows is better for computers with keyboards and mice than for touchscreens.
You can't buy ebooks through the Kindle app for iOS.
Download Kindle App for:
If you're looking for a place to read comic books online, go no further than Comixology, one of the longest-running and most well-liked options. Now owned by Amazon, the Comixology online store offers thousands of comics from dozens of different publishers, including Marvel, DC Comics, Image Comics, and many others.
The digital comic books can be read in the standard fullscreen mode or in a new animated panel-by-panel manner dubbed Cinematic Guided View using the iOS, Android, or Kindle Fire apps. This second option is preferable on mobile devices since it magnifies each panel separately, making the text easier to read.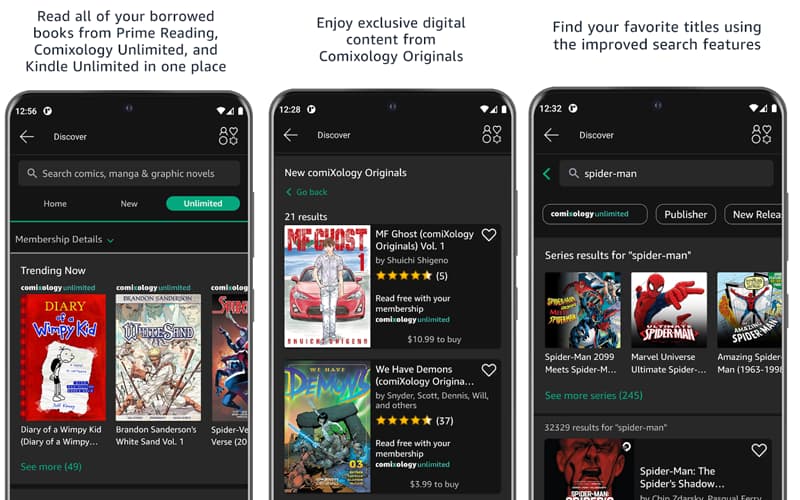 Pros
A huge number of comics from all the major publishers.
Imports automatically comic books bought on Amazon.
Cons
Only people in the United States can use the Comixology Unlimited service.
It's more complicated than it could be to close a comic book.
Download Comixology for:
If you're an iOS device owner in need of a superior reading experience to Apple Books, you've just found it. More than a million iOS users have given Libby a positive review, making it one of the most popular book apps.
It uses the library's vast collection of electronic books and audiobooks.
It's as simple as getting the app, signing in, and reading without spending a dime. You can also catch up on the latest issues of your favorite publications. The software is also available on Android, though users have noted occasional hiccups.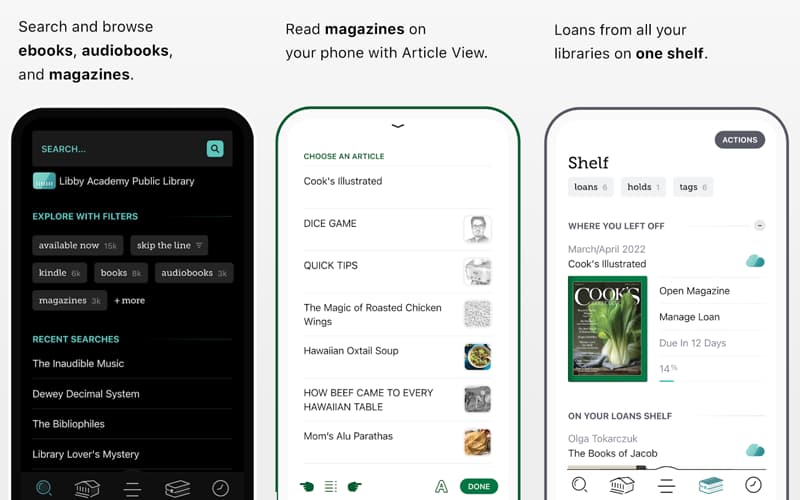 Pros
Libby's interface is super friendly.
Compatible with all mobile devices.
Cons
It doesn't have a desktop version.
The database is only as good as what your library owns.
Download Libby for:
Foxit PDF Editor is one of the top PDF apps out there and is a perfect alternative for individuals who want to consume ebooks in PDF file format only. Foxit has a reflow mode that resizes and rearranges text on a page to fit exactly on a mobile phone's screen, unlike many similar apps that merely display a PDF as is and need you to pinch and zoom to view its information.
Foxit Drive, iCloud, and Wi-Fi are all acceptable methods for transferring PDFs to the app. iOS users will be able to import files they've downloaded right from the share function, even when they're using other apps. Those looking for a simple app to read their PDF ebooks will be satisfied with the free capabilities, while those who want to make use of the extensive settings will need a monthly membership.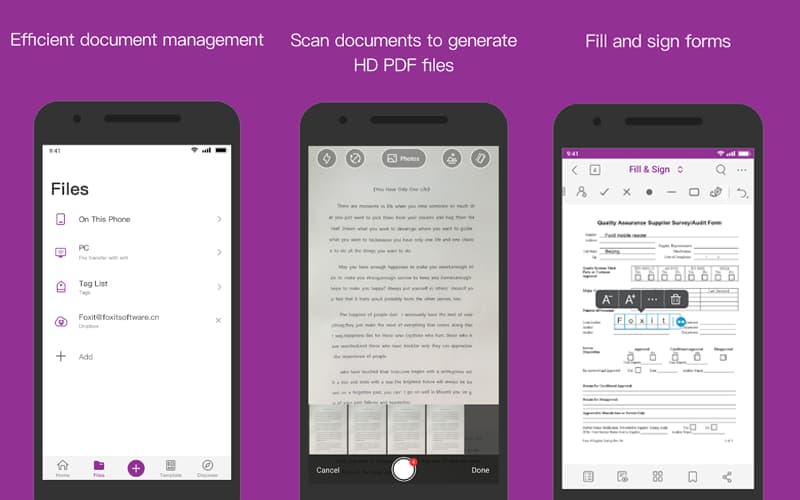 Pros
On iOS, PDF files can be sent straight to the app.
With the reflow options, you can read all of your files on a small screen.
Cons
On iOS and Android, you have to pay $14.99 per month to be able to make a new PDF file.
Not having a back button on app screens makes it hard to move around.
Download Foxit PDF Editor for:
Summary
From classics to contemporary, audiobooks to PDFs, you'll find plenty of book-reading apps to love on the Internet. The current list is just a round-up of our experience, and we would love to hear your voice.
Share with us, in the comments below, what is your favorite app for eBooks.
Was this article helpful?