Struggling to find the best match-three games like Candy Crush in the endless sea of cheap rip-offs? We've been there. Sick of looking at the same old candies, yet totally addicted to the excellent gameplay. Luckily for you, we had all the time in the world to weed out the horrible titles, leaving you with nothing but the best match-3 games available for Android and iOS in 2022.
#1: Lily's Garden – The Bizarrely Enticing Scenery Match-3 (Android, iOS)
This game is an excellent option if you enjoy nature, good stories, and decorating. While restoring her aunt's garden to its former splendor in Lily's Garden, you will learn more about Lily's love story. In the meantime, you will be chasing to complete various time-limited events with secret sections.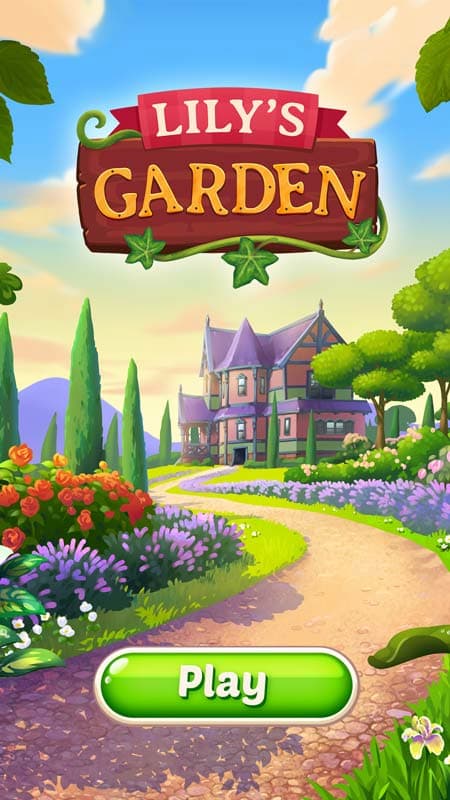 Give it a try if you're looking for a soothing match-3 game because the game's aesthetics are simply stunning. You won't be sorry.
Lily's Garden – Features
Live up your dream to tend a garden with exciting quests to follow.
Discover dozens of flowers and items that will be hidden in your garden.
Form online friendships by communicating with other players and trading game valuables.
#2: Dragons: Titan Uprising – The Game For Legendary Adventurers
One of the rare RPG match-3 games that were able to keep me interested for a long time was Dragons: Titan Uprising. Along with the well-known characters we all recognize and adore, we get to fight a ton of foes and — get ready — raise our own dragons!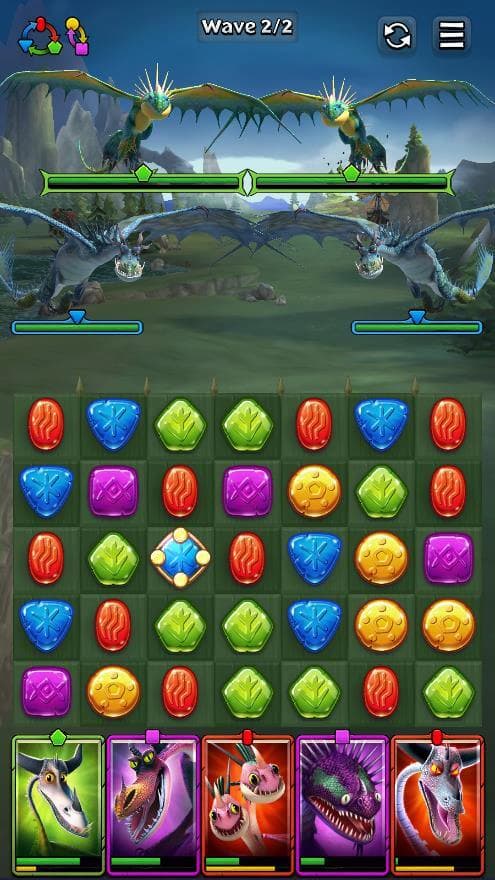 What could possibly be better than gathering and nurturing your own distinctive dragon?
Dragons: Titan Uprising Features
Create your own dragon hatchery where you can hatch eggs and raise wild dragons.
Choose a dragon fight squad to guide them on a heroic journey.
Explore previously undiscovered dungeons and fairyland locations.
#3: Munchkin Match – The Matching Game With a Soul (Android, iOS)
Get to know Lemi – the clumsy yet kind hero of Munchkin Match. He's a wizard living in a magical world of delicious candies, sweets, and donuts. He's in trouble, though. The beautiful candy-decorated airship where he lives got looted by the evil dragon Winklehawk. So now, you have to set things straight.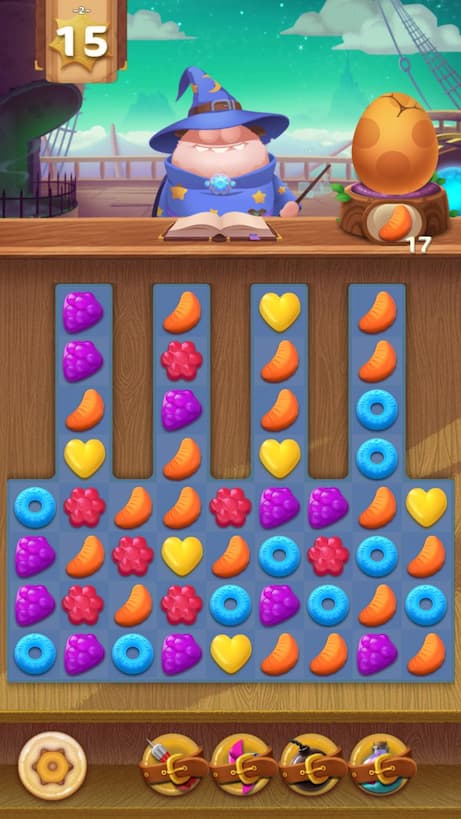 Make your way through hundreds of levels and face various monsters (munchkins) by finding the best matching combinations to achieve the points needed to progress. Beautiful 3D graphics, an excellent relaxing soundtrack, and cheerful gameplay give Munchkin Match a unique character. And we're sure that you're going to appreciate it.
Munchkin Match – Features
Hundreds of challenging levels, with more being added regularly.
Join the Munchkin Club for more rewards – power-ups for regular visitors, animated avatars, and more.
Compete with your friends and other players on the online leaderboard.
Easily switch between your phone and tablet.
#4: Wizard of Oz: Magic Match – The Fairytale Candy Crush Clone (Android, iOS)
Meet your favorite childhood characters in this imaginative recreation of Candy Crush by the guys from Zynga Studios. Dorothy, the Scarecrow, the Tin Man, and the Cowardly Lion are all there waiting for you to take them on your next adventure. Join the crowd and unlock hundreds of puzzles in Emerald City, rewarding you with actual scenes from the movie and beautiful hand-drawn art!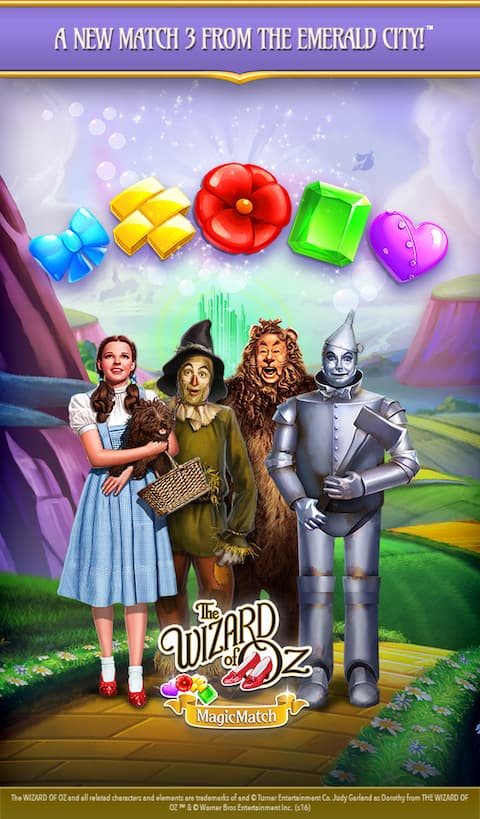 Some quick tips before you dive in.
First, keep your eyes on Glinda. There are magical stars whenever she's around. They'll boost your magic meter, helping you ramp up more points.
Match four items to form a square, and you'll get a butterfly of that color.
Whenever there are scattered and hard-to-reach gems, think if it goes well with your objective to chase after them.
Don't forget your super items! It's almost impossible to progress at later stages without them.
You can get magic bubbles (bombs) by matching five items in L or T shapes. Matching five items in a row grants you a Crystal Ball. This is your ultimate weapon.
There are some more surprises that we are leaving for you to discover.
Wizard of Oz: Magic Match – Features
Progress unlocks scenes and characters from Wizard of Oz.
Hundreds of exciting levels.
Awesome clever power-ups.
Unlock pages of the Oz Storybook by playing infinite levels.
#5: Triple Sweet Puzzle: Match 3 – Just Like Candy Crush But… Gummier (iOS)
Brimming with delicious gummy candy graphics, Triple Sweet Puzzle: Match 3 is yet another, but very well-executed, candy crush clone for iOS. Free to play and available even when you're offline – there's no good reason not to get this time-killing match-three puzzle on your iPhone.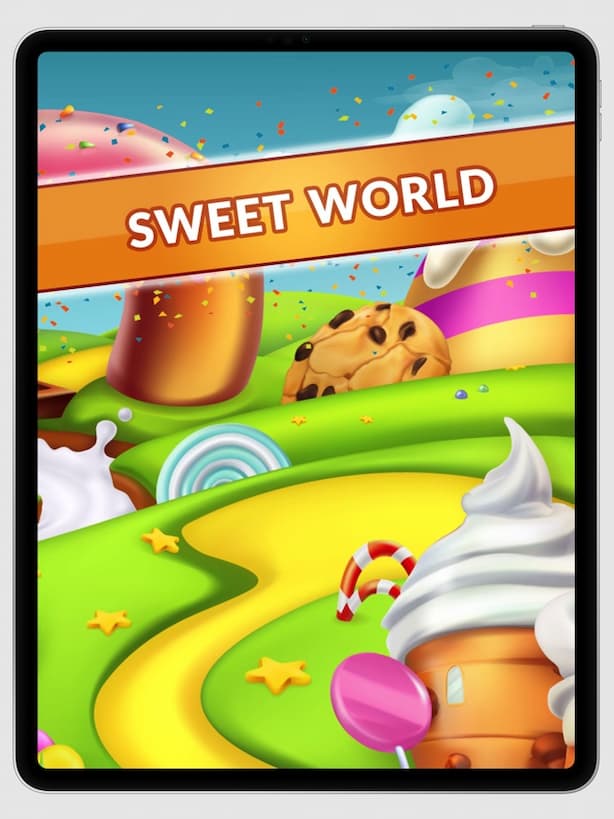 The concept needs a little introduction. The player must switch gummy candies (teddies, cows, piggies, etc.) around to form desired patterns. The goal is pretty simple and easy to understand. Move from level to level and earn power-ups by matching three or more of a kind. This app takes matching puzzle games to a whole new level, though. With attractive visuals and an excellent interface to back it up, it brings a fresh, unique experience to a classic game style.
Standing Out of The Match-3 iOS Crowd
The game's unique feature is definitely its dedication to world-building and expanding on the user's experience.
Players enjoy a vast realm of gummies while traveling through Hazel River and Chocolate Field, seeking to get to the next level. The developers of Triple Sweet Puzzle: Match 3 have spared no detail when communicating their vision to the player. Playing a few rounds is enough to get you drolling and leave your mouth watering. Delving into all sorts of sweets, these developers have created a world that will pull you into its delectable delights.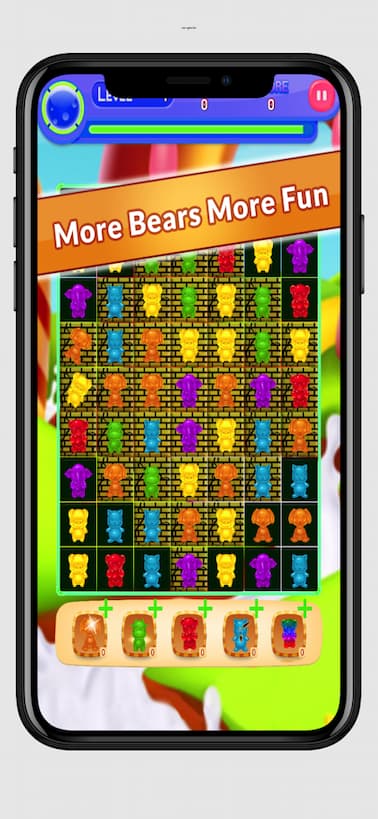 With its playful visuals and entertaining storyline, this matching iOS puzzle will keep you engaged for hours. Each level has its own difficulties and unique strategies you need to discover to move on. The neat trick behind the graphics and themes of this app is that it captivates audiences of all ages. No matter where you are in life, we're all attracted to tasty candies. The world created in the app also adds to the effect and helps to keep you engaged, but that's simply the external draw.
Once you start playing, it's actually quite hard to put it down. This game can eat up many hours with a mix of power-ups, shiny graphics, and complicated levels. And who can blame you? There are over 200 levels, and the developers promise that there are more to come.
All The Basics of a Good Match-three Puzzle Game
Most players get used to the game's pace early on, but the dynamic levels will keep you coming back for more. If you need to relax after a long day or are sick of Candy Crush, this may be the app for you. It's a great way to spend an hour or two because instead of passively watching Netflix, you're actively engaging your brain to figure out the best way to solve these puzzles.
It's definitely addictive, but all in good fun. As we said, it's 100% free, but there are the usual in-app purchases – gummi power-ups in this case. So if you want a fun way to bide some time with a thrilling game, just give it a try.
Triple Sweet Puzzle: Match 3 – Features
Free to play – the game contains ads and offers in-app purchases of power-ups.
Available offline – and even better, without the ads.
Online leaderboard – your best run will be automatically posted online.
Combo-chaining – match up to 5 gummies for high points.
Post your high score on Facebook – you can brag about your achievements on the social network.
Looking For Other Cool Games Like Candy Crush?
These were our top 5 matching games for Android and iOS, but there are dozens more to discover.
Did we miss your favorite game? Or is there a game you want us to review? Let us know in the comments down below.
Was this article helpful?