Since One Punch Man has appeared in at least a few different games throughout the years, he is no stranger to the mobile platform. Nevertheless, this doesn't make it any less exciting whenever a new One Punch Man game arrives on the market. Therefore, we were all excited to finally give One Punch Man: The Strongest a try when it was released. It's safe to say that it was worth the wait, especially if you're an RPG fan who also enjoys watching Saitama's various antics in the popular anime series.
One Punch Man: The Strongest – Essentials
Moonton, best known for his work on Mobile Legends, launched One Punch Man: The Strongest. This company created what might be the biggest MOBA game on the system, far outpacing League of Legends: Wild Rift, which is a direct rival. This means that we can anticipate high-quality games from Moonton, and this Japanese title is no exception.
With that said, we're going to go into the universe of One Punch Man in its newest game, give a general summary, and share our thoughts on its standout features. This review is for you if you've been wondering whether One Punch Man: The Strongest lives up to the excitement it's receiving.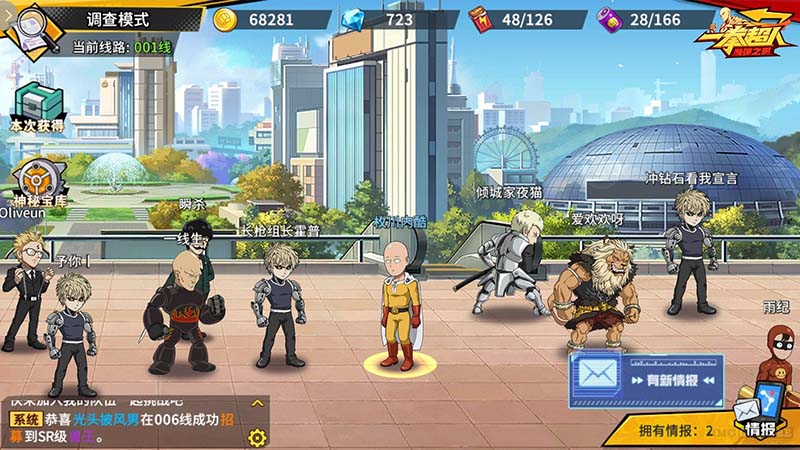 One Punch Man: The Strongest – Gameplay
We can state right away that One Punch Man: The Strongest is quite loyal to the show because it faithfully follows the events of the anime step by step, starting with Saitama's honorable beginnings as a Hero and ending with him rising up and punching even the most formidable villains in the face. Since having Saitama as the primary character would make the entire game silly, Saitama is only slightly relegated to the background here as the character who leads you through the game.
Players in the game must construct teams by unlocking a wide range of heroes and villains. There are more than 120 characters in this game, and the majority of them can be found by summoning them from the gacha, which requires special gold that can be earned through grinding the game. Even without the titular One Punch Man's assistance, players can still assemble potent teams who are capable of taking on any obstacle in their path.
You will encounter a lot of recognizable faces, from the most fundamental baddies like Vaccine Man and Subterranean King to the biggest and worst threats that threaten to destroy the Earth.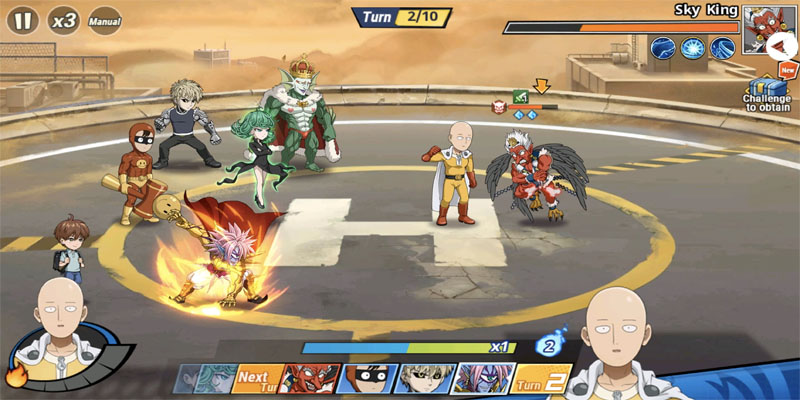 What's more, One Punch Man contains many different game modes, including the story mode, as well as arenas, training, trials, multiplayer co-op, PvE missions, and many, many more. No gacha RPG is ever complete with just one fundamental game mode. Therefore, you can expect an abundance of difficulties and game options that will make your gameplay constantly seem new and exciting. 
Are you courageous enough to take on the task and succeed?
One Punch Man: The Strongest – Game Atmosphere
One of the main features of this title is that you may combine different characters to form a wide range of teams, as we just discussed. To do this, you must take into account a variety of factors, including their roles, skills, stats, and how they work together in combat, in addition to just choosing your favorite show's heroes or villains. After all, relying solely on healers and supporters on your team will lead to your eventual destruction.
Similar to that, focusing just on damage without regard to utility or defense may make you ineffective against stronger and more resilient foes. You will need to put together synergized team compositions whose strength is far more than the sum of its parts. In this sense, you'll be able to hold your own against powerful foes if you have teams that can not only hit hard but also have support and defensive talents to further improve their potential and protect the more vulnerable troops.
One Punch Man: The Strongest – Technical Requirements
Not very far from its PC counter, the mobile title is a bit demanding in terms of storage and memory. The basic requirements are set as low as:
iOS 8.0 or later; or
Android 4.1 and up. 
However, for smooth gameplay, you will want to make sure your phone has at the very least 2GB of RAM, Android 6.0 or higher, and a minimum of 3GB of free space.
One Punch Man: The Strongest – F2P or P2P
The best feature of this game is how F2P friendly it is, as there are numerous bonuses that can be earned by just playing through stages and finishing tasks. These incentives include crystals, gacha tickets, and various materials.
You have the opportunity to make in-app purchases, although they are not necessary to advance, such as the beginner pack with the Hero Fubuki, which costs about $0.99. However, if you are a little frugal in this area, you can just get by with everything.
Review Summary
OPM: The Strongest is a good choice for fans of the series as well as for those looking for a solid RPG mobile game that will keep them busy for hours on end. As it stands right now, this game will undoubtedly keep you entertained for countless hours of playing and creating your own league of Heroes or Monsters.
Furthermore, with many challenges and game types to unlock, the gameplay is engaging enough to match the expectations of mobile RPG lovers. Additionally, it offers good prizes for F2P players, ensuring that this game is not purely a pay-to-win one.
Download One Punch Man: The Strongest for:
Was this article helpful?