War Robots is a multiplayer-focused old-school mech game.
And just that had us surprised for a game with more than 100M downloads in 2022. Not that those games are completely dead, but much like the mecha anime before them, their time is kind of come and gone.
Back in the late '90s and the early '00s, mech games were actually pretty popular.
Let's find out if this 6v6 multiplayer game with enormous walking robots that fit in your hand's palm is worth your time.
War Robots: Essentials
Russian game developer Pixonic created and released the mobile app game War Robots in 2014. Initially, it was made available only on iOS; the following year, it was made available on Android as well.
The game represents a third-person shooter with multiplayer online battle arena (MOBA) mode and live PvP combat. On a real battlefield, players control robots that resemble BattleTech. They can choose to play by themselves or in groups with other players.
Pixonic created a cross-platform matchmaking system in 2020 by combining the player bases from Google Play, Apple Game Center, and Amazon Game Circle. All game features are now integrated into this network.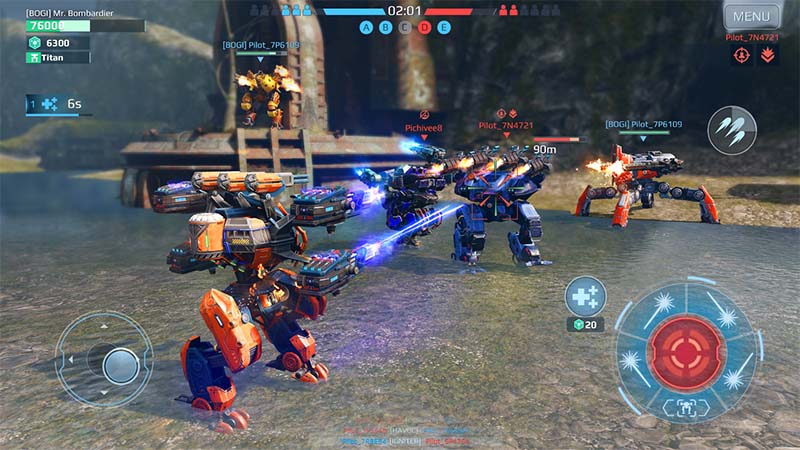 Gameplay
Do not expect any tutorials or pop-ups to force you to click here or there. When you open the game for the first time, you can do anything from browsing the menus and checking out the menus to diving into a battle straight away. So you open War Robots, and the first thing you do is entirely up to you. The only invitation for an action you will ever see is the orange glow around the button that will enter you into your first match. Well, other than the tons of ads, but more on that below.
Although War Robots' name is pretty generic, it perfectly describes the game. Every match is a war between robots. Unless it's a free-for-all, two teams fight it out until one team runs out of robots. Simple.
You start off with one little robot but quickly build a collection of different aircraft-looking things, walking spider tanks, and even metal gear. And that starts the loop of 'play to unlock points', then use those points to unlock robots, and then use those robots to fight more and earn more points. This is a game that benefits from "the mobile tax," meaning it is okay to be that simple as a mobile game. It would quickly become boring if it was on a PC or console. On the phone, though, it is okay. Consider this a game where you play a few rounds before bed, during a lunch break, or when taking care of a significant business.
Another gameplay-wise reason War Robots fits the mobile platform is its slowness. Like everything is really slow at the start. While robots, later on, do get up to a brisk jog, most move one lumbering step at a time. So you can say this game is less about quick reaction and more about thinking ahead of time. Some mechs can jump over obstacles, but the distance covered is pretty tiny. But that also has a positive notch, helping with controls and even lags (due to not causing significant disturbances if lagging occurs).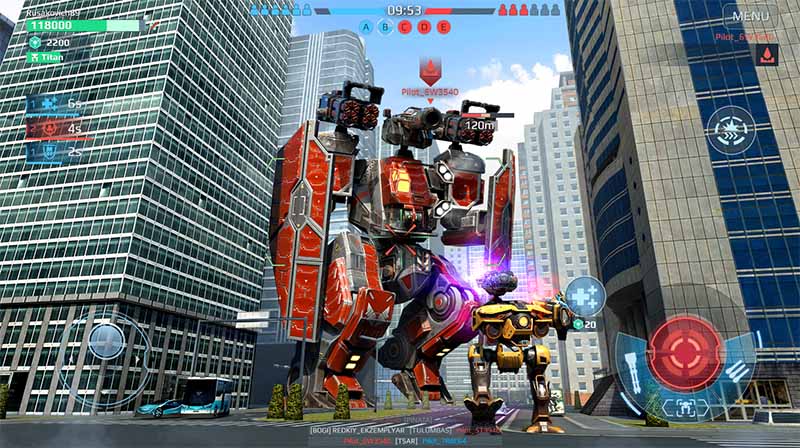 What helps with getting quickly around the gameplay is the near-perfect controls. For example, you can move the robot by touching the virtual analog stick on the left side of the display. You can also freely rotate the perspective by touching the virtual analog stick on the right side of the display. Then there are the attack actions, controlled by a few icons at the bottom right of the user interface.
A single button activates all the weapons, but you may choose to use just one and conserve the ammunition of the others, which is endless but requires lengthy loading times.
Game Atmosphere
The differences between the robots we can deploy, split into four classes, make War Robots a very immediate experience on the gaming front. While terribly sluggish, these mechs can't avoid enemy fire unless they seek cover, use dips, or use additional tactics like jumping, which are only accessible in the lighter robots. Therefore, the first games end up being an actual stroll in the park.
Expect to be battling against opponents who are even less skilled than you or whose primary goal is to keep the game easy and not being too rough. But once you have upgraded all of your mechs and unlocked at least three, the situation is different, and the complexity significantly rises.
Artwork
Up until recently, the game offered no visual changes whatsoever. But then, after lots of complaining from the players, Pixonic finally released HD graphics and an option to play at 60 FPS last year. So, you could say that thanks to that update, the game is now elevated to a new, modern era implementing enhanced lighting, intricate textures, and FX.
Tech Compatibility
The players can now select the graphic setting that best suits their needs and devices, thanks to the latest updates. You can still play with 30 FPS if your device does not support 60 FPS. Further, players with less powerful devices can benefit from a dedicated minimal mode.
Currently, these are the minimum requirements for mobile devices:
iOS: iPhone 5s and newer, iOS 11 and recent, 1+ GB RAM;
Android: 1,5+ GB RAM, OpenGL ES 3.0 or Vulkan support.
War Robots: F2P or P2P
One of the most contentious issues surrounding the title is Pixonic's freemium model for War Robot, which appears to be reasonably permissive at first and appears to give virtual and real credits generously. Still, at a certain point, especially when it is necessary to simultaneously provide for the growth of more mechs, that changes pretty noticeably.
At that point, the incentives grow more limited, and winning matches gets more complicated, while pop-ups urging us to purchase this or that package become more persistent. Of course, watching short advertising trailers to double the awards at the end of each game is always possible, but playing for free while remaining competitive is improbable in the long run.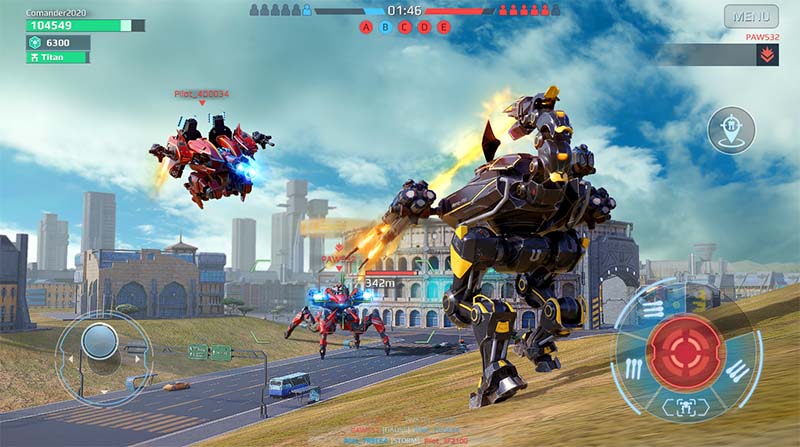 Review Summary
Even though it has been long since its debut on iOS and Android devices, War Robots retains a certain charm.
The remaster of the original release has allowed the game to relaunch enough to return to the spotlight, attracting the many users who had abandoned the game due to gameplay inevitably devoted to "pay-to-win" mechanisms. But unfortunately, this feature does not appear to have altered much. Hence, the game remains primarily exciting for the occasional fun, but not in the long run, as it emphasizes the same old restrictions.
Download War Robots for:
Was this article helpful?