Listen to your tunes from virtually any place while you're on the go using one of the best music streaming services for iPhone and Android. Herein follows a list of the top free mobile music applications so you can play your own music, learn about new bands, recognize songs, stream your favorite tunes, and locate radio stations in your area.
Every one of these apps is free, and they all work smoothly with both iOS and Android. You can get each app via the provided links, or you can look for it in your phone's app store. Keep on reading, and you will be streaming and listening in no time.
Shazam: Identify Any Song, Anywhere
#01 (of 09)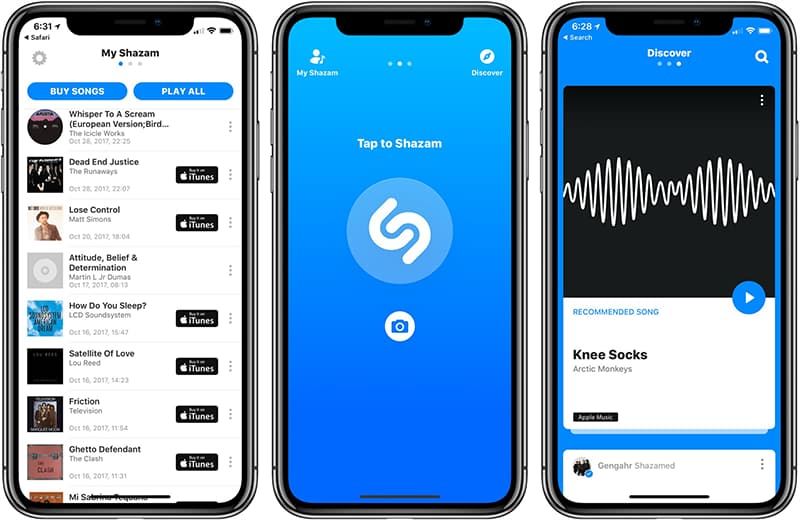 Apple's Shazam app is a clever reverse audio search tool that is useful for when you have no idea of the name of that song you heard in a store, movie, or car.
It listens to the currently playing song and provides the title and artist.
You can share your discovery, view its YouTube music video, and play it on Spotify. Additionally, you may examine tour dates, discography, and album reviews, and build a Pandora station based on the musician.
Each song detected by the application is saved as a tag. Later, you can share these tags with your friends and view what they've discovered as well.
Sometimes, depending on the music it recognizes, the lyrics will scroll by as you listen.
You can access your Shazamed music from a computer if you create a user account. In addition, there is an extension for Chrome users and free software for iOS, Android, Apple Watch, Android Wear, and macOS devices.
Pros
Finds songs with just one tap.
It stores in your user account every song that it tags.
You can allow the app to Auto Shazam every song it hears until you tell it to stop.
An automatic mode lets the app listen every time you open it.
It's easy to buy music from the app.
No ads.
Cons
Only some songs have lyrics to them.
Download Shazam for:
Spotify: Enjoy Your Favorite Music Anywhere
#02 (of 09)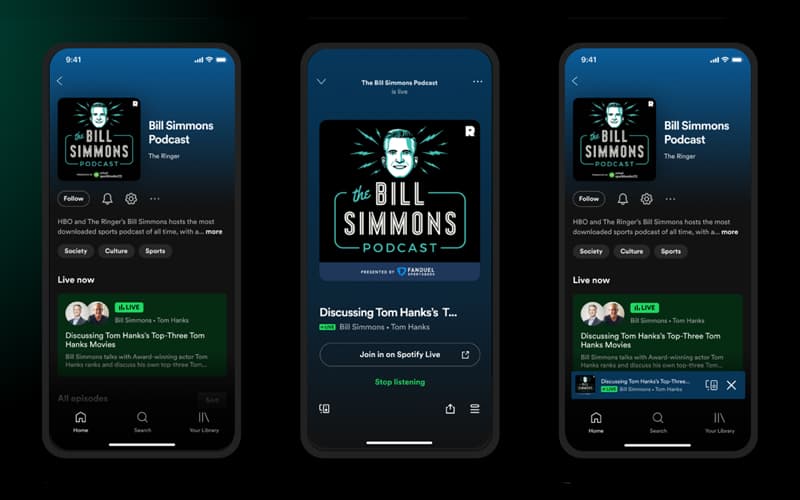 Spotify is an excellent music application that allows users to follow musicians and sync music from their PC. You can build a radio station that plays music depending on your original interests, similar to Pandora.
Search for playlists and your favorite artists and albums or discover new music by perusing top lists and new releases. Add your favorite songs to your library so you may listen to them again later.
One aspect of Spotify that makes playlists enjoyable is that anyone can create and share a playlist so that others can enjoy the same songs in their app. Even better, whenever a playlist is updated or a new album is released by an artist you follow, the app can be set to send you a push notification.
The basic version is free. There are Spotify Premium plans available if you wish to remove advertisements, play any song at any time, download music, and more.
Download the application for Android, iPhone, iPad, and Kindle Fire, as well as Windows, Linux, or Mac. It is also compatible with Apple Watch, allowing Premium subscribers to download playlists, podcasts, and albums directly to the device. Spotify also allows users to control music on wireless speakers, TVs, and other devices via their Apple Watch.
Pros
Several devices can use it.
You can make as many playlists as you want.
It's simple to listen to playlists that other people have made.
For 30 days, you can use the paid features for free.
Great features and integration with the Apple Watch.
Cons
Every hour, you can only skip six songs.
Advertisements are shown.
To listen, you must make an account.
Download Spotify for:
TuneIn: Listen to Your Community Radio Anywhere
#03 (of 09)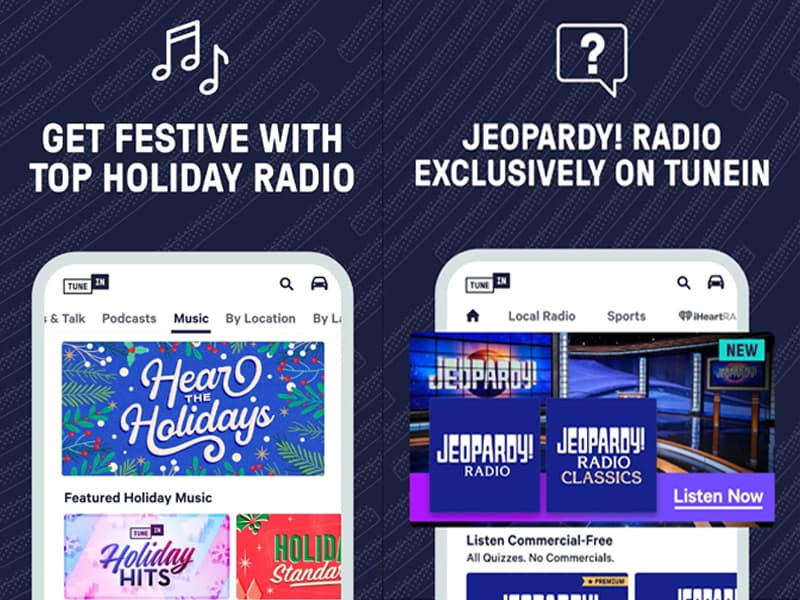 If you enjoy radio but prefer the portability of a mobile device, try out TuneIn's free music app. The ability to listen to local radio stations wherever you are is ideal for travelers.
Enter a song or artist, and a quick list of all the radio stations in the United States that play that song or artist will appear. You may listen to this radio station on your phone with a single tap. TuneIn additionally provides access to podcasts and sports radio.
Consider subscribing to TuneIn Premium for commercial-free listening and fewer commercials if you enjoy the service.
The application is compatible with a variety of devices, across Android, iOS, Windows, and Linux.
Pros
User-friendly.
Tens of thousands of live radio stations are included.
It's easy to find music to listen to.
Includes podcasts.
Cons
Since it's a radio service, I can't hear certain songs.
It isn't the best choice if you only want a music player.
The free version displays an awful lot of ads.
Download TuneIn for:
SoundCloud: Discover Emerging Artists
#04 (of 09)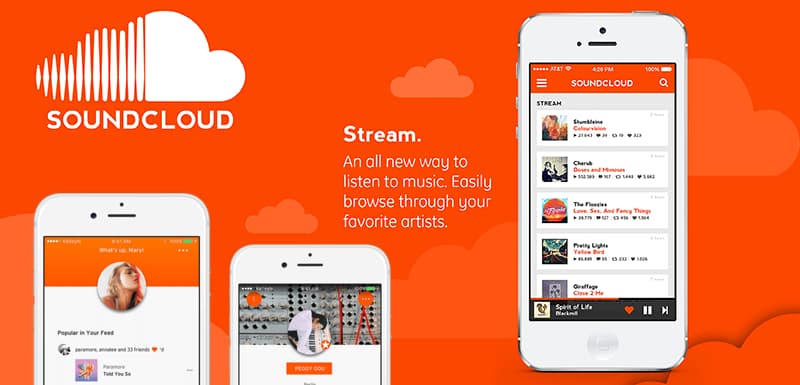 Other users have posted an abundance of audio to SoundCloud, including home recordings and music from up-and-coming artists.
You can search for music, artists, and audio files, as well as follow other users to monitor their new uploads. Other people upload more than 10 hours of audio per minute, so you're bound to find something of interest.
The iPhone allows users to create and share playlists in order to create a personalized stream of their favorite music. Some gadgets enable you to capture and upload audio using the app.
If you create an account, you may access your saved songs and other information from both the app and website. A SoundCloud account and subscription provide ad-free listening, high-quality music, no previews, and offline listening.
The application is compatible with Android, iPhone, and iPad.
Pros
Simple to find new songs.
There is a lot of content, and it is always being updated.
Unlike most free music players, this one lets you skip songs quickly.
You can get some music for free.
Cons
Most of the music is by new artists, so it may be hard to find songs you've heard before.
Requires a user account.
Download SoundCloud for:
Pandora: The Most Well-Known Option For Music Streaming
#05 (of 09)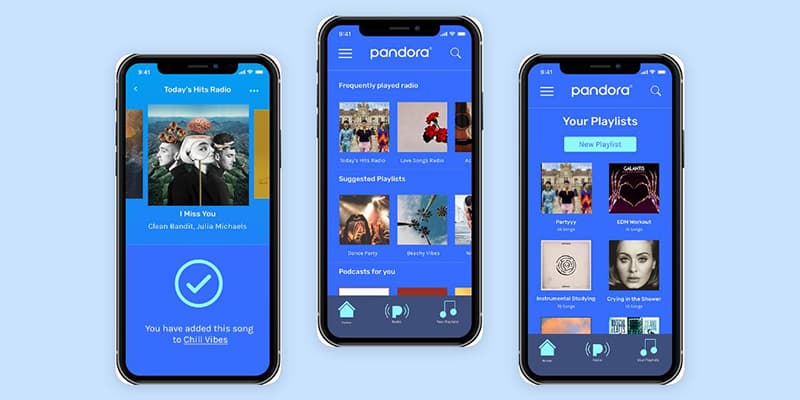 There's a reason Pandora has so many users. Because it's the best music streaming app, according to the majority of its users.
If you enter an artist you like, Pandora will play their music and also recommend other musicians you might also like. This is the most convenient method for discovering new songs that are like those you currently enjoy.
Users can rate songs as they listen to help the app play more of what they enjoy and less of what they don't. With your feedback, the service is able to refine its recommendations.
You may listen to podcasts while you use the app, as well as save your favorite musicians for subsequent listening.
When you're on Wi-Fi, the app performs optimally, allowing you to listen to music with minimal interruptions.
If you listen on both your phone and computer, it's recommended that you sign up for Pandora's free account in order to sync your stations and ratings.
The app is available for free on the App Store for iOS, Android, Kindle, Nook, Windows Phone, Windows PC, and even smartwatches.
Pros
You can pick stations based on your favorite artists.
There are pre-made stations for different activities, moods, decades, and more.
You can rate songs to make the music selection better.
You can play on-demand by watching ads.
Cons
A free user account is needed.
Displays commercials.
You can only skip a limited number of songs per day.
Download Pandora for:
iHeartRadio: Podcasts and Radio Stations Without Ads
#06 (of 09)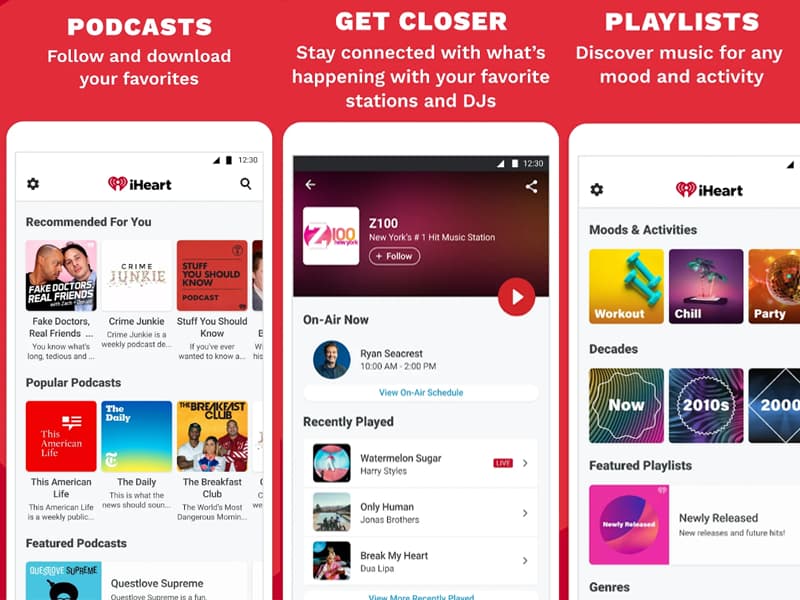 If you need a mobile radio application, iHeartRadio has you covered. It supports a plethora of devices, has outstanding functionality, displays no advertisements, and locates nearby radio stations with ease.
Based on your favorite songs, you may create music stations or listen to podcasts, as well as search for stations and browse genres such as the 80s and 90s hits, alternative, Christmas, classical, rock, and oldies, among others, to find the music you enjoy.
Save your favorite stations as presets and use one as an alarm clock with a daily schedule and snooze feature. Set a sleep timer in the iHeartRadio music app to switch off a radio station after a specified number of minutes or hours.
Additionally, iHeartRadio allows you to browse lyrics while listening, view an artist's biography, and share a station.
Upgrades to iHeartRadio Plus or All Access provide access to additional features, such as unlimited skips and playlists, instant replays, and more.
The applications are compatible with iOS, Android, Windows, Apple TV, Amazon Echo, Chromecast, game consoles, cars, and wearables.
Pros
Music, radio, and podcasts are all part of the package.
It plays zero commercials.
It works on a lot of different devices.
Cons
You must be logged in before listening to the app's music.
Each day, you can only skip a certain number of songs.
Download iHeartRadio for:
Spinrilla: The Best App for Non-Stop Hip-Hop Music
#07 (of 09)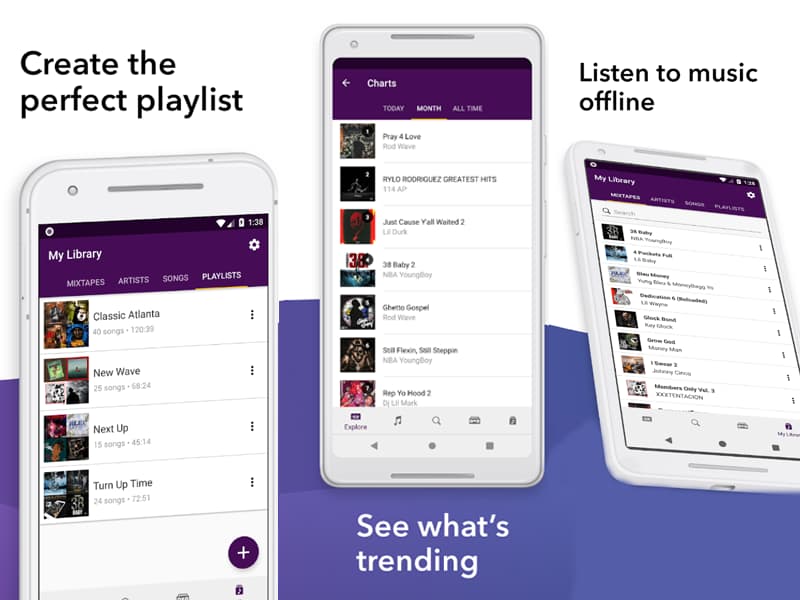 Spinrilla is the best mixtape app for hip-hop. You may stream music straight from the app or download it for offline usage, and you can navigate the catalog in multiple ways.
There is an area for new music, popular songs, and singles at the top of the program. The app's Upcoming Tracks section includes a countdown till the release date of the song.
In contrast to other music streaming apps, this one allows you to scroll back and forth through any song, post comments on individual tracks, create playlists from the songs you see in the app, and store the music on your device.
Additionally, there is an integrated radio that allows you to listen to top tunes, instrumental music, and location-specific radio.
Pros
No limits.
Save songs to listen to later.
See what's coming out soon.
Unique features.
Cons
An app that has ads.
You need a user account.
Download Spinrilla for:
LiveOne: The Streaming Platform to Combine Audio and Video
#08 (of 09)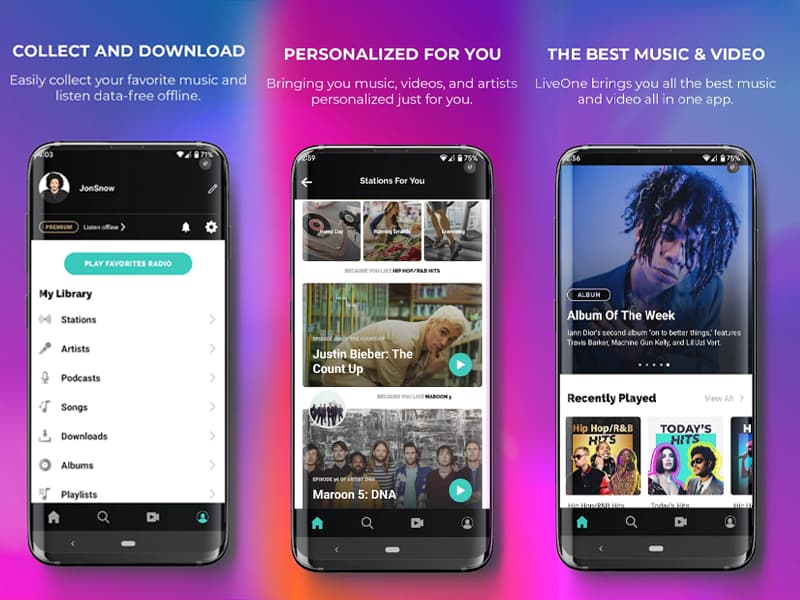 LiveOne (formerly known as LiveXLive and before that as Slacker Radio) features a wide variety of genre-specific pre-programmed streaming radio stations. You may customize a station to play more of your favorite songs, or you can listen with more flexibility to discover new genres.
Make your own radio stations and playlists, as well as view your previously played and most recently played tracks.
There are commercials in the free version, and you can't download songs to listen to later; the sound quality is subpar, you can't play songs on demand, and you can't skip as many songs as you like. It's possible to pay for an upgrade to gain those added functions.
This app is compatible with smart TVs, Android phones and tablets, and Apple products.
Pros
Listen to music without making an account.
Many pre-made stations are just a tap away.
You can change the quality of the audio stream.
Notifications about new music and sports.
Cons
You can only skip six songs per day.
Between songs, there are sometimes commercials.
Not every feature is free; you must pay for some of them.
Download LiveOne for:
YouTube Music: Stream Music Videos And Live Shows
#09 (of 09)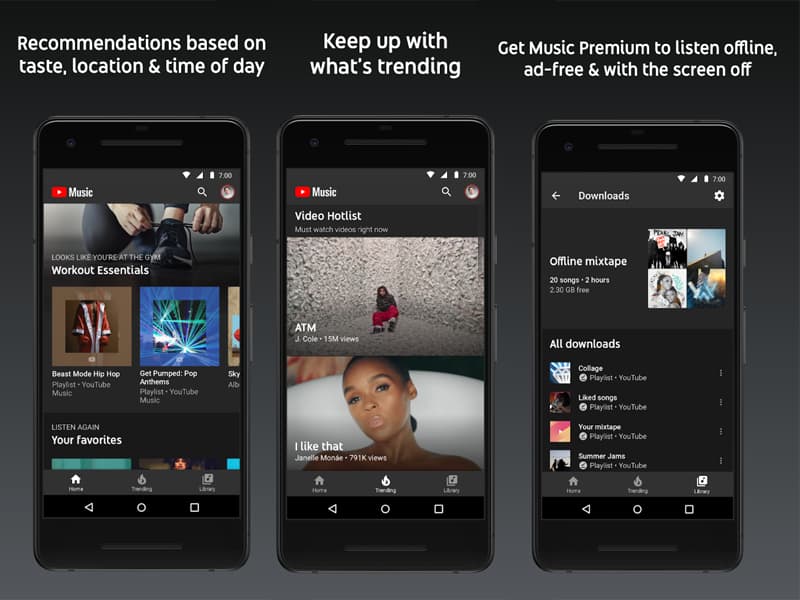 YouTube Music has a huge number of songs and videos from both well-known artists and niche content creators that you can stream. The app has a powerful engine that offers songs and other content based on where you are, what you are doing, and recent history. It has a smart search feature that lets you find songs even if you don't know their names.
Popular music videos, live recordings, interviews, concert footage, and more can be found on YouTube Music. These videos span decades of artists' work. You can add songs to your library and make playlists, or you can choose from a number of playlists that are already made. Based on the music you like, it can make a playlist for you.
The basic version, which has ads, is free. Music Premium costs $9.99 per month and lets you watch and listen without ads. In its "audio-only" mode, you can play any song without video. Even when your screen isn't on, music will still play. There is also a plan for families and students. You can try the premium edition for free for 30 days to see if it's worth the upgrade.
YouTube Music can be used on Windows, Mac, and Linux computers, and it has apps for both iOS and Android.
Pros
Find content that can't be found anywhere else.
Enjoy live tracks, concert videos, and interviews with the artists.
You can make as many playlists as you like and share them with your friends.
Cons
You need a Premium account to listen to music without ads and when you're not online.
The quality of the sound isn't always great.
Download YouTube Music for:
Did you find your favorite app in the article? Tell us in the comments section below which one is your best pick.
Was this article helpful?