There is no doubt that Top War: Battle Game is an addictive game. Prove to that is the fact that our team kept playing despite finding the gameplay and visuals rather unappealing from the beginning. Whether it is the satisfaction you get whenever you combine two structures or units into one that is more powerful than each taken alone, but the game keeps you hanging for more.
Top War Battle Game: Essentials
Topwar Studio is the game developer behind Top War: Battle Game. This is their first app on the market, and it's accessible on iOS and Android. The game currently has a high rating of 4.1 stars on Google Play, based on over 668 000+ votes. Its iOS twin has a 4.0-star rating and ranks #25 in strategy on the App Store. So, based on the above and the fact that the game has achieved more than 100M downloads worldwide, we guess that others enjoyed the game much more than we did.
With the following painstaking review of Top War: Battle Game, let's consider the possible why's.
Gameplay
This game is a city builder, first and foremost. You can access various game features by building, repairing, and unlocking structures around your camp. Mines, training grounds, research centers, and other facilities are among these. As previously indicated, the Merge mechanic is also in use here, allowing two identical buildings on the same level to be combined to reach a higher level. One level 4 mine, for instance, is produced by two level 3 mines. Usually, the outcome is more powerful than the combined strength of the two preceding layers.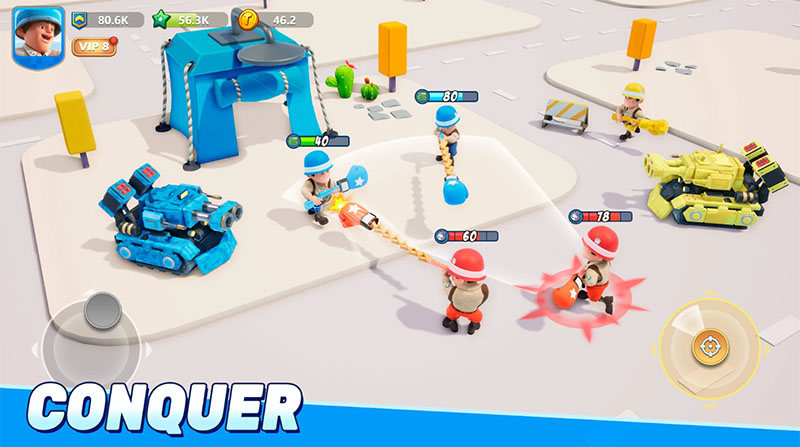 Where we believe this game has fallen short, however, is in combat. Each unit automatically fires a volley on its turn in this idle turn-based system, and you can only deploy the units you choose to. However, on a battlefield, units are not opposed to one another.
The developer has decided to use a split-screen to depict all combats. You can see and position your forces on one half while the opponent is on the other. This is done so that various military units, such as your land forces and the opposing sea fleet, can engage in combat. Although it is somewhat unsettling, we suppose it wouldn't have worked otherwise.
The big answer to the question "What can you do inside the game" is: anything. You can:
enjoy in-game features and services;
progress on various objectives, such as improving components or training and hiring heroes;
try to beat the game's challenges through amassing knowledge, mechanical equipment, or other perks;
participate in multiplayer events; and
Overall, once you play for a little while, there is more going on than first meets the eye, and this game is not as easy as it may seem at first.
Game Atmosphere
Top War: Battle Game is a war (duh!) strategy game that takes place in the present. According to the combat technology in use, you appear to start in a time similar to the present but quickly transition to more advanced and cutting-edge weapons of war.
It is safe to say that the game has all the markings of a good military strategy, including cool units, well-known elements, and other stuff. However, at least, according to our experience, the story is virtually nonexistent and utterly ignored, leaving the gameplay as the only focal point.
Artwork
Even though it is a debut for the game studio, the graphics are elementary. For instance, it was pretty unexpected to see that even units' movement is rarely displayed through animations. Instead, they merely move slightly and slide across the surface like a cheap cartoon.
The user interface is somewhat constrained as well. Since there is no zoom-out option and the game is played in portrait mode, you cannot get a good overview of your camp, which would make several jobs much more straightforward.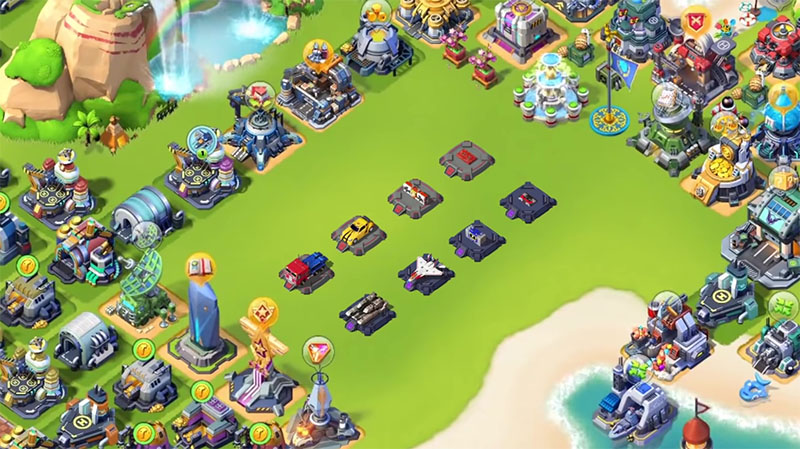 One thing we must admit, though, is that tanks look exceptionally impressive. Models also look really cool, even though you cannot expect much of the game's aesthetics, particularly the combat machines.
Tech Compatibility
For better or worse, there is a good side to all of the abovesaid. This game is in no way demanding. It won't cause any issues even on low-end devices because of the cartoonish design and the lack of animated content.
The recommended requirements include having a minimum:
CPU: Snapdragon 660 Octa Core 2.2 GHz or equivalent
GPU: Kyro 260 or equivalent
RAM: 3GB Storage: 200MB
OS: iOS 10/Android 4.2 and up
Top War Battle Game: F2P or P2P?
Per other players' and our experience, this game is a confirmed free-to-play. Of course, there are in-game payments; however, Top War: Battle Game can be played for free, albeit much more slowly.
For instance, after about 15 minutes of gameplay, we had already achieved level 9 with our units when we ran out of resources for the research and hit a paywall. If it is only for fun, you can wait and continue playing for some time. If you are considering paying for top-ups, though, prepare to spend a lot of money. Resources are always scarce; if you go down the path of payments, you never know where the limit will be.
Review Summary
Without a doubt, Top War: Battle Game is a hook. However, as Topwar Studio's first entry, this game is an excellent example of how budget constraints work. As a result, the game has great gameplay with poor graphics that inevitably impact the overall experience.
On a side note, we aligned with others who reviewed the title to compare our first impression with theirs. Out of 10 instances, each one admitted to being somewhat confused at first but rapidly getting used to the game. Almost everyone was hooked once they experienced how rewarding the merging mechanic is.
Download Top War for:
Was this article helpful?