WORDLE took the internet by storm, and we've been busy brainstorming terms ever since. We've seen how vital a decent vocabulary is and how it may help you rule in this gem of a puzzle game.
Don't worry, if this is where you first heard about the game, we've got you covered. Wordle is a game in which competitors are given six chances to properly guess a random five-letter word. A letter that isn't in any way part of the word appears grey, those that are but are in the wrong location look yellow, and those that are appropriately put seem green. You have a total of six words to enter, which means you can learn about the letters and their locations by using up to five burner words.
Eleven Fun Wordle Alternative Games
Although WORDLE does not presently have an official app for Android, there are a lot of apps on the market that are quite equivalent. We've collected a selection of the finest Wordle alternatives for Android for you to try.
Pick #1: Wordie: Guess the Word
Wordie: Guess the Word has over 10 million downloads and a 4.4 rating on Google Play.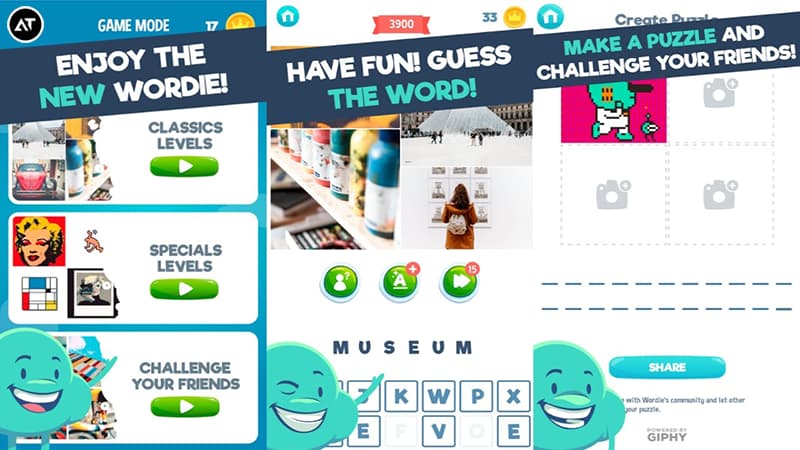 Wordie isn't the same as Wordle; it's a creative platform where you can express yourself and have endless fun with your friends and the Wordie community. Simply guess the common word from the GIFs or photographs provided. It's a novel idea that includes personalized challenges, allowing you to choose from a wide range of topics and build a fun challenge with your friends.
Wordie is an excellent educational app that immerses you in a range of entertaining mental games. You may play the game in several modes and will certainly enjoy it with your pals.
Pick #2: WordCookies Cross
WordCookies Cross has over 1 million downloads and a rating of 4.3 stars on the Google Play Store.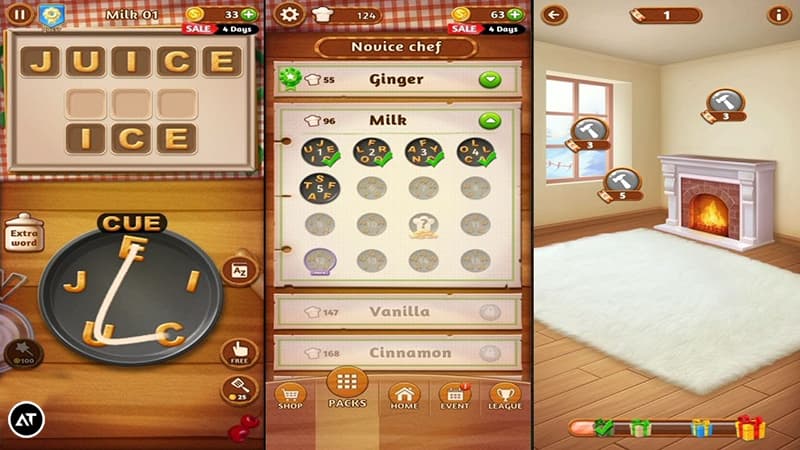 The software is a successor to Word Cookies and is a delightful blend of crossword puzzles and word scramble activities. The crossword baking pan is completed by icing your Word Cookies with delicious chocolaty frosting and joining the letters to form words. The software feels like a terrific brain exercise, with its vibrant aesthetics and a valuable tool to improve your vocabulary, attentiveness, and pronunciation talents.
WordCookies does an excellent job of enlivening the word app genre by launching this user-friendly and entertaining software.
Pick #3: Wordscapes
This text twist word app is a great brain exercise. In today's word puzzles, you enjoy crosswords, anagrams, and word searches. Immersing yourself in gorgeous scenic backgrounds can help you relax and unwind.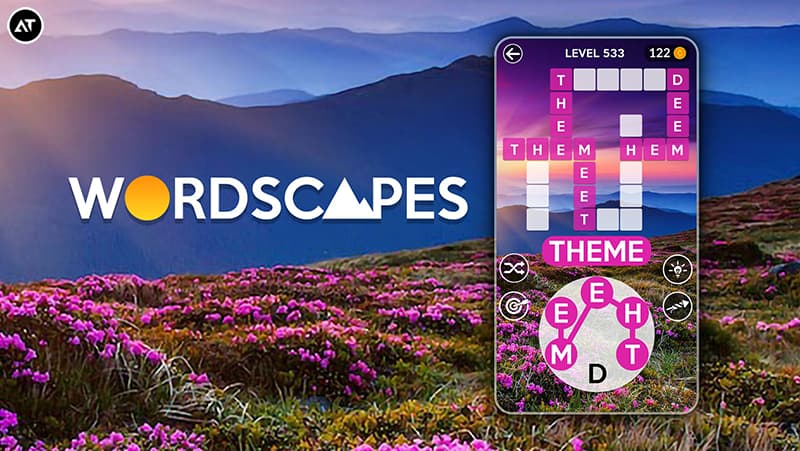 Wordscapes allow you to demonstrate your language skills by linking letters and discovering all of the hidden words. There will be no dull moments in the engrossing global puzzle game, and the crossword puzzle appears to be similarly addictive. If you play it for 10 minutes every day, it can help you renew your vocabulary.
Wordscapes has over 50 million downloads and a 4.5-star rating on Google Play.
Pick #4: Words with Friends 2
What kind of word game list would this be without this timeless classic?
Words With Friends is a virtual Scrabble game that has remained popular for more than a decade after its first release. You and your opponent, either another person or the computer, use letters to form words on the board for points, and the person with the most points at the end wins.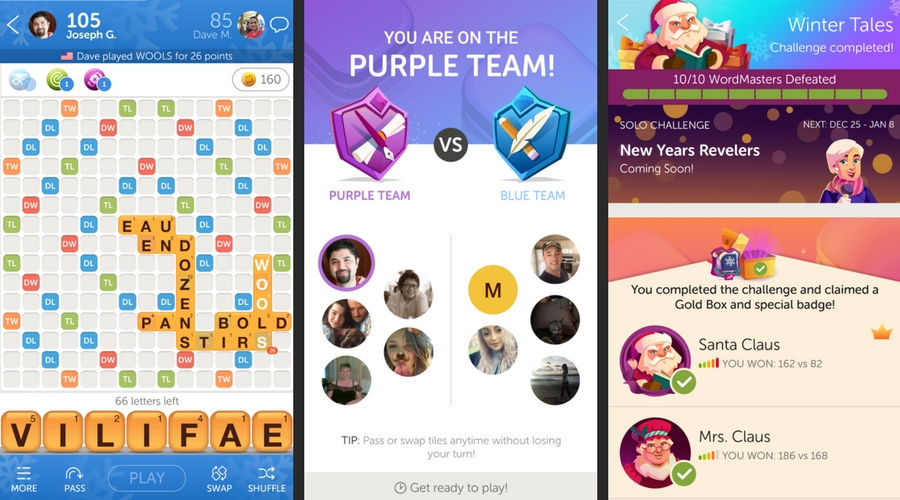 Words With Friends is a classic that is still popular today. You can find the title on the Apple App Store, the Google Play Store, or play it in any web browser.
Pick #5: Letterpress
Letterpress is a word search game for two players in which you compete to see who can find the most words in a single grid. Players take turns spelling words to capture the board, and the player with the most points wins. The game is popular because of its simple gameplay and appealing visuals. You can also compete against your friends, find an opponent, or challenge one of the machine players.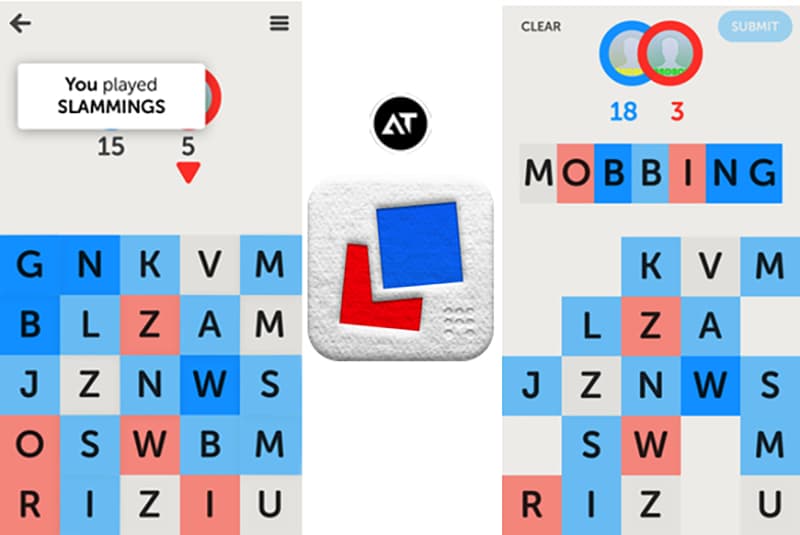 The game is a simple yet addictive word game that will help you improve your vocabulary over time. All in all, Sobelon LLC's Letterpress app is another award-winning software, with over 10,000 downloads and a 4.3-star rating on the Google Play Store.
Pick #6: CodyCross: Crossword Puzzles
This software is an updated version of the popular crossword puzzle game. You complete crossword puzzles and fill in the blanks, while also learning some of the letters in other answers. You can complete the answers sequentially or work your way around the list, unlocking extra letters for the harder words as you finish easier ones.
If you're looking for a word adventure game, CodyCross has a variety of magnificently themed worlds for you to explore beyond space and time, including the 1970s, and the game will not disappoint.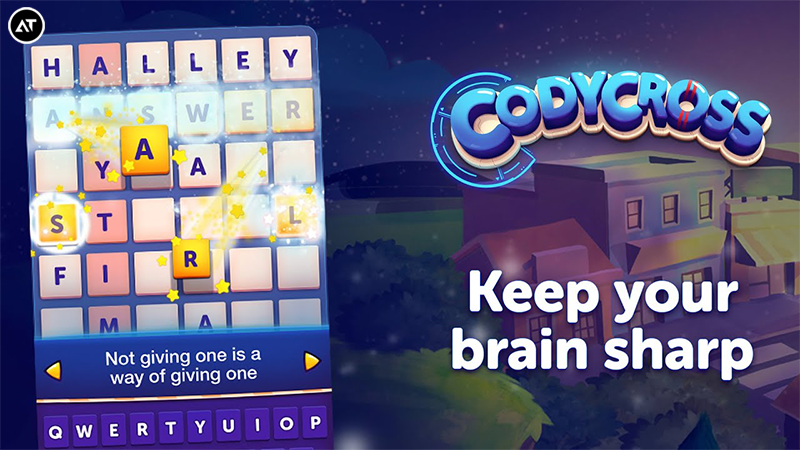 CodyCross has more than 50 million downloads and a 4.4-star rating on Google Play.
Pick #7: Lewdle
The game's content advisory states before you play Lewdle,
"Lewdle is a game about offensive phrases. If the use of profanity, vulgarity, or obscenity offends you, go play Wordle instead!"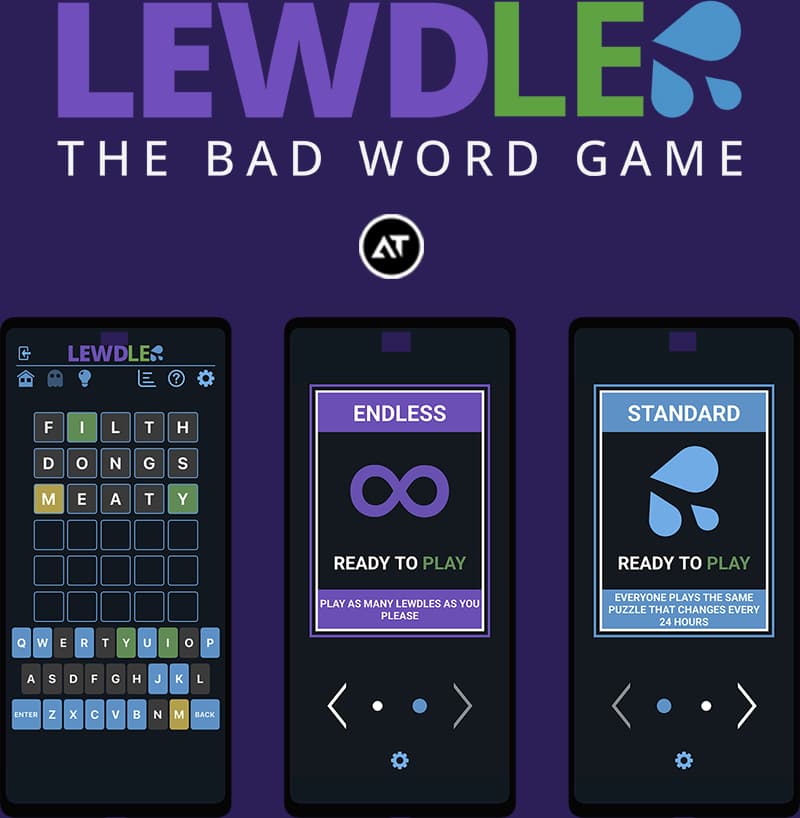 It's like Wordle, except with nasty words. The language ranges from mild (like poopy) to terms that would make a sailor blush. Slurs, however, despite the game's extensive use of filthy language, are not featured.
You have six chances to guess a five-letter word, similar to Wordle; gray, yellow, and green blocks are employed in the same way; and there is only one problem per day.
Lewdle is playable on any web browser, so you can allow the foul language to flow!
Pick #8: Kitty Letter
Kitty Letter is a competitive word game in which only the best linguist wins. Play 1v1 online games against strangers or friends, or embark on a full single-player adventure with an all-new plot from The Oatmeal. There are no in-game purchases, money, or leveling; simply enjoy the game.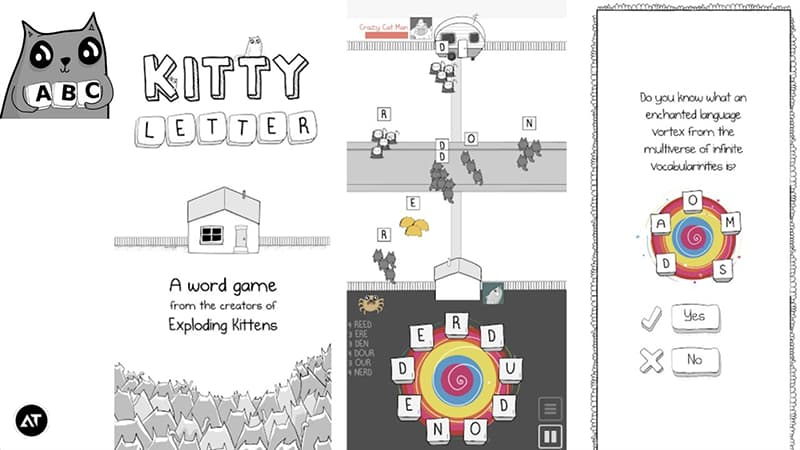 It's not your average scrabble or crossword problem, but as you solve new puzzles and earn shovels, you'll be able to redesign your farm in story mode and unlock additional parts that may require your linguistic expertise. You can also choose to hide all paid-to-play material from the game.
Kitty Letter is one of the best ways to tackle word games on the list. It has over 100,000 downloads and a 4.1-star rating in the Google Play Store.
Pick #9: Psych!
WORDLE and the other apps on this list are nothing like Psych! PSYCH premieres Ellen DeGeneres' new guessing game, in which knowledge collides with cards vs humanity. You must prepare ahead of time, communicate your responses, and persuade your teammates to select your game card. The best bluffer triumphs and wins the game. You can also choose from a variety of amusing categories, such as word up or movie bluff, in which each participant invents fictitious responses to true knowledge questions.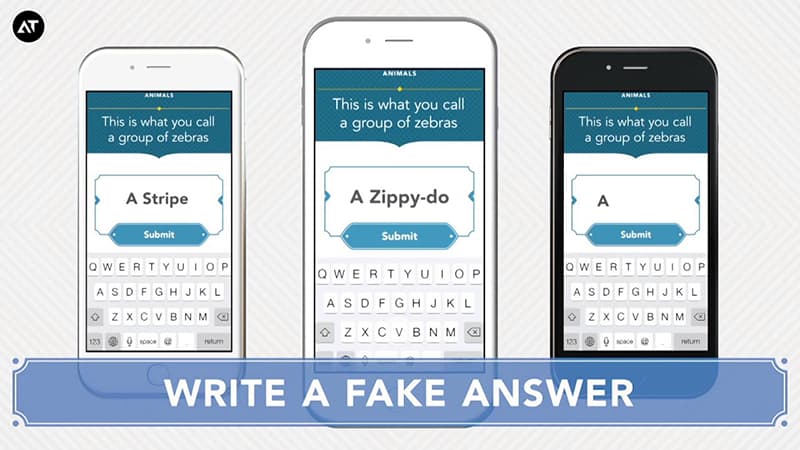 Psych is the perfect game for those of you who are literary geniuses and can come up with great answers. A fun word game that lets your imagination run wild.
Psych! has over 5 million downloads and a 4.1-star rating on the Google Play store.
Pick #10: The NYT Crossword
This program was produced by the same individuals that invented the original wordle game, which is currently popular on the internet. However, NYC Crossword is a collection of exercises that will assist you in improving your vocabulary. The game features puzzles for every ability level, allowing you to gradually improve your skills. There are several modes to choose from, including the conventional Crossword and the Spelling Bee.
You can also keep track of your statistics and compare them to those of your friends to establish a fierce battle between your vocabulary abilities. Because of the variety of options, it's a terrific option for anyone who can spare even 10 minutes from their schedule.
On the Google Play Store, The New York Times Crossword has over 1 million downloads and a 4.2-star rating.
Pick #11: SpellTower
Letters rise from the bottom of the screen in SpellTower, and you must compose words as rapidly as possible. Each word you form eliminates the used letters, and the game terminates if any letter reaches the top of the screen. In that sense, it's similar to Tetris. There are ten different game modes to choose from, including Search Mode, in which you strive to find the longest word using particular letters.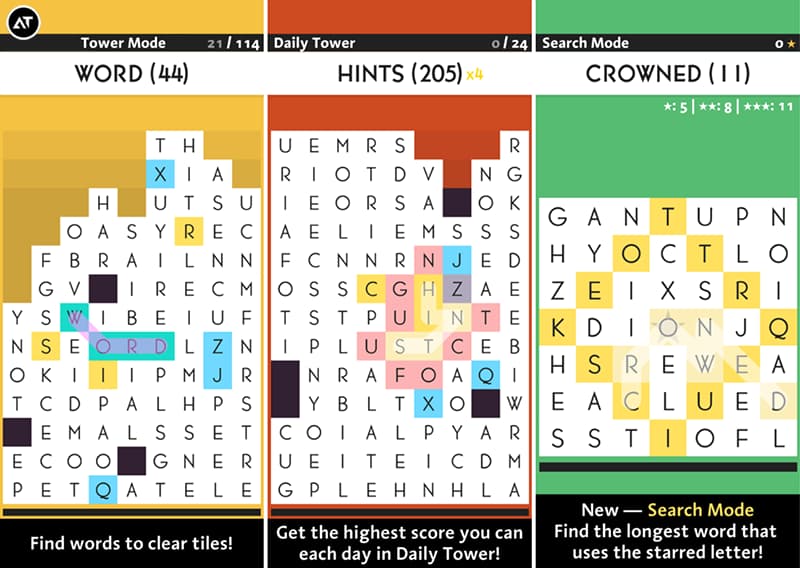 SpellTower can be downloaded through the App Store or the Google Play Store. You can also acquire it on Apple Arcade for a monthly price, but you'll get this and other games ad-free and with in-app purchases already unlocked.
Was this article helpful?