Seven years ago, EA accomplished something that Kabam, Disney, and Konami did not.
They made a game that lasted for years.
They accomplished this using a tried-and-true free-to-play approach.
They designed the game on a robust, tried-and-true core loop. This loop was strengthened by profound strategic warfare and a changing metagame.
As a result, this game has lured over 100M new players and continues to do so years after it has been released to the public.
Meet and greet Star Wars: Galaxy of Heroes.
Star Wars Galaxy of Heroes: Essentials
Star Wars: Galaxy of Heroes is a collectible RPG game for mobile devices. The game was soft-launched in Australia in October 2015, and it was officially released on November 24, 2015.
Galaxy of Heroes is set at a cantina in a remote corner of the Star Wars galaxy, where members of all species strive for fame and money in simulated holographic conflicts involving significant figures from Star Wars history.
The game has garnered mixed reviews from critics, with a current Metacritic score of 70/100 based on 8 reviews. The game reached 100 million players as of November 2021.
Gameplay
Galaxy of Heroes is a turn-based RPG with a collectible card metagame at its center. It's a lot like Summoner's War, Heroes Charge, and other mobile RPGs. Players engage in mini-battles to collect loot. Loot can take numerous forms, but its primary purpose is to provide the player with resources to let them enhance their characters. Upgraded characters gain access to more significant and more challenging encounters, resulting in better loot.
The game begins with two characters: Chewbacca and a Jedi. You start by fighting your first battles with these characters. Credits and Training Droids are awarded for each combat. Using these, you may swiftly level up your Jedi and Chewbacca, helping you to fight more challenging conflicts. Because you can constantly play and upgrade your team, the game feels fast at first. However, the game eventually limits your play sessions: you've run out of Energy and must return to play more.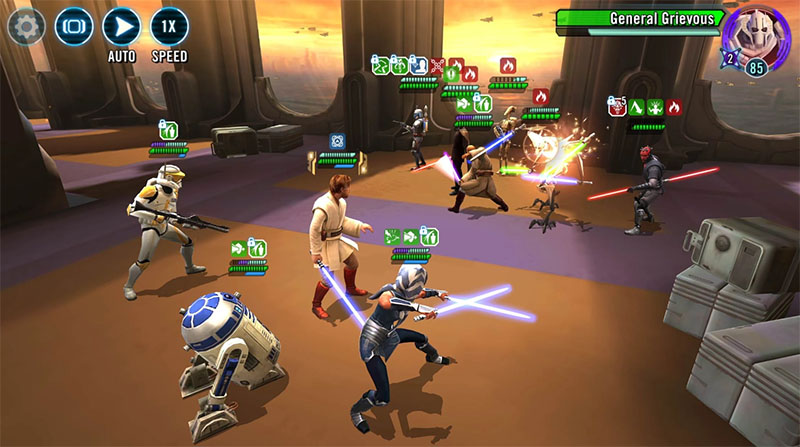 This is a reasonably common battle and upgrade loop found in most games. Combat gives you rewards, and awards allow you to upgrade, while energy keeps the battles moving. Of course, things become more complicated after completing this cycle a few times. However, having a robust core loop is only the beginning.
To make the game survive for years, you must start building on top of the fundamental loop, increasing complexity while keeping it entertaining. EA achieved this by developing a sophisticated Battle System and an Evolving Metagame that gradually reveals depth.
The Battle System: The combat is the core gameplay of Galaxy of Heroes. The fighting mechanism is a standard turn-based RPG system. The gameplay is comparable to Final Fantasy (and hundreds of other similar RPGs), with an emphasis on selecting your team, defeating wave after wave of monsters, and optimizing your tactics to keep your team alive.
The Metagame: EA created a metagame system that will keep players interested for years to come for two main reasons:
For starters, the player is given a range of tactics to battle. As a player, I have several options for customizing and optimizing my grind.
Second, they created a long-lasting upgrade mechanism. It takes months and a significant effort to properly enhance a single character. It would take years to amass a large cast of characters.
Game Atmosphere
Star Wars: Galaxy of Heroes avoids being too different or unique, which plainly limits the game's inventiveness. However, this is primarily due to past games steadily providing a more streamlined experience to the point that current games can quickly adapt to them. Galaxy of Heroes' thematic approach easily compensates for its lack of uniqueness.
The Star Wars motif was painted over everything in the game. The game's entire concept is based on the franchise's fictional board game, Sabaak. It's the chess-like game R2-D2, and Chewbacca were seen playing on the Falcon. However, gamers take control of Star Wars characters instead of extraterrestrial enemies.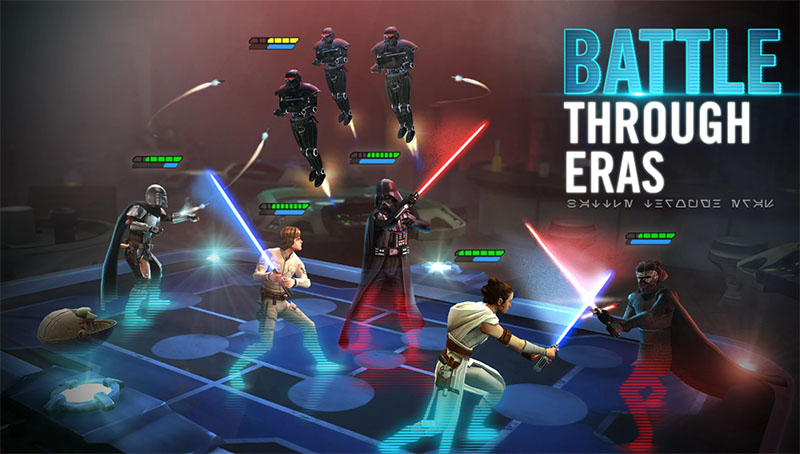 It's strange to see Chewbacca battling alongside a Jawa and Mace Windu at first, but you must keep telling yourself that this isn't a canon experience but rather a game built on the Star Wars universe on the canon of the Star Wars universe. And it is a build done well for a mobile game.
Artwork
The game's looks are best described as "Economic." To be fair to EA, these people had a tall order. They needed to sculpt, animate, and texture the game's many Star Wars characters while also making them appear excellent on mobile. When comparing this game to Contest of Champions, it is evident that Contest did a much better job of making each character seem unique and bringing out the traits of each character through their movements. Galaxy of Heroes, on the other hand, appears to have taken every cost-cutting measure possible.
It's obvious in-game when most Jedis all animate and attack in the same way. Likewise, many characters similarly use the same animation gear and animate in battle. It's a brilliant shortcut, but it's obvious.
On the other hand, audio is an excellent form of fan service. All nostalgia is here if you turn up the volume using the best license practices. Many essential theme tunes play in the background, lightsabers have that timeless sound as they hit the adversary, and the death star's warning sounds can be heard in the background even when playing in some stages. EA definitely went to great lengths to ensure that audio gamers were immersed in the world of Star Wars.
Tech Compatibility
Live out your Star Wars fantasies as you battle alongside your favorite dark and light side heroes across historic locations to become the ruler of the galaxy. Luckily, you can do so on almost any device, as this game is undoubtedly non-demanding.
The recommended requirements ask for:
CPU: Mediatek MT6582 Quad Core 1.3 GHz or equivalent
GPU: ARM Mali-400 or equivalent
RAM: 1 GB
Storage: 500 MB
OS: iOS 8 / Android 4.4 Kitkat or later
Star Wars Galaxy of Heroes: F2P or P2P
Is the game F2P friendly in comparison to the "gacha" genre?
Sure, absolutely. Every upgrade path is farmable for any player given enough time. The top tier of relics is presently the sole hard gate, but you can still beat players with those tiers. Keep in mind that people will always pay their way to victory, but F2P gamers who plan ahead of time and are patient will be able to enjoy all game features in due time.
Still, the game has a noticeable P2W character, where you will lag behind if you don't get the hyperdrive bundle at the start.
Review Summary
The Star Wars: Galaxy of Heroes mobile game is a fantastic combination of an entertaining series with tried-and-true gameplay principles. There isn't much new in the genre here – it is a simple yet strategic RPG battle in which the player must collect and upgrade a large number of characters. Still, there is some amazing turn-based RPG gameplay with many of the galaxy's strongest Jedis.
It's also an excellent game to try if you enjoy Marvel Strike Force – they're basically different takes on the same game.
Download Star Wars: Galaxy of Heroes for:
Was this article helpful?