Have you ever had an Instagram post you wrote but weren't ready to share just yet?
Truth is, you can. Using the Instagram drafts, you may set aside any post as a draft until you have the time to edit properly, apply filters and write the caption. If you have ever wanted to know more about the drafts, you have found the ideal place.
Keep reading further to discover how to use Instagram drafts on any iOS or Android device, how long drafts last, how to delete them, and the specific location of your archived reels.
How to make Instagram drafts on an iPhone and save them
Here's what you need to do if you have an iPhone and want to learn how to save drafts on Instagram:
Get "Instagram" started on your phone.
Tap the "+" symbol near the bottom of the screen.
Use your "Library" to upload a photo you already have or take a new one.
Press "Next."
Choose filters like "brightness," "contrast," and so on.
Click "Next."
To go back to filters, click the "<" back arrow in the top left corner of the screen.
Click on the "<" arrow again to go back.
A message will appear asking if you want to save the draft. Click "Save Draft."
Voila!
Note:
Keep in mind that you can only save the draft if you edit the post, add Instagram filters, tag friends, or write a caption. Instagram won't ask you to save the draft if you only upload the post without all this and then go back.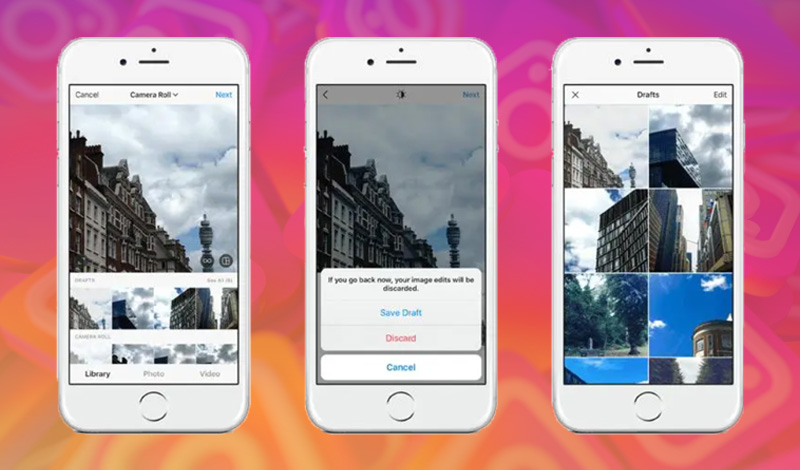 How to make Instagram drafts on an Android phone and save them
If you have an Android phone and want to save Instagram drafts, do the following:
Open "Instagram" on your Android phone.
Click the "+" icon in the upper right corner of the screen.
You can add a photo from your library, pick multiple images, or take a camera photo on the main screen. The "Preview" window is at the top, and the gray image is the file that is currently selected. When you're done, tap the "blue right arrow" in the upper right corner.
In the new editing window, choose a "Filter" or leave it as is. Once you've made your choice, click the "blue right arrow."
To save a draft, you must have made some kind of change to the post in this or the next step.
Change some things on the screen for editing the post, and then click the "blue right arrow" to move on.
Choose "Save Draft" from the "Save as Draft?" pop-up.
Now, on the "New post" screen, you'll see the "Drafts" option, which means that your work has been saved. When you're ready, you can tap to keep making changes. Tap the "blue right arrow" when you're done to save the post and make it public.
How to Make Changes to Instagram Drafts
Once you load a draft photo on Instagram, you can make changes to it. To change them, you'll follow the same steps as when you first upload something. What you have to do is:
Tap "Next" once you've opened the photo from "Drafts."
Tap "Edit," which is now blue and is below the picture.
The page called "Filter" is back.
How to Get Rid of Instagram Drafts
Sometimes you may no longer need a draft or want to start over on a post. If you want to delete Instagram drafts, do the following:
Open "Instagram."
Touch the plus sign "+".
Tap "Manage" to the right of "Drafts."
Click on "Edit."
The last step is to tap "Discard" and confirm that you want to get rid of the draft.
Additional Instagram Draft FAQs
How long do drafts on Instagram last?
In reality, Instagram drafts never go away. But some users have said that their drafts have disappeared without warning. If this happens to you, it's probably because Instagram has a bug. You can contact their customer service to see if they can help you fix the problem.
Where are my Instagram Reels drafts?
How do you get to a reel you've saved on Instagram? Is there a specific place for Instagram Reels, or do they go in the same place as other drafts? Instagram makes sure that every draft, no matter what kind, is easy to use. So, Reels that have been saved are kept in the "Drafts" section.
How do I find my saved drafts?
Drafts are not saved on your Instagram account, while posts are. If you uninstall the app and then reinstall it, your drafts will be gone. When they're gone, though, they're gone for good. You can make a new post or draft if the photos are still in your phone's gallery.
Can my computer save drafts?
Now that you know how to save drafts on your phone, you might be wondering if you can do the same thing on a computer. For now, if you use Instagram on your computer, you can't save drafts. So, if you need to keep a post, you should do it on your phone instead.
Instagram Drafts, in a nutshell
As you can see, it's pretty easy to manage drafts on Instagram. You can save as many as you want, and when you're ready to publish them, you can change them. Once you're done making changes, delete the draft to make the "Drafts" space less crowded.
Was this article helpful?