If you're a big admirer of smartphone role-playing games, you've probably heard plenty about Dislyte, the hottest new Lilith Games creation. This spectacular beat-driven RPG is beautiful and immersive, with just the perfect amount of strategic approach and challenge in terms of gameplay. Here lie simple Dislyte tips and a Dislyte beginner guide.
Dislyte gameplay and expectations
Lilith Games, the studio behind the popular mobile game AFK Arena, has created a "stylish urban mythological RPG" with its new title Dislyte. With classical turn-based mechanics integrated with different character skills and PvP combat, Dislyte has similar gameplay to many other mobile games. However, its cartoonish cyberpunk and colorful art style give Dislyte its own look and feel to help set it apart. There's also a focus on music throughout the game, with the choice of listening to a pop and EDM-inspired soundtrack, which acts as a fittingly dynamic backdrop as players take on the game's various challenges. Players will need to control a squad of characters to take on waves of enemies, eventually leading to various boss battles, as they use their sets of unique abilities depending on their roster of characters. Gamers can access a selection of up to sixty characters, with each one able to be upgraded and leveled up to create the ultimate superhero-like squad.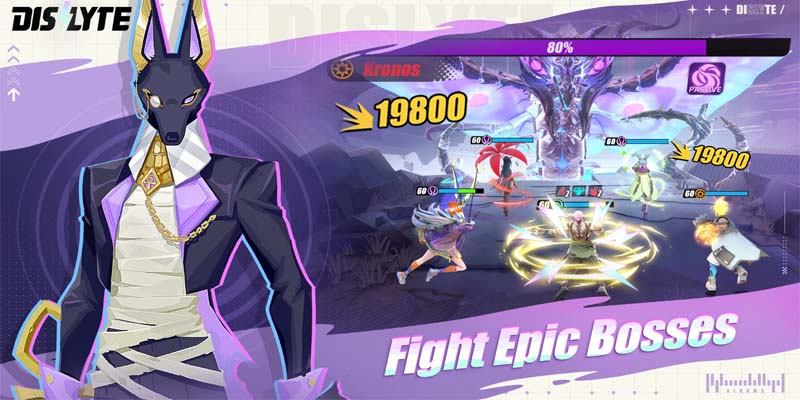 There is also a choice of:
either PvE combat, where gamers must navigate the three tiers of the Story mode with various questlines to pursue;
or Dislyte's PvP battles where gamers match their characters against another's team.
Introduction to Dislyte tier lists
As of June 2022, you can play with more than 70 Espers in the different modes of the game. Not all characters are created alike, however. As with any RPG, some heroes – Espers in our case – are generally more robust than others. According to the overall comparison of different heroes, you will often hear Dislyte fans discussing esper's tiers. Here's how to read that:
| | |
| --- | --- |
| Tier | Description |
| SS | Over-powered Espers. They have super strong abilities that can easily change the results of the battles. |
| S | The most potent Espers with game-changing abilities when in the right teams. |
| A | Espers with solid utilities and are always great at their job. |
| B | Espers with decent abilities and game-changing qualities. |
| C | Average Espers with some decent utilities but lack game-changing qualities. |
| D | Situational Espers that lack utilities or require a considerable investment to work. It can only be used in some teams. |
| F | Typically, useless Espers. Avoid using them in most cases. |
Dislyte tips
Dislyte is a new game with much to do as a beginner. However, you should know that your progression in the game will begin to slow down after a while and might even come to a complete stop. To beat this, we've listed a few tips to help you improve your progress.
Make the most of your 7-day x2 XP bonus – this might make all the difference in the game's world for how much you progress.
Focus on completing your missions up to Chapter 6 – reaching chapter six should become your ultimate goal because it is the breaking point where you will receive a life steal set.
Concentrate on one character at a time – upgrade one leading, severe harm dealer and enhance all the equipment and statistics if you want to possess influential characteristics that will help you clear PvE much faster and easier.
Counter Wind, Flow, Inferno, and Shimmer – these elements you will meet in the game, so knowing how each counters the others is an essential starting knowledge. Shimmer is the only one not countered by any other and cannot counter any other elements.
Create a balanced team
Make good use of the freebie gift codes – regularly check out for free Dislyte codes that you can redeem through the gift code option in the services screen within the game.
Dislyte FAQ
Was this article helpful?