In the realm of GPT (Get-Paid-To) and survey sites, Swagbucks is a household name. However, more than size is necessary to indicate excellence. Most new folks ask one very specific question when it comes to the platform.
---
Is Swagbucks a scam or a genuine opportunity to make money online with little to no investment on your part?
---
Before you read further, let us make it crystal clear that we have used the service for many years and can attest that it is legitimate and has paid its due numerous times.
This 2022 Swagbucks review will tell you everything you need to know to decide if this is the right site for you by laying out what the site has to offer, what you can expect, and what you should be wary of.
What is Swagbucks, and how can you earn real money with it?
History class, enter. Millennials leave.
Swagbucks has more than 20 million registered users, making it one of the biggest and most popular rewards sites. In total, Swagbucks has given out more than $655,000,000 in cash and prizes. The company behind that enterprise is called Prodege and is the same company that offers multiple digital services, similar to the reward portal, Swagbucks.
But, I assume, you are not here to read about Prodege. You're here to take a look at all the legitimate options Swagbucks provides for you to earn money, so you can decide if it's for you.
Here follows 12 distinctive methods to get paid on Swagbucks.
Method #1: Fill out surveys on Swagbucks
Paid surveys are a great way to make extra cash and have your voice heard. Swagbucks has many members, making it a popular place for companies that need surveys done to go. This means that there will be a good number of survey opportunities on most of your days on the platform.
One thing I found during my experience with the app, though, is that when you first log in, you might need to be clarified where the surveys are.
---
Swagbucks is different from most sites that offer paid surveys because it does not have a section called "Surveys." Instead, "Answer" is the name of the section on the site where the surveys are.
---
You can also find the daily poll in this section, where you will get paid to answer one short question, which will usually only take a few seconds.
Like most other survey sites, you need to know that you will only be able to qualify for some surveys. That's how survey sites work, but it's good to be reminded now and then to keep going even after not qualifying for a few surveys. There will definitely be a lot of paid surveys that you qualify for. After a while, you'll figure out which ones you are eligible for most often, and then you can try out those straight away.
Another pro feature of the paid surveys on the app is that you can immediately see how much you'll get paid for each survey and how long it's likely to take. This makes it easy to plan your time in the best way possible.
Keep in mind that you can sometimes find "Swag Ups" in the menu on the side. You can turn on these bonuses to get a certain percentage of bonuses for the surveys you take for a certain amount of time. These are good things to keep an eye on because they can really help you make more money.
Method #2: Shop online and earn cashback
Swagbucks works with a long list of companies, and when you shop online, you can earn Swagbucks rewards called SB points. This works for thousands of online stores, such as Gap, Nike, Amazon, and Walmart.
Depending on where you live, you can also get cashback for services and different activities in your area. You will get between 1% and 50% cashback. Fortunately, most companies give more than 1%, and this can help you get some good deals. So, if you like to shop online anyway, using the Swagbucks shopping portal can be a great and quick way to earn rewards and get some good deals online.
---
If you are interested in the Swagbucks cashback option, make sure to also check out the part about the Swagbutton later in this review.
---
Overall, if you ever shop online, it can be worth joining Swagbucks just for this option, as you will then earn while spending money you will spend anyway.
Furthermore, one of the newer things that Swagbucks offers in some countries is cashback offers in physical stores. This means that if you link a card to your Swagbucks account, you will get cash back automatically whenever you use that card at certain stores. All in all, there are few sites like this that offer cash back at stores, and it's a great way to make a little extra money without doing much.
Method #3: Use Swagbucks' built-in search engine
Swagbucks provides a search engine where users may do web searches in exchange for points. Each time you perform a search while using this, you will be entered into a drawing for prizes. If you win, the screen will show you right away.
---
You can win anywhere from 1 to 1,000 SB points, and the winners are chosen at random.
---
It doesn't say anything about how likely you are to win, but Swagbucks makes it clear that they won't sell or collect personal information based on your search history. So, if you search the web anyway (which most of us probably do), this method for earning money might be worth your shot.
Method #4: Watch videos on Swagbucks
By watching videos on Swagbucks, you can earn incentives. To be honest, there is little money to be made here, but again you can earn money by watching videos you will do even without the app.
---
You can find videos in numerous categories, including sports, entertainment, health, food, politics, fashion, technology, and pests.
---
The video option is not the quickest method of making money, but it can be enjoyable. Therefore, you should not utilize this feature solely for financial gain, but only if you find the videos interesting. Eventually, there is also the possibility of discovering exciting videos. Therefore, if you find videos that you would watch anyhow, why not get paid for them?
Method #5: Earn by playing games on Swagbucks
Continuing on the entertainment trend, there are also two ways to acquire rewards through gameplay time:
The first is to play one of Swagbucks' own free games. The games you can play on the Swagbucks website will earn you up to 10 SB points. This includes, for instance, memory games or other comparable games.
While the second is to play games on external websites. For most of the external games advertised on Swagbucks, you can play both for free or opt to play for real money. It includes games such as slot machines, poker, roulette, Angry Birds, and more. However, you will only earn SB if you make purchases within the game. Therefore, this is more of a cashback option. Despite this, if you enjoy playing these games regardless, it can be an excellent way to earn cashback on purchases you would have made anyway.
Method #6: Join the Swagbucks Magic Receipt program
In addition to all other payment methods, Swagbucks provides access to in-store deals and coupons, which you will not see on many other GPT sites. This means that you can obtain coupons redeemable in-store at a variety of stores. When you use them to purchase specified things, cashback will be deposited into your Swagbucks account.
You can also earn by purchasing certain items in physical stores, uploading the receipt to Swagbucks, and earning cashback rewards in this manner. Some rewards for this are pretty generous, and new items are constantly being added, as well as items that you are likely to purchase anyway, such as coffee, magazines, cereals, bread, mayonnaise, and many others.
As a result, it may be advantageous to keep an eye on this part, as it can be a simple method to save a substantial amount of money.
Method #7: Offers and deals
There are a lot of offers and deals you can get through Swagbucks. You can find them in the "Discover" section. It's a list of things you can do that will earn you points. For example, it could be to sign up for a particular website or service, visit a website, download an app, sign up for a free sample of a product, or sign up for a newsletter.
Swagbucks has an excellent selection of offers compared to other GPT sites with offer sections. Usually, this option offers plenty of deals, but with Swagbucks not only do you get a good amount of offers but mostly they will be limited to Swagbucks only.
If you keep an eye on this section on Swagbucks, you can find great deals and make easy money. Keep in mind that even though some of them might not work out for you, others could turn out to be great opportunities and easy ways to make money.
Method #8: Have friends over
Recruiting your friends to Swagbucks is an excellent method to increase your earnings potential. The 10% referral fee is paid to you once your invited friend starts making money.
This 10% will be sent to you by Swagbucks as a thank you for referring a friend, rather than deducted from your friends' rewards.
Method #9: Bonus for completing given daily goals
You can get an extra bonus on Swagbucks if you do certain things. For example, every time you complete your daily Swagbucks log in, you can see how much you need to earn that day to reach the daily goal.
---
If you log in to Swagbucks every day for a few days in a row, you will get a bonus that depends on how long your streak is.
---
You will get 25 SB after 7 days, 100 SB after 14 days, 200 SB after 21 days, and 300 SB after 31 days. So if you use Swagbucks every day, that can be a nice little extra bonus to go for. Furthermore, you can get more than just a daily bonus if you reach your goal. Swagbucks also gives you a list of things to do every day. If you do this, you'll get a bonus that day if you do it.
Method #10: Receive free points with the Swagcode option
Frequently, on the Swagbucks Facebook page and other social media outlets, there are promotional codes and coupons. Therefore, it's a good idea to keep an eye on social media platforms for free incentives, since these codes will grant you free SB points.
The codes will yield minimal prizes, but entering them will only take a few seconds, so it may be worthwhile to pursue this course of action.
Method #11: Participate in free and paid competitions
Swagbucks conducts contests frequently. Some of them are announced on their blog, while others are accessible after logging in.
The majority of these contests are free to join. However, you may also find contests on Swagbucks that require you to use SB to enter; these are known as Swagstakes. For instance, it might be a contest for $250 with a two-cents entry fee, for instance.
There are other contests with similar prizes, including coffee makers, AirPods, PayPal cash, and more. Therefore, if you're feeling lucky, these contests could provide you with the opportunity to win some excellent prizes.
Method #12: Get SB as a gift for your birthday
This one is not precisely applicable on a day-to-day basis, but still, you will get a free email with 55 SB on your birthday. If you redeem a reward within 30 days of your birthday, you will get this amount back as a rebate. So, if you want this birthday gift, you have to click on the link in the email you get and then redeem a reward within 30 days.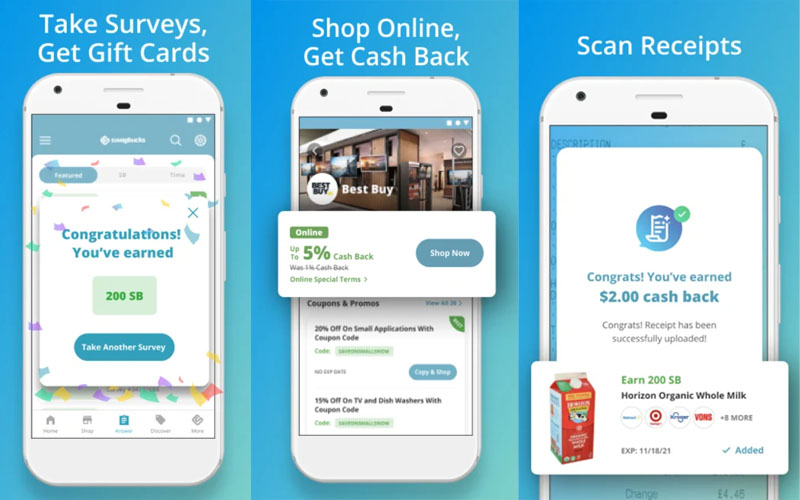 Swagbucks FAQ
Can Swagbucks be used on a mobile device?
If you enjoy utilizing the platform on the go, you may download the Swagbucks app after signing up for Swagbucks. It supports Android, iPhone, iPod, and iPad/tablets.
In general, it performs best on newer devices, but it may be used on devices that are less than two to three years old.
If you are looking for a more convenient way to earn money, consider signing up for the app, and applying for the surveys from there. It is super convenient for when you have a few minutes to kill waiting for something or someone.
Another perk of using the Swagbucks app is that it shows you local specials, so you can get money by eating out or shopping locally if you choose to do so.
You should know, however, that the mobile app is not available in all countries, so if yours is not part, do not worry; you may still make money by using the website. A restricted version of the Swagbucks app, with access limited to the survey component but otherwise identical, is also accessible in several regions.
How do you get paid on Swagbucks?
Every time you do an activity, you earn SB points (Swagbucks Points or Swag Bucks). You can then trade these SB points for a wide range of gift cards, convert the Swagbucks to PayPal cash, or enter into sweepstakes. Most of the time, 100 SB is equal to $1. But sometimes gift cards come with discounts, so for example, you only need to spend 1900 SB to get a $25 gift card.
If you want to get paid through PayPal, the minimum amount you need to get paid can vary from country to country, but it is usually around $5/€5/£5, which is a satisfactory low amount. But you can trade in your rewards even sooner for many other rewards, and in some countries, you can get gift cards as soon as you have 100 SB.
Swagbucks has a much better selection of gift cards than many other survey sites. You can get gift cards for Amazon, eBay, Walmart, Target, Starbucks, Dunkin' Donuts, iTunes, hotels, airlines, and a lot more. So, it should be easy to find a way to spend the points on something you want.
You can also spend your SB on the sweepstakes called Swagstakes. Here, you can buy entries into different sweepstakes for several points, giving you a chance to win a bigger prize. Some have time limits, and others only let you enter a certain number of times. If you keep an eye on the sweepstakes section, you may have some good chances to win extra prizes.
How much money can you earn on Swagbucks?
A thing you can say about Swagbucks and sites like Swagbucks in general, though, is that they won't make you rich. So you should not join if that's what you want to do.
Swagbucks is one of the world's biggest and most popular sites because it offers so many ways to make money. In general, it has better earning potential than many other sites like it. And if you like to shop online, Swagbucks can save you a lot of money with the online and physical store deals it offers.
Our personal experience with Swagbucks shows that on a typical day, you can make $2 to $5 fairly easily on Swagbucks when you answer surveys, play games, and claim cashback for your online purchases. After 20-days-in on Swagbucks, we managed to earn $80 from the efforts we invested by still going about with life.
To assess your realistic opportunities, you should first define: "how much time you are willing to spend?", "how many of the opportunities do you want to use?", "where do you live?", and a lot of other things matter.
Can your SB points expire?
Yes, your Swagbucks points can run out. After 2 years from the day you get them, the SB points you earn will be gone.
What's more, your account will become inactive after 6 months if you haven't logged in, made any points, or redeemed any rewards. Most people would want to get their rewards faster anyway, but if you like getting as many points as possible before cashing out, be aware that they can expire if you wait too long.
Who is eligible to join Swagbucks?
Until recently, Swagbucks was only accessible in a handful of countries. It is now possible to join from nearly any country, as membership has been expanded. However, in many nations, it will continue to have relatively few options.
You must be a resident of the United States, Canada, the United Kingdom, Ireland, Australia, Germany, Spain, or France in order to join the site and gain access to all the prospects described previously in this evaluation. Additionally, the most considerable Swagbucks incentive is only available in the initial eight nations I mentioned previously. Therefore, if you reside in a different nation than one of the eight nations above, you will find more possibilities on other sites in your country.
Theoretically, individuals from India, the Philippines, Singapore, Malaysia, South Africa, Hong Kong, Indonesia, Vietnam, Thailand, the United Arab Emirates, Denmark, Norway, Sweden, Finland, and the Netherlands can also join. However, in these nations, the number of earning opportunities is still somewhat restricted.
You can still join and receive a joining bonus in nearly every country. The only requirement you should meet is the minimum age to join Swagbucks, which is 13 years old. Furthermore, in some countries, if you are under 18 years old, you will also require parental permission.
Interestingly, Swagbucks allows multiple members of the same household (with the same IP address) to join. The opposite is true with some similar websites like Swagbucks. Obviously, you are not permitted to create multiple accounts under a fake name, as this is considered cheating, and you will be banned if they discover it. But as long as you make an individual account for each unique family member, you are safe to use the website as a family.
Can you obtain support?
Essential for any GPT or survey website is the ability to contact their customer service center. Hopefully, you will never want assistance, but it is crucial to know the option is available. In the case of Swagbucks, you can file a support ticket using the website or send a message through their Facebook page.
We have had multiple interactions with Swagbucks, and always received responses in a fashionable time manner with helpful feedback from their side. So, to the best of our knowledge, Swagbucks offers satisfactory support.
Is Swagbucks LEGIT or SCAM?
To give you a larger view, we wanted to also incorporate other people's perspectives on the website, so we conducted more research and contacted other members to learn about their experiences.
In general, people have a favorable opinion of Swagbucks, and it has gained so many users for a reason. So, summing up our experience and the comments we received, we can say that Swagbucks appears to be a decent method to earn some additional cash.
Inevitably, we found complaints about Swagbucks as well, as with any other survey or GPT platform. Most of it pertains to the inability to qualify for enough surveys, which is a common complaint with online survey sites. However, you should only anticipate qualifying for some surveys on any site that offers paid surveys. After a while, you will learn which types of surveys you are most likely to qualify for, and you will focus on these.
We have also heard a few comments that the incentive for watching videos could be much higher. We can only concur, but do not consider this to be a legitimate issue. You always know your earnings before you begin taking part in any GPT method on the website. Therefore, you could only choose to watch these movies for the money you consider to be satisfactory. Quick tip, though, you should not watch videos solely for the money, as that is not worthwhile, but do it if you wanted to watch it regardless.
In general, though, Swagbucks receives very positive feedback, users share having pleasant experiences with the website, and most people have really positive things to say about the site.
Swagbucks: Pros and Cons
Advantages
A company with a good reputation and a lot of experience.
Nice sign-up bonus.
It pays out through PayPal and has a lot of other great prizes.
There are many chances for you to take.
It has a great app that makes earning on the go easy.
With a Chrome extension, it's easy to make money while you surf the web.
Disadvantages
In some countries, it only has a few choices.
Finding surveys you qualify for can sometimes take time.
Even though the platform is pretty good, one of the biggest problems is that you have to do a lot of work to earn points for some offers.
The tasks on the platform pay out very little money, which makes it hard to make a lot of money.
We have heard that people have to wait a long time to get paid. So, it would be best if you kept this in mind.
Swagbucks Review Summary
In sum, Swagbucks is a legitimate platform that provides excellent value through offers, rewards, and points. You have nothing to lose by signing up because the site is risk-free. If you enjoy receiving free incentives, consider signing up with them.
Swagbucks is definitely NOT a fraud. It has existed for many years and has millions of users who earn incentives and get paid every day. There are several earning opportunities and a wide variety of rewards to pick from. However, you should set your expectations right by keeping in mind incentives are merely that, and should Swagbucks should not be expected to work as a side hustle.
Download SwagBucks for:
Was this article helpful?