Although Mobile Legends: Adventure takes place in the same universe as Moonton's well-known MOBA Mobile Legends: Bang Bang, it plays very differently. Adventure is a typical idle or AFK RPG, unlike Bang Bang, which includes lots of interactive PvP action.
From the moment it was released, Moonton's Mobile Legends: Bang Bang was a huge hit, especially in Asia, where it amassed millions in sales. Players liked this mobile MOBA, its distinctive characters, and its exhilarating PvP confrontations here and around the globe.
As a follow-up to Bang Bang, Mobile Legends: Adventure is set in the same universe and has many of the same characters, despite the fact that it is set in a different genre. As soon as you board the adventure train, Layla, a markswoman whom you may recall as the very first person you ever played in Bang Bang, welcomes you.
But care to stay while we break down both games to give you the answers to these questions:
Is Mobile Legends: Adventure and Mobile Legends: Bang Bang the same?
Is it true that the two games will be merged?
Which title is better than the other?
So, let's begin!
Essentials Comparison – Mobile Legends: Bang Bang vs. Adventure
Mobile Legends: Bang Bang is a mobile MOBA that is available for free. It has a large cast of heroes, efficient matching, and action-packed fights that enable quick gameplay sessions while on the go. It has many of the elements that gamers would anticipate from a PC MOBA like League of Legends or SMITE, such as laning, jungling, item builds, hero roles, hero abilities, skins, and much more.
Launching a new gacha-RPG might be reassuringly familiar, especially if you've played as many as we have. Mobile Legends: Adventure is not an exception, even if it appears better than most. It certainly belongs to an established universe with a lot of money behind it. It is an indirect, genre-jumping successor to Moonton's popular MOBA Mobile Legends: Bang Bang.
Gameplay Comparison – Mobile Legends: Bang Bang vs. Adventure
The setting of ML: Bang Bang is a wonderful anime kingdom straight out of your dreams! You have a wide range of exciting possibilities with numerous categories from which to select your favorite hero or enchanted creature. Every avatar has a unique set of supernatural components that you wouldn't generally find in other games of a similar nature.
In many ways, the gameplay is a perfect 10 out of 10.
The game's ability to provide users with a fast-paced gameplay experience is maybe its most remarkable feature. And as you level up, each game can only last 20 minutes. While the gaming lasts no longer than 10 minutes at the beginning levels. This is much quicker than the time it takes for a typical mobile game.
The game offers a variety of interesting modes. Each mode has been painstakingly designed to give the player an impressive gaming experience. This includes the traditional 5v5 mode, which is unranked and lets you play with your buddies.
Mobile Legends: Adventure is an idle gacha-RPG with a well-known gameplay loop at its core. However, just in case you've never played a game of this nature before, it works like this.
Starting out, there are only a few modes to pick from and a tiny group of heroes who are relatively weak.
The game's core, the story campaign, is made up of numerous tense battles.
Each combat starts with a brief opportunity for you to decide not only who fights, but also where they will stand in your formation. Battles begin to unfold automatically once you've made those decisions. You can choose to manually deploy talents, but there is no benefit to doing so. Simply relax and take in the performance.
After combat, you spend time navigating the various menu screens where you can earn awards and loot by doing the customary things like completing quests, achieving milestones, logging in regularly, and so on. To find all the gems, coins, and other rewards that are owed to you, simply check for the red notifications.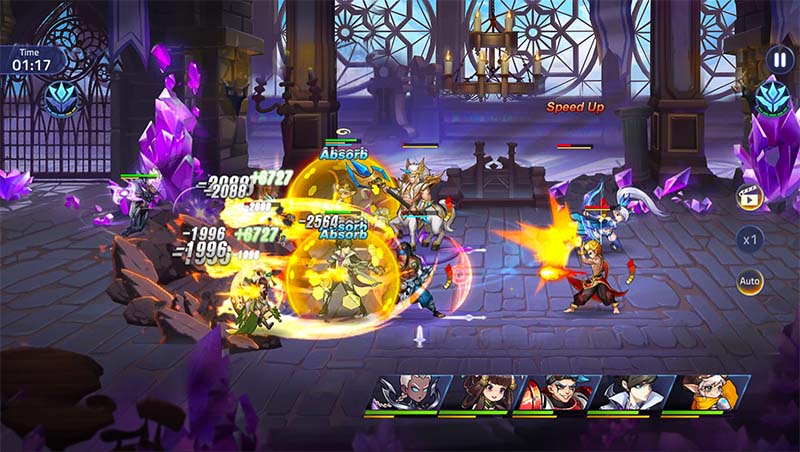 Game Atmosphere Comparison – ML: Bang Bang vs. Adventure
The goal of Mobile Legends: Bang Bang is to make gaming interesting for all players. Therefore, the game's various modes allow for something that will entertain every player, including those that are more interested in adventure and competition.
Overall, Mobile Legends – Bang Bang has stunning visuals that make it appealing to the eye.
This game serves as our live-action anime combat, with the exception that players from different servers cannot participate together.
Most idle gacha-RPG games don't look as good as Mobile Legends: Adventure does. It's an indirect, cross-genre successor to Moonton's popular MOBA Mobile Legends: Bang Bang, and it obviously belongs in a well-funded, established universe.
Even though the characters are mostly typical waifu females and heavily armed men—many of whom Mobile Legends: Bang Bang gamers will be familiar with—they are all brilliantly rendered, and the cut-scenes and skill animations are exhilaratingly smooth and outrageous.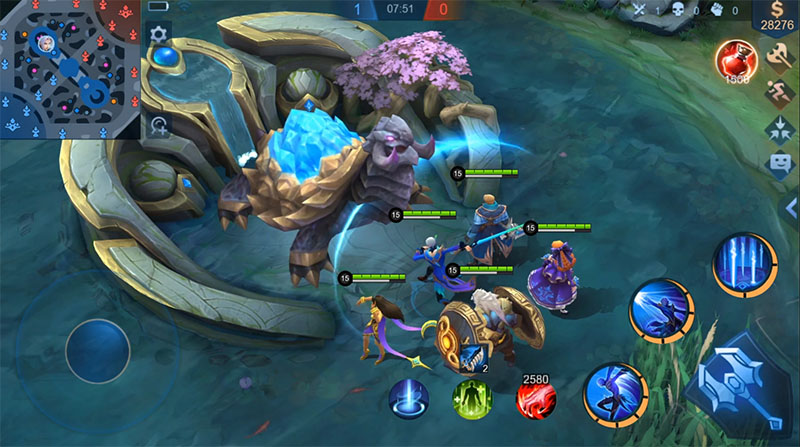 Tech Compatibility – ML: Bang Bang vs. Adventure
To run ML: Bang Bang, your phone should have these or equivalent specs to run the app smoothly:
CPU: Snapdragon 660 Octa Core 2.2 GHz or equivalent
GPU: Kyro 260 or equivalent
RAM: 4GB
Storage: 400 MB
OS: iOS 9/Android 6.0 and up
A significant technological flaw is that the game may lag if you play with someone on a separate server from you. Therefore, it's preferable to play on the same server to avoid lag.
The controls for the game are rather simple to use and self-explanatory. Other than the fact that the mobile app is demanding, the game is straightforward and user-friendly.
To run ML: Adventure, your phone should have these or equivalent specs to run the app smoothly:
CPU: Snapdragon 660 Octa Core 2.2 GHz or equivalent
GPU: Kyro 260 or equivalent
RAM: 3GB
Storage: 50MB
OS: iOS 10/Android 9.0
In the case of this title, "playing" is a bit of an overstatement because, in contrast to other games, this one won't frequently divert you from your objective. You might actually AFK throughout all stages of the game, which reasons why ML: Adventure is not a demanding app, despite the high system requirements.
In-App Purchases – Mobile Legends: Bang Bang vs. Adventure
Mobile Legends: Bang Bang is completely F2P, despite the presence of in-app purchases. Some skins can be purchased with a particular currency that you build up over time by completing your daily tasks. Yet, as there is a weekly cash cap, F2P emblem completion will take some time.
Additionally, the game developers provide you with free skins as well as a variety of heroes from each class.
If there is one thing to remember, that is that this is a skill-based game, so cosmetics won't help you outplay a skilled opponent.

Although you can play Mobile Legends: Adventure for free at any time, it is a P2W game. Only spenders are eligible for VIP points, battle pass, SSR fragments, gems, and skins.
If you are willing to invest, the game can increase your hero's star rating significantly. Naturally, as is to be expected for an idle game, things will slow down significantly later on.
Spending money will undoubtedly make you more powerful than any F2P, but use caution while using summons because their success rates aren't great.
Which one is better – ML: Bang Bang or ML: Adventure?
ML: Bang Bang is a great illustration of a mobile MOBA game. Some have compared it to a mobile version of League of Legends, and we can only partially disagree. The characters are pretty different, even if it does have some similarities to League of Legends.
Mobile Legends Bang Bang doesn't have a core plot; instead, it focuses more on the gameplay, which might be good or terrible depending on your perspective.
Although Mobile Legends: Adventure isn't very inventive if that's what you're searching for, it's one of the best examples of an idle AFK RPG you can discover. All anyone can really ask for is something that is attractive, equitable, and content-rich. And you get that with this title.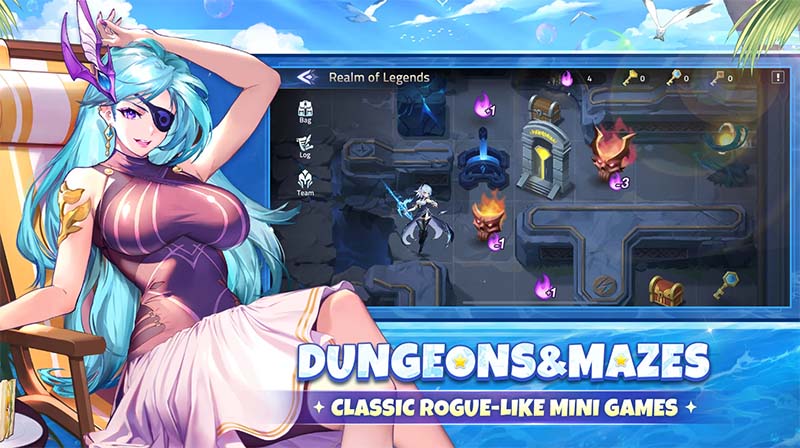 Our personal preference is Mobile Legends: Bang Bang due to the fact that you get much more dynamics, adventure and thrill, overall, from the game.
What is yours?
Was this article helpful?