Even though there are plenty of shopping apps, finding the perfect one might still be tricky. It must offer a great variety of products, be easy and convenient to use, and have a good shopping experience. Here's where the Myntra shopping app comes into the picture. It is the number one app for fashion shopping in India! Check out the full review to see what makes Myntra the number one choice.
What is Myntra?
Myntra is an Indian online shopping app that primarily focuses on fashion clothing. It offers original pieces of clothes from various famous brands worldwide and has a 100% authentic guarantee for every product you might see on the app. You can find different fashion items on Myntra, including accessories, shoes, beauty products, and more. Users of the app can enjoy various sales, promotions, and rewards from the loyalty program. When using the Myntra app for buying clothes, you can choose your desired payment method and delivery option. In addition, you can use a 30-day return policy if you are unsatisfied with the product.
You can download the Myntra app from the App Store and Google Play. At this point, Myntra delivers products within India only.
Products you can buy with the Myntra app
A variety of products is one of the many reasons many people enjoy Myntra. It offers thousands of products of more than 2500 different brands from all around the world. You can buy any clothing item you can think of for women, men, and kids. However, the Myntra app is not for buying clothes only; let's check out all product categories.
Clothes and footwear from your favorite fashion brands
Myntra has a wide choice of clothing items. Once you visit the app, you can check out products for women, men, and kids. In addition, you will find various sub-categories, including Indian and fusion wear, western wear, dresses, suits, skirts, shirts, lingerie, sleepwear, sportswear, and more. If you are interested in certain brands, you can check out the "discover" section on the Myntra app, where you will see the list of brands like Adidas, Puma, H&M, Forever21, Marks & Spencer, GAP, Levis, and many others.
There is a separate list for the premium brands such as Lacoste, Polo Ralph Lauren, Calvin Klein, American Eagle, and more! Having a hard time choosing a gift for someone? You can check out trends "for him" or "for her" and buy the trendiest items.
You can find any type of footwear on the Myntra app. Starting from casual shoes to killer high heels. You can choose from more than 250 brands!
The look is never finished without accessories! Myntra will not disappoint you when it comes to accessories, either. There are all kinds of accessories at your fingertips; all you have to do is to choose. But it might not be easy as hundreds of handbags, bags, sunglasses, watches, jewelry, hats, gloves, travel accessories, and other items are available on the Myntra app.
On the Myntra app, you can find beauty and personal care items both for women and men. The list of products is impressive. It covers every single thing a woman can desire – perfume, aroma oils, skin and hair care products, makeup products, and more. But, of course, there is everything for men, from perfume to hair and beard care products.
Want to make your home cozy and welcoming? Visit the Myntra app and browse through the items that will help you decorate your home. You can find home decor items such as mirrors, shelves, fountains, curtains, lamps, carpets and doormats, bed linen and furnishing, kitchen tools, tableware, drinkware, bathroom accessories, and more from the top brands. One visit to the Myntra app, and you can design your dream home!
On Myntra's online shopping app, you can buy gadgets as well. The app offers headphones, speakers, smartwatches, and fitness bands. There is an excellent variety of items on the Myntra app. You can find the perfect item for yourself using various filters, such as brand, price range, color, size, etc. With the help of filters, you can find a perfect gadget in no time.
Why should you choose the Myntra app?
The variety of fashion clothes and accessories is not the only reason many people choose the Myntra app for shopping. Here are the most prominent advantages of shopping on Myntra.
Myntra online shopping app offers an easy shopping experience, from finding the right product to receiving it at your doorstep. The filters for product search are designed so well that you can find any product in a blink of an eye. Once you find it, you can add it to your bag with one tap and choose the payment option that works for you the best – credit card, debit card, net banking, wallet, or purchase the item with the gift card. You can even choose cash on delivery and pay once you receive the product.
If you are not an online shopping lover or are not sure how the clothes will fit you, the Myntra app has you covered as well! You can choose the "Try and Buy" option for a small fee. You can try an item once it is delivered and buy only if you like it! You can agree that the customer-oriented policies and user-friendly app Myntra make online shopping more accessible than ever!
Every store or online shopping application has sales during the big holidays. But the Myntra app has the most generous ones. For example, it has a 50-80% discount for this Christmas. You can check discounted items for specific brands or product categories. If you want to buy a particular item, you can search for it using a discount range filter. This way you will buy what you want at the best price.
Myntra Insider loyalty program
If you decide to shop on the Myntra app, do not forget to join the loyalty program "Myntra Insider." You will earn 100 points for becoming an Insider, 10 points for every Rs 100 spent on shopping, and another 250 per month for completing activities. In addition, you can redeem your points for offers from Myntra and its partners in different areas, such as dining, stay, travel, and more. But, that's not all; with the Myntra app insider program, you can get styling sessions by the top celebrity stylists in India, get VIP access to sales and new product launches and receive freebies!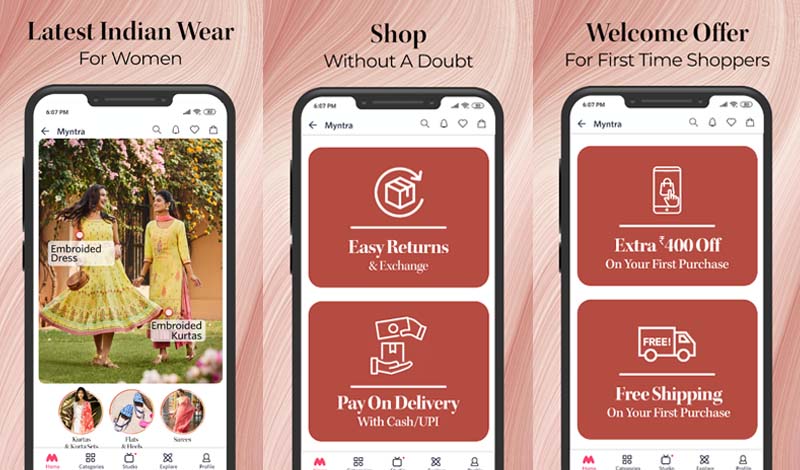 Get the best shopping experience with the Myntra app
Myntra is the ultimate app for online shopping in India. It offers a wide range of high-quality products from the top worldwide brands. It provides an easy shopping experience, has sales you cannot ignore, and has a loyalty program that has never been so rewarding. These are just some of the reasons why millions of Indians love the Myntra app.
Was this article helpful?