Gamehag claims to provide rewards for online gaming. If you enjoy gaming, this may appear to be a really enticing offer. The possibility of earning money while having fun is obviously intriguing. However, is GameHag legitimate or is it simply another con you must avoid?
In pursuit of answers to the above questions, our team evaluated this website in relation to the hundreds of other free internet income opportunities.
This in-depth Gamehag review will disclose the complete truth about the site's offerings, allowing you to determine whether it is worthwhile to join or not if you are after it for the money mostly.
What is Gamehag and what services does it provide?
Gamehag is a legitimate Get-Paid-To (GPT) website that, among other things, pays you to play online games. The reason this fell under our microscope is their focus on gamification – even the manner in which they handle prizes on their website gives the impression of a video game.
However, legitimacy does not necessarily imply that it is worthwhile. To comprehend this, we must explore the income prospects it provides and its operation in detail.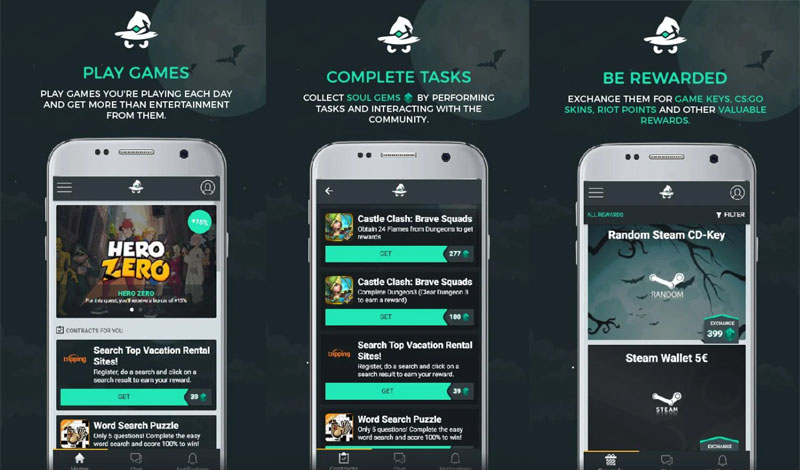 So, how can you earn from Gamehag?
Option 1: Earn by doing minor tasks
You can gain Gamehag points by completing little chores. Typically, these chores will need you to join a website, register for your social network accounts, and more.
However, there are additional chores that mimic those typically found on other GPT sites, such as completing surveys and downloading applications. There will also be assignments that require you to play online games and attain a certain level of accomplishment in order to receive the prize.
Task completion is quite straightforward. Most tasks will just require you to do one action. You only need to ensure that you meet all conditions necessary to accomplish the work. Next to each assignment is a button labeled Complete. Simply clicking this will start a new browser tab. There, you are instructed on how to complete the work.
Immediately upon completion, the prize will be credited to your account. However, rewards for some activities, such as completing surveys, may take longer to appear in your account. Don't worry if you do not see the award immediately. Just be careful to keep track of the accomplished chores. So, if the prize has not been delivered after several days, you can contact their support service.
Option 2: Earn by playing mini-games
You can also play various mini-games on Gamehag to receive additional incentives. The premise is rather straightforward. Achieving a set score in the mini-game you play will earn you rewards.
The majority of games you may find in this earning opportunity will be skill-based arcade games. Thus, it won't be really difficult. In this context, the Flapcat Steampunk minigame is a good illustration. If you play this game, you will receive a gift for every 40 points you earn.
The benefit of this earning opportunity is that you can earn prizes while having fun. The disadvantage is that the rewards won't be particularly substantial.
Option 3: Earn by completing deals
Deal completion is another method for earning incentives on this site. It is very similar to the activities that are presented, but there is one big difference: the requirements needed to finish it.
The majority of the bargains available here will include video games in some capacity. Furthermore, some deals will also allow you to redeem in-game products with your Gamehag currency – Soul Gems.
Option 4: Earn money by creating content
You can also generate large prizes by creating two sorts of content to earn money.
You can make an article on a video game.
For each article you create, you will receive a fixed payment of 250 Soul Gems. To obtain the incentive, however, your content must be unique and cannot be a replica of an already existing piece on the site. You must also adhere to extra instructions that will be supplied after you create the post.
You can make a YouTube video to promote the website.
The rate for video content is undetermined. You must submit the link to your video so that the Gamehag team can review it and reward you with a fair amount of Soul Gems. Therefore, if you decide to create a video, ensure that it is of high quality in order to maximize your earnings.
Gamehag Frequently Asked How To's
How do you get paid?
Every action you perform on Gamehag will earn you Soul Gems, the site's money. Then, you can redeem various gifts with the Soul Gems you've acquired. As indicated above, they can be used to receive in-game incentives. However, there are additional incentive possibilities available for selection as well.
You may also redeem coupon codes and CD Keys for many video games. You can also change your Soul Gems to a virtual currency like Openbucks or Steam Wallet coupons. If you are unfamiliar with Openbucks, it is virtual money that is mostly used for in-game purchases in a variety of video games. It can also be used for other services.
If you were hoping to earn money with this website, you will be disappointed, since they do not offer this option. If you'd rather earn money using PayPal, I recommend you visit the top sites that pay via that method.
One thing to note about their reward system is, that it's hard to quantify the actual worth of Soul Gems because the incentives they offer demand varying amounts of Soul Gems. For instance, a $10 Steam wallet code costs 5299 Soul Gems, whereas a $10 Openbucks voucher costs 5549 Soul Gems. Therefore, there is no definitive conversion rate, which might make calculating how much you have earned extremely complicated.
How much money are you able to make?
Technically speaking, you cannot generate money from this website. However, some of their incentives can be considered cash equals. But to point out exactly how much you can make, you need to keep in mind that the majority of your income will depend on the availability of employment possibilities and their pay rates.
Some of Gamehag's activities do not pay very well (such as the quick ones that require you to check in to specific websites), but others pay a respectable amount of Soul Gems. According to our experience, the payments do not commensurate with the quantity of effort required on your side.
For instance, if you base the worth of their Soul Gems on Steam wallet codes, you can get 250 Soul Gems for writing an article. In reality, you get approximately $0.50, which is not much considering the time and work required.
Overall, you may truly earn extra money from this website. But at the end of the day, it would cost you a lot of work on your side. Here's the part where we say it – this website does not offer a great earning potential. However, the true benefit of this website is the ability to earn rewards while playing video games. That means, if you enjoy the games on the website, then earning something on the side is just an additional incentive.
Can you use it on mobile?
The fantastic part about Gamehag is that you can download a mobile app so that you may perform chores and deals on your mobile device.
The Gamehag app is available in both the Android and iOS app stores, so compatibility is not a concern. Additionally, the software is user-friendly. You will have no trouble navigating and learning how to utilize the application. This can considerably increase your earning efficiency, as you can earn incentives even while you are not in front of a computer.
Who can access Gamehag?
Gamehag is accessible worldwide. This indicates that you can join their platform regardless of where you live. You can sign up for a membership on their website using your Facebook or Steam account. Alternatively, you may give your own login credentials.
Once that is complete, you only need to confirm your registration. You will also gain 20 Soul Gems for your efforts, which isn't much, but at least you get something right now.
Can you obtain support?
Gamehag, in our opinion, does not provide members with adequate assistance.
You will get an automated walkthrough through the platform immediately after logging in for the first time. But if you hit a genuine issue with the app or the payments, you are most likely going to have a tough time contacting a real person to assist you. Unfortunately, that is also one of the main reasons users share a negative experience with Gamehag.
Anyhow, if you have any questions, you can always check their Frequently Asked Questions page to see if the answers are there. As another layer of support, you can also attempt to chat with a representative by joining their Discord server.
Pros and Cons of Gamehag
Gamehag is more likely than not a good platform for mini-game enthusiasts. However, this does not imply that it is flawless. Here's a list of the most notable advantages and disadvantages of Gamehag.
Advantages:
Offers multiple methods of earning rewards;
Plenty of games and genres to choose from;
Available worldwide;
Their application is available for users of iOS and Android.
Disadvantages:
Low rewards;
No monetary awards are offered;
Requires time to earn;
Task length varies;
Some tasks may require funds.
Gamehag Review Summary
Gamehag is a good platform to join if you enjoy playing video games online, as it gives several in-game incentives for some of today's most popular video games. Additionally, you can redeem gaming platform currency to purchase games you wish to play.
But if your primary objective is to gain extra money, we would suggest going elsewhere. Gamehag does not offer financial prizes, and the rewards you receive are not particularly valuable.
Was this article helpful?