In our guide with tips and tricks to Arena of Valor, we will attempt to address the most frequently asked questions related to the game. Our hopes rise high that we will assist you in your gaming experience and in taking complete control of your lanes.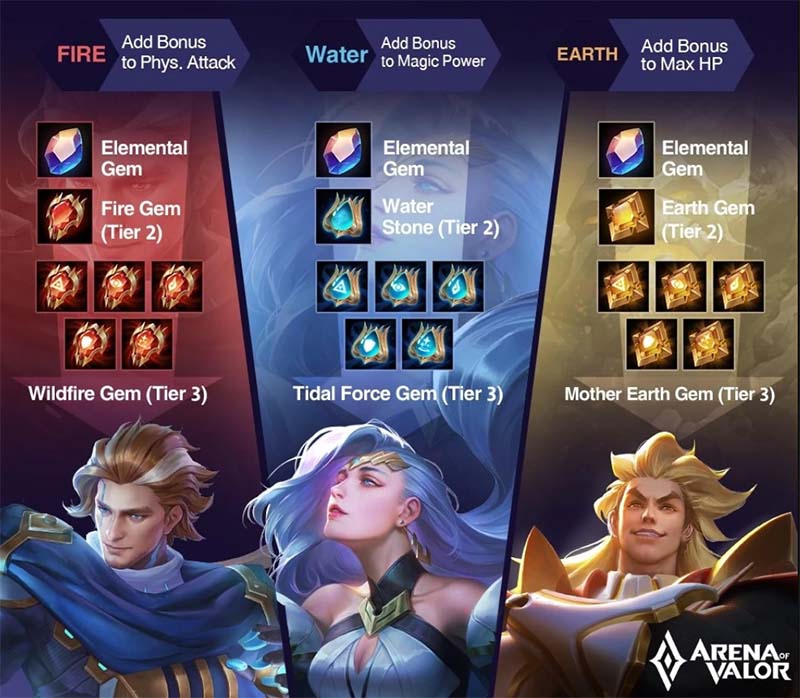 Feed not, pawn!
How to get gold fast?
Playing the game consistently is the simplest way to get gold. This entails playing the game every day and trying to win as many games as possible. However, you can still do a few things to maximize your gold gain.
1. First, gems can be used to purchase some gold cards. These are worth investing in because they will give you a substantial bonus on your gold gains.
2. The second option is to get a skin for one of your major characters. Again, you will benefit from your gold earnings as a result.
3. Third, try to complete your weekly goals each and every week. You will receive a large sum of extra gold as a result. 
4. Finally, maintain a high Credibility score, and that's it. You can play the game and get some extra gold by doing this.
How to get heroes?
In AoV, there are several ways to get heroes. To start, you can just use vouchers to purchase heroes from the store. You can buy coupons, a premium currency, through in-game microtransactions. Heroes can also be obtained by using gold to unlock them. Playing the game is the only way to earn gold.
Remember that each hero has a distinct cost in gold; hence, although some heroes are simpler to unlock, others demand more of this priceless material. In addition, some heroes are available through in-game events, so keep a lookout for those. Finally, you can purchase heroes with Lucky Spin.
How to get Toro?
In the video game Arena of Valor, Toro is the 0th hero. Since December 28th, 2021, Toro has been accessible across all servers.
The only way to unlock Toro 'The Bull King' for playing is by logging in for at least 7 days in your first 30 days after sign-up. If you fail to meet the requirement within your first month, you will not be able to unlock the character in any other way.
How to get Krixi?

In the video game Arena of Valor, Krixi is a hero who falls under the mage category.
You can unlock Krixi 'The Pixie' by logging in for 14 days in total in the game. On a positive note, you are not required to do 14 days of logging-in in your first month or on consecutive days.
How to do the jungle?
You need to have excellent map awareness if you want to become a respectable Jungler. You must constantly monitor the whereabouts of the opposition, keep an eye out for overextended lanes, and do your best to advance your team. Additionally, you should support your team members throughout battles, do your best to achieve collective goals, and generally put your team before yourself.
The best junglers will make a concerted effort to ensure their team gains from their actions. The evil people will just look out for themselves. Since AoV is a team-based game, if you want to play a jungler, you should constantly try to help your team because you'll have a better chance of winning games.
How to use gems?
One of the currencies in AoV is gems. These are primarily employed to buy things from the Gem Shop. Arcana Fragments, EXP and Gold Cards, Magic Crystals, and specific heroes can be acquired via jewels in rare situations. Purchasing these heroes is undoubtedly a wise use of gems, especially if you intend to use one of them.
Buying Gold Cards is another practical use for gems. These ought to hasten your acquisition of gold, which is always great. Magic Crystals can occasionally be helpful, but since they are entirely dependent on luck, it is up to you whether you think they are worthwhile investing in.
How to change your name?
You'll need a Rename Card in Arena of Valor to change your name. The card can be easily purchased from the in-game store. If you already have one, let's move on and explore how you can use one. 
1. You must first launch the game.
2. Tap on your Profile after that.
3. Next, tap the Settings icon that is placed above your information.
4. After that, select Edit Name from the menu.
5. Then type your new name, then click OK.
6. Your name has been successfully changed.
Keep in mind that your first name change will only cost you one rename card, but subsequent name changes will cost you two or three cards.
How do you get vouchers for Arena of Valor?
In AoV, vouchers, a premium currency, are utilized for various tasks, including unlocking heroes and buying hero skins. They may be purchased through in-game microtransactions by selecting the voucher symbol in the shop screen's upper right corner.
You can buy vouchers securely from Google Play and the Apple Store without worrying that your personal information will be misused.
How to get your credibility score up?
One of the most crucial elements of the game is credibility. You should always try to keep it as high as possible because it symbolizes your capacity for teamwork. If you treat everyone with respect and play nice, participating in 5v5 Grand Battle or ranked matches will raise your credibility score. As a result, your Credibility level will rise, and you'll receive some significant benefits if you can keep a high credibility score.
Simply put, do your best to be kind, and your credibility score should be satisfactory.
How to change servers in Arena of Valor?
English servers and non-English servers are the two different types of servers in AOV. These servers are devoted to different geographical areas. To change servers, you must use a VPN. Depending on the server you choose, you will be able to play in different regions.
How to delete your AoV account?
By logging out of your account, you can delete your account or erase specific pieces of personal information. Remember that your deletion may be undone if you log into your game account during the first 30 days.
Feel free to contact the game support if you believe they are processing any other personal information you would like us to delete.
If you are within the EEA, including Switzerland, Sweden, Luxembourg, and the United Kingdom, please contact the email [email protected] if this functionality does not function as intended or if you have any more questions.
Was this article helpful?