Online shopping has revolutionized the way we purchase goods and services, allowing us to purchase items from all over the world without ever leaving our homes. However, with so many options available, it can be challenging to find unique and one-of-a-kind items. This is where the Etsy app comes in. Etsy is an e-commerce platform that specializes in handmade, vintage, and unique items. With the Etsy app, users can browse and purchase items from independent sellers from all over the world, making it easier than ever to find that perfect one-of-a-kind item.
Benefits of Handmade and Vintage Shopping
There are many benefits to shopping for handmade and vintage items, including the following:
Unique: Handmade and vintage items are often one-of-a-kind, making them unique and special.
Quality: Handmade items are often made with high-quality materials and great care, ensuring that they will last longer than mass-produced items.
Sustainability: Purchasing vintage items and supporting independent sellers is more sustainable than purchasing items from large corporations.
How Etsy App Works
Etsy app is an online marketplace that connects buyers and sellers from all over the world. The app is free to download and use, and users can browse and purchase items directly from the app. Sellers create a shop on Etsy and list their items for sale, while buyers can browse shops and purchase items they are interested in. Etsy processes the payment and shipping, making the process simple and secure for both buyers and sellers.
When you open the Etsy app, you're greeted with a home screen that shows you recommended items based on your previous searches and purchases, as well as curated collections and trending items. From there, you can browse by category, search for specific items, or explore the shops of individual sellers.
One of the best things about the Etsy app is its powerful search tools. You can search for items by keyword, shop name, or even by color. You can also filter your search results by category, price, location, and more. This makes it easy to find exactly what you're looking for, whether you're in the market for a vintage dress or a custom-made piece of furniture.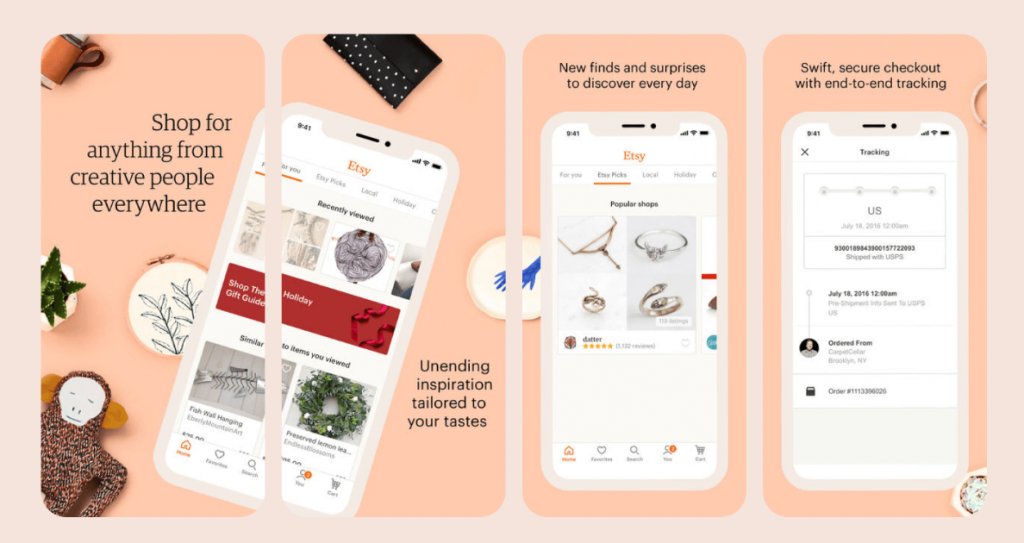 Once you've found an item you're interested in, you can view photos of it from different angles and read a detailed description from the seller. You can also see reviews from other buyers who have purchased from that seller, which can help you decide whether or not to make a purchase.
If you decide to buy something, the checkout process is quick and easy. You can add items to your cart, select a shipping method, and pay for your purchase using a variety of payment options, including credit card, PayPal, and Apple Pay.
One of the best things about the Etsy app is that you can communicate directly with sellers through the app. This allows you to ask questions about items you're interested in, request custom orders, and even negotiate prices. It's a great way to get personalized service and ensure that you're getting exactly what you want.
Features of Etsy App
The Etsy app has many features that make shopping for handmade and vintage items easy and enjoyable. Some of the features include:
Search: Users can search for specific items or browse by category, making it easy to find what they are looking for.
Favorites: Users can save items they like to their favorites list, making it easy to find and purchase later.
Reviews: Buyers can leave reviews for sellers, helping other buyers make informed decisions.
Messages: Buyers and sellers can communicate directly through the app, making it easy to ask questions and get more information about items.
Advantages of Using Etsy App for Handmade and Vintage Shopping
There are many advantages to using the Etsy app for handmade and vintage shopping, including:
Wide selection: Etsy has a vast selection of unique and handmade items from independent sellers all over the world.
Secure transactions: Etsy processes payments and shipping, making transactions safe and secure for both buyers and sellers.
Community: Etsy has a supportive and active community of sellers and buyers, making it easy to connect with others who share your interests.
Tips for Making the Most of Etsy App
To make the most of the Etsy app, consider the following tips:
Use filters: Use filters to narrow down search results and find items that meet your specific criteria.
Read reviews: Read reviews from other buyers to get an idea of the quality of the item and the seller's reputation.
Communicate with sellers: Don't be afraid to ask questions and communicate with sellers to get more information about an item.
Challenges of Handmade and Vintage Shopping on Etsy App
While the Etsy app is an excellent platform for handmade and vintage shopping, there are also some challenges to be aware of, including:
Quality control: Because items are handmade or vintage, quality can vary widely. Buyers should be aware of this and read reviews carefully.
Shipping times: Items may take longer to arrive because they are often shipped directly from the seller.
Etsy App – Technical Requirements
One of the great things about the Etsy app is that it's available on both iOS and Android platforms, so almost anyone with a smartphone or tablet can use it. The Etsy app requires iOS 12.0 or later for Apple devices, and Android 7.0 and up for Android devices. The app is optimized for iPhone 5, but works great on newer devices as well. It's also compatible with iPad and iPod touch.
Conclusion
Overall, the Etsy app is a great way to shop for handmade and vintage items online. With its easy-to-use interface and powerful search tools, it's easy to find unique and beautiful items from around the world. Whether you're looking for a one-of-a-kind piece of jewelry, a vintage clothing item, or a handmade home decor item, the Etsy app is the perfect place to start your search. So why not download the app today and start exploring the world of handmade and vintage shopping? You never know what treasures you might find!
Download the Etsy App for:
Was this article helpful?