HomeAdvisor is one of the best home improvement apps for connecting home service contractors with homeowners. You can find the best local contractors from their network of hundreds of thousands of verified pros. Whatever you need, they cover you with more than 500 pros specializing in maintenance and repair and home renovation projects.
How does the HomeAdvisor App work?
The application aims to improve the process of booking the best local contractor without having to play phone tag. Instead, you can discover the right professional and schedule an appointment quickly and efficiently.
In the application, you will find verified and genuine reviews posted by previous customers who have already worked with the contractor. You can also review the service's price list and available booking slots. In addition, the app's security, reliability, and speed are further enhanced in the updated version.
HomeAdvisor App Pros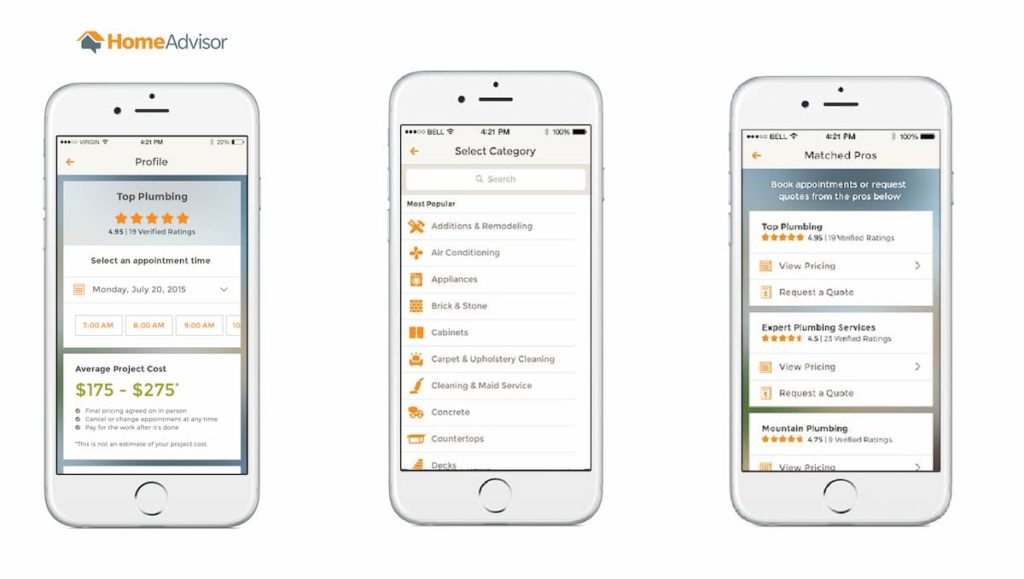 Find the best contractors in town
You can compare the reviews and ratings of different professionals that work in the home improvement field. In addition, HomeAdvisor offers users a vast network of other local contractors for any sort of home renovation services. So take advantage of the app's genuine customer reviews and ratings and book a local contractor for any home renovation need.
Best home improvement planner
The actual cost guide HomeAdvisor allows you to compare the costs of home services for various projects. It will enable you to compare the price to install, remodel or repair hundreds of projects.
Here's a quick guide if you're wondering what kind of services you can use in the app.
Roofing, bathroom remodeling, kitchen remodeling, House painting, House Cleaning Services, Maid Services, Window repairing or remodeling services, planting different Tree Services, complete Renovation, Concrete, Handyman Services, Electrician and plumber services, Furnace and Heating System placement, Pest Control services, Deck, Foundations, Lawn care along with its maintenance, Landscaping, Lawnmower, Garage Doors, Siding, Tile as well as Fences.
Why choose HomeAdvisor?
Fast and easy way to find top contractors based on your requirements and skills. Their network can help you with all the home improvement services like remodeling, home repair, home improvement, maintenance, roofing, or any other home-related services. The free application will help you search, refine and compare professionals.
---
If you like that article, why don't you subscribe to our newsletter for more app reviews like this?
(Plus, we have game reviews as well.)
---
Was this article helpful?