We spend most of our free time online, reading emails, watching videos, shopping on apps and websites, or playing various games. But, do you know that you can get paid for doing all these activities?! InboxDollars allows you to spend time online and get paid for it! It is one of the easiest ways to earn free cash aside. The InboxDollars app will give you money for taking surveys, watching TV, playing games, and more! You will be able to influence future products and services with your input, earn extra money for it, and cash out whenever you want it! Sounds great, right?! Check out the InboxDollars app review to see how you can become a member and earn some money too!
What is Inboxdollars?
InboxDollars was founded in 2000, and since then, it has paid more than $59 million in cash rewards to its members. It partners with the biggest and most trusted brands, such as Netflix, Walmart, and Target.com, to provide earning opportunities to the users of the InboxDollars app. The app collects valuable information from its members through surveys to provide insight to the partner companies. Users do not have to worry about privacy as the app complies with the California Consumer Privacy Act (CCPA).
Members of InboxDollars can earn money for taking surveys and doing other activities, including reading emails, playing games, completing offers, or shopping online. It is an excellent way for members to earn money from everyday activities!
Becoming a member of InboxDollars is easy and earning money on the InboxDollars app is easier! That's why it has millions of users in the United States and the United Kingdom! Let's see how the app works and how you can start earning money today!
How does the InboxDollars app work?
Partner companies pay money to InboxDollars for consumer input of its members. InboxDollars pays the members like you for their information and activities. It might be taking paid surveys, redeeming free food or grocery coupons, watching TV or Videos, and more! The best thing about the InboxDollar app is that it doesn't give you points for your activities but real money that you can cash out and use anytime!
To become an InboxDollars member, you should download the InboxDollars app from Google Play or the App Store and create your account. Once you sign up, you will receive an email with the confirmation link redirecting you to the advertiser's website. Just like this, you will become an InboxDollars member and be able to earn money seamlessly.
How can you earn money with the InboxDollars app?
Once you register, the InboxDollars app will start sending you PaidEmails based on your activities in the program. These PaidEmails are opportunities for you to earn money. The more active you are, the more emails you will get and hence, the more money you will receive. Usually, active members get up to 3 emails daily, while inactive ones might not get any. Here are some activities you can get cash for: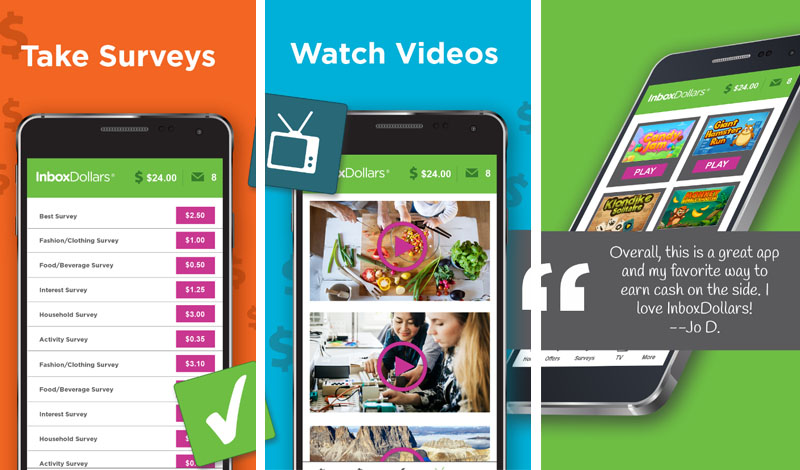 Reading emails
We are getting tens of personal, work-related, and promotional emails every day, so we might as well get paid for reading some of them! With the InboxDollars app, you can receive the best offers directly to your email. You will earn money simply for reading them! You can even get additional cash for completing the offers. There are endless money-making opportunities!
Taking paid online surveys
You can earn money by taking paid online surveys. It is one of the most interesting, fun, and common ways to earn money aside. It will take you from 3 to 25 minutes on average. You can make from $0.50 to $5 for it, depending on the survey. Some of the surveys pay even more. You can get $10 or $20 for completing one! If you match the specific demographic profile for a particular survey, you will have an opportunity to earn even more!
Watching videos
Watching videos is a favorite activity of many of us! We love videos of celebrities and cooking demonstrations and even enjoy some of the most exciting and creative commercials. On the InboxDollars app, you can get paid for it too. Many brands like to show their video content to a group of people for feedback before it is visible for everyone to see. You can get money for watching new product features, movie trailers, short snippets of their content, and other exciting videos. Spend several minutes watching it and earn money!
Playing online games
Getting paid for playing online games is a dream come true! You can earn money by playing games like Candy Jam or Monkey Bubble Shooter. In addition, the InboxDollars app features tens of arcade and world-winner games. So if you are in a waiting room, standing in line, or are simply bored, you can spend time playing and earning money!
Shopping online
As a user of the InboxDollars app, you can earn money while shopping online. You can earn cashback, get discounts from the top brands and even get free samples! The app will also give you tips and tricks on getting the best free stuff online. So you can save a lot and even earn money while shopping!
Review Summary
As you can see, there are plenty of opportunities to earn free money on the InboxDollars app. Besides, the app always has various contests and promos for its users to win more money! The app will offer you proven ways to get printable coupons, beauty samples, and the best free stuff. Just register, stay open to the various money-making opportunities, and start earning cash today!
Was this article helpful?