Music videos are becoming increasingly popular, especially among people who make their own content. You can add music to an existing video using video editing apps, but this takes extra time. It's much faster to shoot a video with music in it at the same time. But what do you do if Android stops the music you're listening to as soon as you start recording the video?
Unfortunately, there isn't a built-in feature on Android that natively allows you to record videos while playing music. Nevertheless, we have covered you on this one. Today, we'll talk about the best apps that let you record videos with music playing in the background. Also, we'll show you how to use Instagram to add music to a pre-recorded video from your gallery and a bunch of other cool tricks. Read on to learn how adding sound to a video can really spice it up.
How to Use Together to Record Video With Music on Android?
When you start to record a video on Android, any music you are listening to will stop. But you can fix this by downloading a third-party app like iStaunch's Record Video With Music (formerly called Together). Here's how to use the app to record a video with music in the background:
Download the Record Video With Music app from Google Play Store.
Open your music application and play the desired song.
Launch the Record Video With Music app and click on the video camera icon at the bottom to begin recording. The music should continue to play.
To stop the recording, tap the same button, which is now shaped like a square.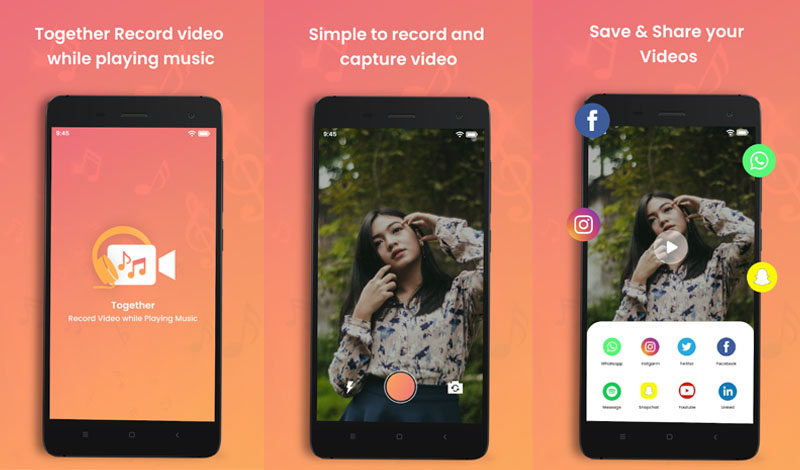 How to Use Instagram to Record Video With Music?
Instagram also allows users to record videos with music playing in the background.
Keep in mind Instagram can only record short videos, so if the video is long, you'll have to save it in multiple parts (between 3 and 60 seconds). You can navigate between the video parts at the bottom of the screen.
To record a video using Instagram, follow these steps:
Open the music app on your phone and play any song.
Get Instagram going on your phone.
To open the camera, swipe from left to right.
To start to record, tap and hold the white button in the middle.
Stop recording by letting go of the white button.
Tap the down arrow at the top of the screen to save the video.
How to Use Snapchat to Record Video With Music?
Snapchat also allows users to play background music when recording videos. This is how to accomplish it:
Use any music app to play the song you want.
Start Snapchat and tap the camera button.
Tap and hold the button at the bottom of the screen to start capturing.
When you're done recording, let go of the capture button.
You can add text or filters to your recording if you want to.
To save the video, tap the down arrow icon in the bottom left corner. Tap Send To to send it as a direct message instead.
Recording Videos With Music on Android
After reading this, you will feel confident enough to incorporate music into your video productions. Instagram and Snapchat both work for this but only allow for very brief video recordings. We suggest checking out specialized programs like Record Videos With Music (formerly Together) that allow you to shoot videos of any length without any fuss on these systems.
Is it important for the Android camera app to automatically pause music, or should users have the option to do so? Post your thoughts below in the comments section.
Was this article helpful?