Are you looking for reviews and tips on using reddit, the popular online discussion platform? If so, you've come to the right place! Reddit is an incredibly versatile social media platform with a massive user base and many exciting features.
Whether it's joining subreddits, voting posts up or down, or engaging in discussions about diverse topics, there are countless ways to use this powerful app.
In this blog post, we'll be taking a deep dive into all things reddit – from getting started and customizing your experience to utilizing more advanced features like bots and Karma points. Read on to learn everything you need to know when using the world-famous reddit!
Introduce Reddit and what it is used for
Reddit is an online discussion platform that allows users to engage in meaningful conversations with others worldwide. It's a great place to explore and discuss topics you are passionate about or know nothing about.
With millions of active users, Reddit provides an extensive range of subreddits dedicated to various interests, from politics to gaming and entertainment.
Getting Started on Reddit
Creating an account on Reddit is free and easy. All you need to do is provide a valid email address, choose a username and password, and you're ready to go. Once your account is set up, you can explore interesting subreddits.
This includes joining them so that their posts appear on your homepage. You can customize your experience by setting preferences such as hiding posts with certain keywords and sorting subreddits by relevancy or popularity.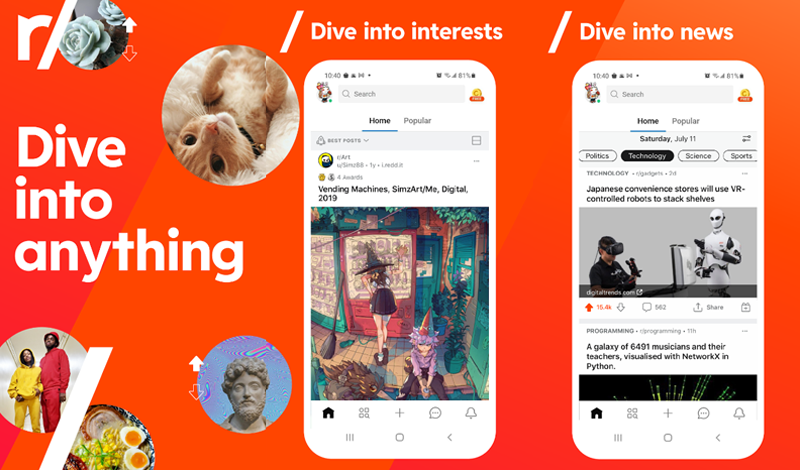 How to create an account and submit posts?
Creating an account is simple. All you need to do is provide a valid email address, choose a username and password, and click the sign-up button. Once signed up, you can explore interesting subreddits or create your own by clicking the "create" button at the top of any page.
To submit reddit posts, click the "submit" button and enter a title for your post. You can add text, links to other websites, images, or videos from there. Once submitted, the post will appear in the subreddit it was posted to, and other users can comment on it or vote it up or down using the arrow keys provided.
What are the best features of the Reddit app, and how to use them?
1. Subreddits:
Subreddits are the most fundamental feature of Reddit. They are like mini-communities devoted to certain topics and a great way to stay up-to-date with the latest news on your favorite topics.
To join subreddits, search for keywords related to your interests and click the "join" button. Once you've joined a subreddit, you can participate in discussion threads, vote on posts up or down, message other users, and more.
2. Upvoting/Downvoting:
Upvoting and downvoting are one of the unique features that Reddit offers. You essentially like the content by upvoting a post, while downvoting indicates that you do not.
It's important to note that downvoting does not mean disliking a post; it simply means you don't think it is helpful or relevant.
3. Karma Points:
Karma points are a way of measuring how much your contributions to Reddit are appreciated. You earn karma points when other users like or upvote your posts and comments, and they can help you build credibility on the platform.
4. Bots:
Bots are automated scripts that carry out certain tasks across subreddits, such as posting content, responding to comments, and more. They are incredibly useful for keeping an active presence on Reddit and can help you stay connected with your target audience.
5. Customizing Your Experience:
Reddit also allows users to customize their experience to make it as personalized as possible. You can edit your profile, change the look of your page, add a custom avatar, and more. There are also several browser extensions available that can further enhance your Reddit experience.
How to upvote or downvote a post?
One of Reddit's most popular features is the ability to upvote or downvote posts. When you upvote a post, it indicates that you support and agree with the content – it's like giving a thumbs-up. On the other hand, downvoting signals your disapproval or disagreement with something.
When you come across a post you'd like to support, click the up arrow button next to it, and your vote will be tallied. To downvote a post, just hit the down arrow instead.
It's important to note that votes aren't permanent – they can be changed anytime by clicking the arrows again. This means you can always change your opinion and vote if necessary.
How to use Reddit for businesses
Reddit is also a great platform for businesses looking to increase their visibility and reach new customers. You can create your specific subreddit to post about your products and services, build a community around your brand, and interact directly with potential customers.
Using Reddit ads to reach a larger audience and drive more traffic to your website is also possible.
In addition, you can use the platform's search engine optimization (SEO) capabilities to rank higher in search results and attract more customers.
By utilizing keywords related to your product or service, making sure your content is relevant and engaging and using link-building techniques, you can boost your business on Reddit.
Tips for staying safe on the Reddit apps
1. Manage Your Privacy Settings:
Adjust your privacy settings to fit your needs. This way, you can ensure private and secure personal information and data.
2. Enable Two-Factor Authentication (2FA):
Use 2FA to protect yourself from cyber attacks or malicious activities like account hijacking.
3. Block Unwanted Users:
Block users sending harassing messages or otherwise causing trouble.
4. Report Abuse or Inappropriate Content:
If you encounter any content violating the Reddit rules, report it immediately.
5. Use Discretion When Posting and Commenting:
Think twice before posting personal information and toxic and offensive comments.
Share personal experiences with Reddit and why it's a favorite app:
When I first started using Reddit, I was amazed by the sheer range of topics and conversations that were taking place. It didn't take long to become a part of this vibrant online community, and now I visit Reddit several times daily!
As an avid reader, blogger, and student of human behavior, I appreciate Reddit's ability to bring together people from all walks of life for meaningful conversations.
I love that Reddit is so customizable, too – you can tailor it to your interests by joining subreddits, setting preferences in the "My Subreddits" section, and using the search function. I also find the voting system useful – I can quickly and easily vote more posts up or down depending on their relevance.
The most powerful feature of Reddit is the ability to interact with other users. I love commenting on posts, discussing, and reading other people's opinions and experiences. It's an incredible way to learn more about different clipboard related topics and perspectives, and I feel enriched by the diverse discussions I can find on Reddit.
Reddit has become one of my favorite other apps and a great way to stay informed and connected with other users. With its unparalleled range of content and features, it's no surprise why so many people have chosen to make Reddit their go-to platform for online discussions!
Troubleshooting problems with the Reddit app:
If you're having trouble with the official Reddit app, there are a few ways to fix it. First, make sure that you have the most up-to-date version of the app installed on your device.
If that doesn't help, try switching off your Wi-Fi or mobile data and then switch it back on again. Additionally, you can try logging out of your account and logging in again to reset the app.
You can clear the app's cache if the above solutions don't work. To do this, open your device's Settings menu and go to the Apps section. Select Reddit, then tap on Storage and select Clear Cache. This will reset the app and can help with any bugs or issues you're experiencing.
If you still need help with the above methods, contact Reddit Support for help. They will be able to troubleshoot the issue and get you back to using the app in no time.
Conclusion:
Reddit is an amazing social platform that allows users to engage in meaningful conversations and build a vibrant community. Its versatile features allow you to customize your experience and feel like an active community member.
Whether you want to connect with people with similar interests or explore new topics, Reddit has something for everyone. Take some time to familiarize yourself with the features available and use them responsibly – that's how you get the most out of Reddit! Thanks for reading, and happy Redditing!
FAQ's
How do I join subreddits?
Joining subreddits is easy – all these gestures you have to do is find the ones that interest you and click the "join" button. Alternatively, you can search for subreddits by name or keyword to find ones that match your interests.
Once you've joined a subreddit or several, you can customize your experience by subscribing to certain subreddits and setting up notifications.
What is the Karma system?
Reddit's Karma system is a way to measure how well you're doing on the platform. It's a point-based system that rewards users for engaging in activities like upvoting posts, commenting on them, or creating content. The more Karma points you have, the higher your standing on Reddit will be.
Is it OK to post NSFW (not safe for work) content on Reddit?
No – while Reddit allows some mild NSFW content, posting anything explicit or overly graphic is strictly against the rules and could result in an account suspension. Reddit does have specific subreddits marked as NSFW, so if you want to post this type of content it's best to do it there.
Can a business have a Reddit account?
Absolutely! Reddit is a great platform for engaging with customers, getting feedback, and creating relationships. Businesses can join relevant subreddits, post content, and even create their subreddit to foster a community around their brand.
What is reddit gold?
Reddit Gold is a premium membership program that gives users exclusive benefits. Benefits include ad-free browsing, custom themes, and avatars, access to exclusive subreddits, and more.
Download Reddit for:
Was this article helpful?