The Signal app is a free instant messaging application famous for its privacy and safety features. As per the research conducted in January 2021, Signal has approximately 40 million users. There was an influx of new users when WhatsApp updated its privacy policies. Before that, there was an inrush of users during the anti-racial protests last spring.
In this article, we will provide a detailed review of the Signal app and answer whether it is the safest messaging app or not.
What is Signal?
Signal is an open-source instant messaging app available on mobile phones and desktops. It works seamlessly on IOS and Android platforms. Akin to other instant messaging applications, you can use Signal to send text messages, share emojis, and make video and voice calls.
Moxie Marlinspike founded Signal's encryption protocol in 2013 and maintained it as an open-source project. However, it was only in 2018 that Brian Acton and Marlinspike started the Signal Messenger, LLC.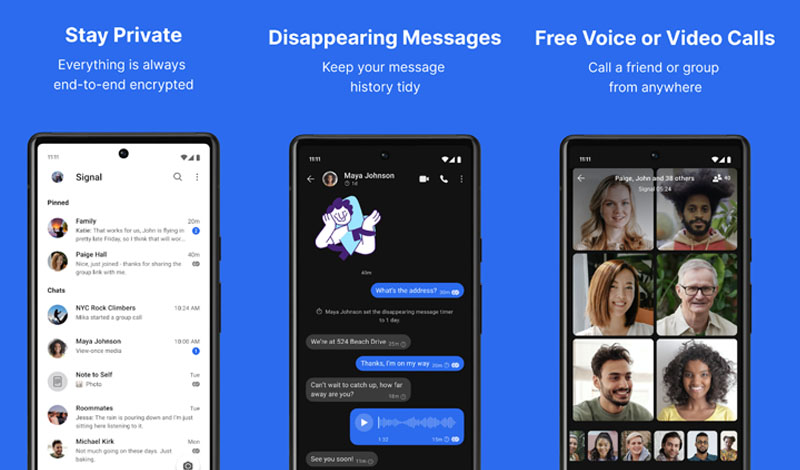 Pros of the Signal app
Since privacy concerns instant messaging application users, everyone tries to find a secure messaging app. Signal is open-source software that prioritizes the safety of its users as a significant feature. Along with that, there are many other advantages of using Signal. They include:
End-to-end encrypted messages for safety
The Signal app focuses on security through its end-to-end encryption. Any message sent to another Signal user remains confidential, and only the intended person can view it. In addition, Signal's encryption algorithm highlights Perfect Forward Secrecy (PFS). Through this, Signal curates a safe channel for you to send text messages, voice messages, videos, and voice calls.
As per the formal security analysis conducted in 2016 and the following years, Signal has a non-invasive protocol and does not possess any flaws. Moreover, since it is an open-source platform, anyone can use its code freely from GitHub to improve their applications. Along with that, Signal complies with the norms of GDPR too.
Stickers with security features
Akin to other instant messaging applications, Signal introduced stickers that you can share with the people you communicate with on the app. In addition, these stickers have excellent security features.
You can create new stickers using the app when you use the desktop version of Signal. It is a unique feature that is unavailable on other instant messaging applications. However, when you share them with others, your Signal ID does not get attached to them. Apart from that, there are many stock stickers that you can access on Signal.
A disappearing message is one of the best features that makes Signal a secure messaging app. The texts you have sent get removed after a set time frame. No one can retrieve these self-destructive messages once they disappear from your chat. You can also send videos and audio files that you can view only once.
Currently, disappearing videos and audio are only available on the Android version of Signal. By enabling this, you can ensure that no other person has access to your chats and data.
Does not record your data
When you use Signal to interact with your contacts, Signal does not store any data. It is because of its end-to-end encryption feature. As per Signal, they possess only a few details about their users. These include:
Contact number used to create an account on Signal
The time and date when you joined the application
The time when you last logged into Signal
Apart from that, Signal does not have any other details related to its users.
Cons of the Signal app
Signal is a safe messaging app for these reasons. Unlike other applications, Signal does not run any advertisements. Instead, it focuses on its users' privacy and security.
Though Signal is a secure messaging application, it has a few cons, such as:
The Signal app does not have a separate application for handling business accounts.
Since Signal requires you to provide your contact number to create an account instead of your email id, some users find it uncomfortable.
Unlike other instant messaging applications, you cannot change the background images on your Signal app.
Is Signal safe compared to other messengers?
Compared to other instant messaging applications like WhatsApp and Telegram, Signal is a safe app. It keeps all the content of your messages and calls private. Whereas when we consider WhatsApp, Facebook can gather data from WhatsApp as statistics and metadata. For group chats, Signal does not act as a moderator of the content.
Unlike other apps, you can only have up to 1000 members in a group. It is yet another feature that makes Signal a safe messaging app.
How do you download and install Signal on your device?
You can easily download and install Signal on your mobile phone from the App Store or Play Store. You can also use Signal's APK for that purpose. Once you have installed the application, you must create an account using your phone number. Signal synchronizes your contact list once you have registered for it.
Another excellent feature of Signal is that you can also send SMS and MMS to non-signal users. However, the application does not offer end-to-end encryption in such scenarios. But you can always invite them to join Signal. With computers, Signal works smoothly on Windows, Linux, and Mac OS. First, you must synchronize your account with your mobile number.
Signal, thus, is a safe messaging app that you can use. Elon Musk, a business tycoon, tweeted in January 2021, "Use Signal." Along with him, Jack Dorsey, CEO of Twitter, also considers Signal trustworthy and well-built. You can choose Signal as your instant messaging application if you prioritize security and privacy.
Let us know if you are ready to say hello to a different messaging experience!
Was this article helpful?