Apple released its first-ever smartwatch in 2015. In less than a decade, the company has tweaked its gadget several times, releasing versions that have met high praise from brand fanatics and everyday users.
Shortly after the release, and until October 2021, when the seventh generation came out, Apple devotees considered Apple Watch 6 a home run for the company in that niche. Outside the brand fandom, however, the gadget met polarizing opinions as judgments on the product varied and continue to do so. Nevertheless, despite the bickering, supporters of both parties – for and against – consider the Apple Watch 6 a step in the right direction but still lacking significant breakthroughs to make it a must-have.
What are the new features?
One of the updated features that fans of the Apple Watch are bound to love is the faster charging times. Some users claim it takes around two hours to charge the watch from zero to 100 percent battery. That improvement makes powering up significantly quicker than previous editions, even though charging times are not revolutionary fast compared to current technology standards.
Further, smartwatch wearers that take advantage of sleep tracking can wear their device when they head off to bed. The new Apple watchOS 7 features sleep tracking with the bespoke app that offers insights into your sleep habits. Another unique entry is the added blood oxygen monitor sensor that became one of the most noticeable aspects of the new series. The sensors on the bottom of the watch are for the blood oxygen monitor and are easy to see. Besides that, it is easy to notice that the series 6 watch hardly differentiates from previous models. In fact, even though Apple has released a variety of smartwatches from this edition at various price points, there's still no step up to a pro mode for people who take their fitness seriously. The good news is the features offered by the more expensive series 6 options are nothing you can't go without. So even at the entry-level of $399, you can still get the best that the model offers.
The series 6 Apple Watch also added something for its users who want to impress when they dress, so it comes in new color options. You can select from a range of colors, including red, blue, space gray, graphite, and space black, to name a few.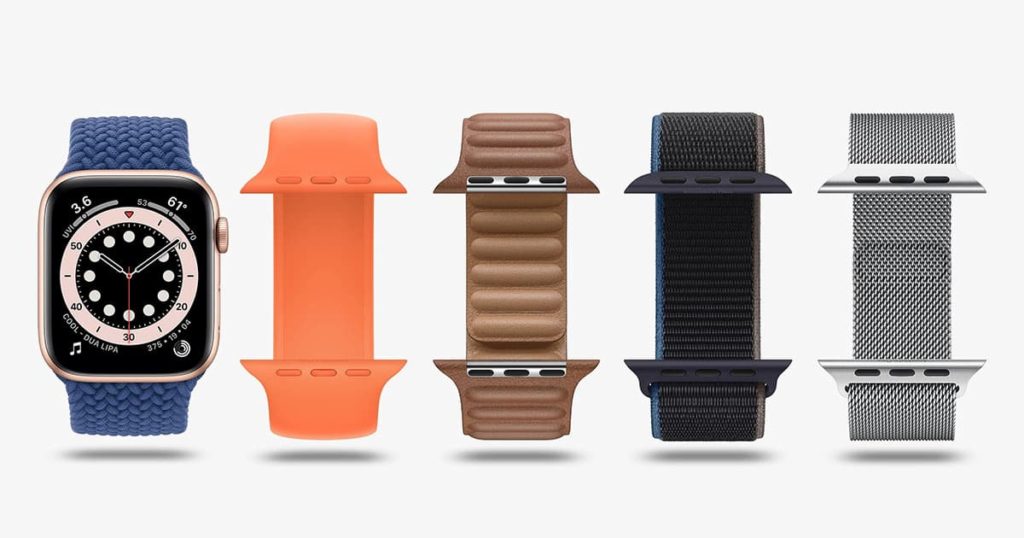 In terms of looks, the Apple Watch 6 resembles the offerings to come before it. Screen size comes in two options, 44 mm and 40 mm. The screen is clean and clear, just as wearers have come to expect from the Apple device.
Apple Watch 6: What is performance like?
The Apple Watch 6 should give you a full day of battery life using its essential features. However, if you use it for a workout, for example, to run a 10K, you can expect the battery to drain more quickly.
Right now, the watch's seasoning of fitness support isn't impressive compared to other brands. Although Apple has made its own fitness app to connect with, you will undoubtedly find that if you're used to another app, you will likely choose to stay with it. Luckily, third-party app support is not an issue.
Overall, there is no reason a dedicated athlete will give up their Garmin or TomTom GPS watch and use an Apple Watch 6 for workouts. Probably not even with the Fitness Plus service that Apple released later after the model. Yet, parents may find the Family Setup feature handy, allowing them to organize a cellular Apple Watch 6 for their kids and manage it remotely.
Is blood oxygen monitoring useful?
Whether athletes or sports enthusiasts will use the blood oxygen monitoring system is debatable. However, the average person that buys the Apple Watch 6 will rarely use the blood oxygen monitoring feature, if ever.
Suppose the best you can see in the new series 6 is the blood oxygen monitoring. In that case, you better opt for a portable pulse oximeter alongside your old smartwatch or a cheaper model. It is hard to believe that the new feature will help you get healthier, but it will definitely cost you.
Who is the Apple Watch 6 for?
Most Apple Watch owners won't see a need to upgrade to the series 6. If you already own a previous model, there isn't a reason to shell out the money for another smartwatch that isn't much of an upgrade. Otherwise, Apple Watch 6 is more for newcomers to the wearable market.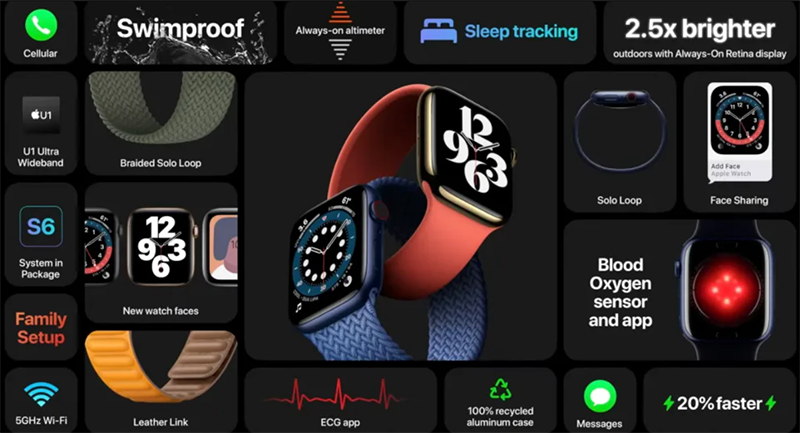 As mentioned earlier, there are many price points Apple hits with the series 6 device. You can get one anywhere from $399 to over $1,400. At the same time, Apple Watch 3 and 5 owners can manually update their versions to the new watchOS 7 and access nearly all the same features outside the blood oxygen monitor.
Is Apple Watch 6 worth it?
Unless you want the new features exclusive to series 6, including sleep tracking, cycle directions (only in select cities), and Family Setup, you may want to stick with your previous Apple Watch version.
For the most part, Apple didn't botch the release of the Apple Watch 6. Instead, the problem lies in the lack of significant breakthroughs that make the Apple Watch 6 a must-have. With a price beginning at $399, you may have wanted more essential updates. However, rather than significant additions and updates, Apple put minor improvements into the series 6 smartwatch. For example, the most notable addition in this generation is the blood oxygen monitoring system. A feature that most of the average wearers and tech-savvy individuals will rarely use, if ever.
To date, the most essential features users look for remain the same: steps taken, miles covered, and GPS. Unfortunately, Apple failed to meet the latter requirement, resulting in a conclusion that the Apple Watch 6 cannot hold a candle to other similar models with brands like Samsung and Google. Yet, the company tried to return its market share a year later with the release of the Apple Watch 7 in 2021, nearing user expectations.
Was this article helpful?