Babbel is an online language learning software and e-learning platform available in various languages since January 2008. Babbel is a service that has been on the web, iOS, and Android for quite a period. In addition, Babbel now has a presence on Windows Phone.
The currently offered languages in the app include
Danish;
Dutch;
English;
Norwegian;
Italian;
German;
French;
Portuguese;
Indonesian;
Russian;
Spanish;
Swedish;
Polish; and
Turkish.
According to babbel.com, there are over 1,000,000 active subscribers.
How to use the app?
All Babbel apps have the same modus operandi and interface. There are a lot of categories when dealing with different aspects of everyday life. You can start learning words from any category you want, but the preferred order is to go for "The 100 Most Important Words" and proceed. To get the most out of Babbel apps and preserve all your progress, do not forget to create an account for the service for free.
The lessons listed under each category follow the same pattern. Three parts of a lesson include the visual-aided basics, practice sentences, and advanced vocabulary. If you're confident about your skills, you can pick the lesson sections in any order you want. Still, beginners should commence the lessons with "Learn and Remember."
The actual learning process is carried out by showing users pictures of particular objects and names. You can also listen to each word with the correct pronunciation by tapping its photo. To assess your progress and aid the learning process, the app will ask you to identify specific words from an object's photo or pick the correct word from the multiple choices. You might also be asked to translate phrases in advanced lessons. At the end of each session, Babbel presents you with a summary that shows the total number of mistakes you have made.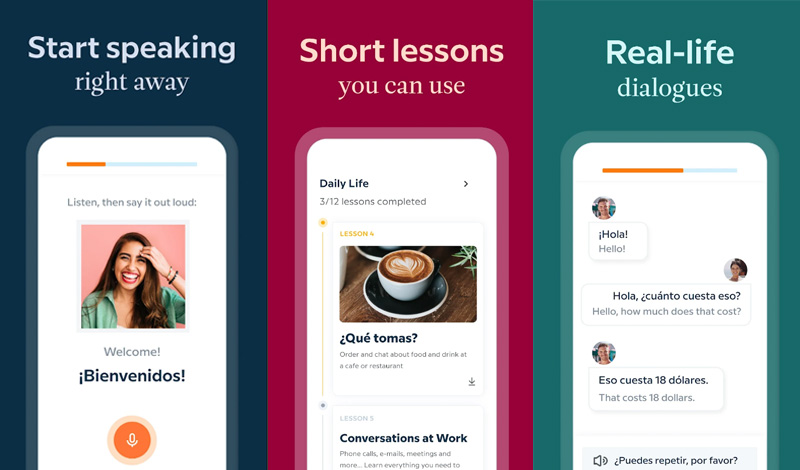 As already mentioned, the apps do not need an internet connection to function, which makes each around 170MB in size. So, make sure you are connected to a stable network before trying to download any Babbel app. All the 11 apps, along with their complete content, are free and work with all Windows Phone 8 devices.
Babbel: Pros & Cons
Pros
The app is intuitive, and its design is attractive
The content is amazing
The grammatical explanations are as good
The lessons are paced pretty well
Cons
Some words in the lessons are ridiculous
Not enough volume
Was this article helpful?