Bubble CoCo – Match 3 Shooter Puzzle is a solid bubble popper game that is available for both Android and iOS platforms. It has high-quality and sharp-looking visual details, creative-level design, and a pretty good variety of power-ups you can choose from to aid you in the levels. Bubble CoCo is one of the best bubble popper games out there.
Starting off in Bubble CoCo, you will be introduced to the game through a cut scene that shows a chicken that is guarding her eggs and then ending up falling asleep. When the chicken falls asleep, a fox comes and snatches her eggs and runs away with them. It is now your job to assist the chicken in getting her eggs back from the fox before it is too late. After the cut scene, the first level starts. The initial few levels are mostly tutorial levels that are built to teach you about all the necessary basics.
Bubble Coco: Essential Tips and Tricks
How to Get the Key to Open to The Next Stage
Three keys are needed to progress to the next level. You can unlock the next stage by using jewels or with help from your friends. To request them from friends, just click on the eggs, and you will be prompted with a pop-up with options on how to open them.
Keys that are sent to you are credited to your account when your friends send them to you, not when you check the message.
However, an account cannot have more than three keys at any given time, so if you are maxed out, keys sent by your friends cannot be credited to your account.
If you repeatedly request keys from the same friend, you will not receive additional keys.
For example, if you request a key from a friend at 11 o'clock and then to the same friend at 12 o'clock, some keys will remain the same even if your friend accepts your request.
Also, if you close the Message Centre without taking the items (lives, coins, moves) from your friends when you start the game, some of the items will disappear. So please close the Message Centre after you have received the item.
Invite friends by clicking on the bottom right icon found on the main screen.
Shoot through bubbles in hundreds of levels to save the chicks, squish spiders, and beat the fox! But watch out, as Mr. Fox has set up numerous traps like the slime bubble to keep you from reaching your goal.
With regard to the graphics and visuals, Bubble CoCo is a sharp-looking game. The level design looks cool, and the overall color palette is pretty bright and appealing.
Play with friends simply by logging into Facebook or connecting to Apple Game Center.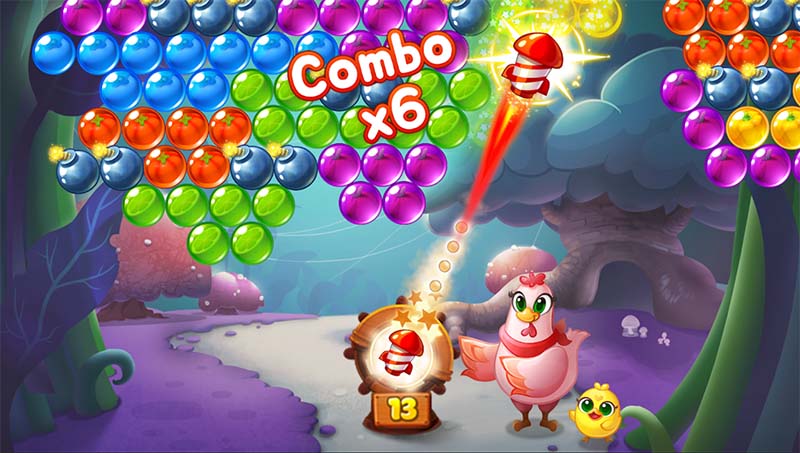 Was this article helpful?