Have you ever considered how useful a web-based version of the popular "Stories" format that blends video, audio, images, animation, and text to create a dynamic consumption experience can be?
Using StoryHub, you can now integrate social feed designs seamlessly on your websites to engage more with your visitors, highlight your e-commerce products, and advertise special deals and packages from your brand. Without having to create or modify a single line of code, that is.
You finally have the power to engage your website visitors with social stories that you decide how to manage and what campaigns you want to set.
This review explains how StoryHub can allow you to showcase social media content on your web pages in a way that's both functional and vibrant.
What is StoryHub?
Digital Story Hub is a responsive web application that allows you to customize, schedule, and publish engaging stories on all of your websites from one single platform. You can maximize your profit and increase conversions without editing code.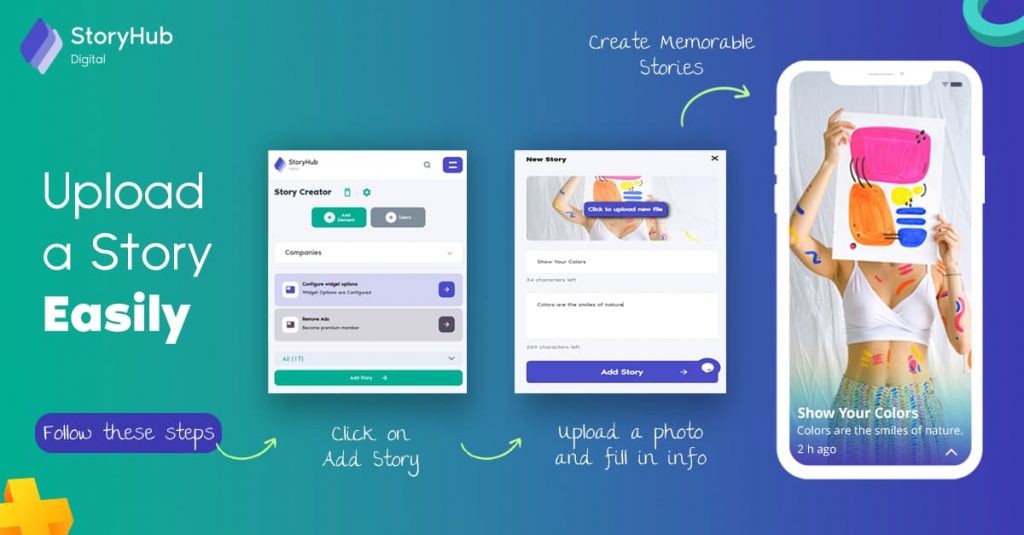 The easy-to-use Digital StoryHub comes in really handy for organizations that wish to constantly expand the company's social presence and showcase their portfolio to new and existing clients. Not only is it a few-steps-registration process, but it also is simple to use once installed on your website.
It has never been more convenient for businesses to advertise products on their many websites and set goals for each campaign and each website. The purpose of it all? You decide how to manage all your powerful stories in one click.
Who can benefit from StoryHub?
You can now create powerful stories and simplify your website management with a simple and easy-to-use interface that works on all devices, providing a fully responsive design, using the StoryHub platform. That visual format lets your website users explore content at their own pace by tapping through it, or swiping from one piece of content to the next.
You can use StoryHub to:
Display social proof to your potential customers;
Advertise products on sale;
Showcase your portfolio to new and existing clients;
Bring higher social engagement with visitors and help your website appear across Google Discover and Google Images.
Why StoryHub?
This innovation will improve business product display rate and audience engagement, not only throughout social media but on the company's website as well. The overall business performance will spike as the plugin gives you a set of free advantages over competitors and will determine your company's online presence.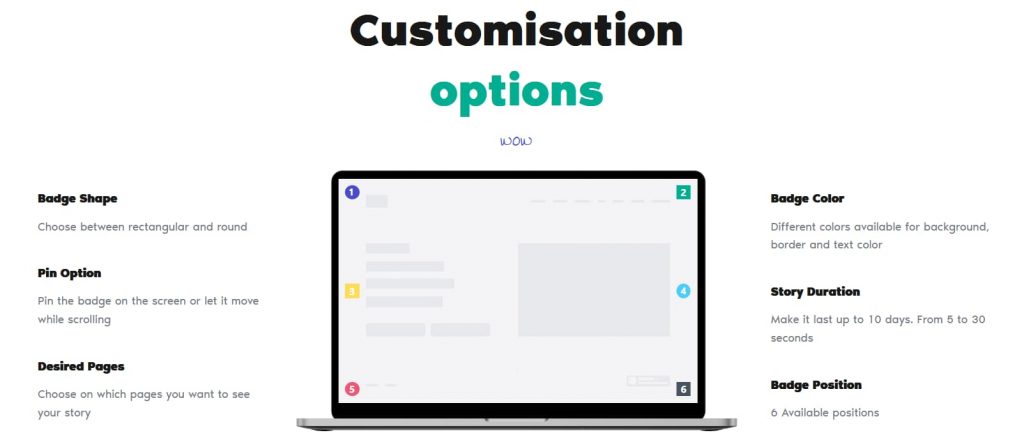 What's more, Digital StoryHub allows you to easily manage, analyze and monitor stories on multiple websites across all your companies from a single portal! It only takes 3 simple steps to set up the widget:
Add your company and your websites;
Add the storylines and you are ready to go.
Key features
Once you complete the basic setup, you have full flexibility over the appearance of your stories. Here are some key features of using StoryHub:
Flexible sorting controls, a variety of customizable components, and a sharable and linkable format can be implemented across all different kinds of websites.
Digital Story Hub helps you build content with just a few clicks, eliminating text-heavy content and engaging your audience through visually-rich, captivating images and videos.
All stories created through Digital Story Hub can be shared across numerous sites without being restricted to a single ecosystem. The extremely fast loading time of the stories gives you the exciting ability to entertain your audience seamlessly, while also having the opportunity to review in-depth analytics of their engagement.
---
Ready to take your business to the next level? Start using StoryHub for free.
---
FAQ about StoryHub
Why should you use StoryHub?
Nowadays, brands are compelled to use Stories as a modern tool of communication. The ability to swiftly inspire viewers to act is conveniently accommodated by the visually-appealing elements of the Stories. To attract users effectively, a true storyteller must know how to enhance a story, which is easily achievable through Digital Story Hub. Almost every brand has a story to tell, and Digital Story Hub makes sharing with your audience and followers easily accessible. By sharing additional insights, many brands expose their customers deliberately to their product, to build a credible and trustworthy community. Digital Story Hub could be used for sharing a variety of different stories – from the preparations around the launch of a new product to behind-the-scenes and community-related coverage.
Will StoryHub work for me?
Digital Story Hub is supported across all operating systems and the most commonly used web browsers (Chrome, Firefox, Edge), as well as on mobile devices.
How can I start using StoryHub today?
Visit the official website for the platform and register through the "Get it free" buttons or contact the support team through chat or email.
Review Summary
What our team was able to see from using StoryHub in practice is increased engagement and conversion rates by including direct customer testimonials or links to specific pages in our stories. Furthermore, on the few occasions, we had to contact StoryHub support, the team proved to be easy to work with and quick to respond to any special requests.
Overall, our experience summarizes the fact that aside from the great customer service, the StoryHub product is also very easy to use and offers a lot of freedom that you can't get with other similar products. We're always looking for ways to leverage our time, so finding a product to keep our reviews fresh was a no-brainer. We definitely recommend Digital StoryHub.
Was this article helpful?