We are all guilty of binge-watching. Nothing beats watching the whole season of our favorite TV shows in one evening or on a lazy Sunday. You can never run out of content; multiple TV shows and fresh episodes are coming out almost daily! There is so much to watch! What happened next in your favorite crime series? Who left the project runway this week? You need to know it all. And, of course, you need to keep up with the Kardashians! You will never miss your beloved shows with the Hayu app. You can stream and watch all seasons and always stay on top of events!
What is Hayu?
Hayu is one of the best platforms that allow you to watch and download reality TV shows on demand. There are more than 200 favorite shows available on the Hayu app. The categories cover all kinds of TV shows, and you can always find your cup of tea there!
You can watch shows on your smartphone, tablet, and TV. In addition, the Hayu app allows you to download episodes and watch them later. This way, you can watch the shows you love anytime, anywhere! Simply download them within the app and enjoy them everywhere you go.
Shows you can watch on the Hayu app
Do you enjoy watching cooking shows? Workplace TV series? Beauty shows? The Hayu app can offer everything! Available categories include almost every type of TV show you might be interested in. You can find 12 categories on the app and choose the one based on your interests and preferences.
You can watch every Kardashian series that has been filmed. In addition, you can watch Keeping up with the Kardashians to know every detail about their lives. See how Khloe is turning peoples' lives around on Revenge Body with Khloe Kardashian; watch the Life of Kylie and more!
Are you a fan of the Real Housewives? You can find everything from classics like the Real Housewives of Beverly Hills to the Real Housewives of Cheshire on the Hayu app.
If you are more into mystery and crime-solving, Hayu will not disappoint you either. There is a whole category for true crimes to satisfy your love for mystery. More than 30 TV series are available for you to watch.
Home improvement and design are among the favorite categories of binge-watchers worldwide! Watch many TV series and check out the radical reveals, spectacular sales, and fabulous flips.
You cannot skip the love and relationship category on the Hayu app. There are plenty of exciting and intriguing reality shows. Famously single, Players Get Played, Prom Wars, Blind Date, and many more! You cannot take your eyes off it!
Plenty more on the Hayu app
There are plenty more to watch on the Hayu app. For example, you can check out the workplace category if you like shows related to work or the music category if you are a fan of it. The choice of cooking and food-related shows is wide as well. In addition, you can choose from dozens of fashion and beauty, body modification, and lifestyle shows. Whatever you like, you will find it on Hayu.
Top features of the app
The Hayu app's features are why so many people enjoy having it! The total number and variety of TV shows are one of the big pluses of Hayu. You can choose from more than 200 TV shows and enjoy watching them anytime! In addition, there are tons of shows added to the app daily, so you can always find something new and exciting to watch.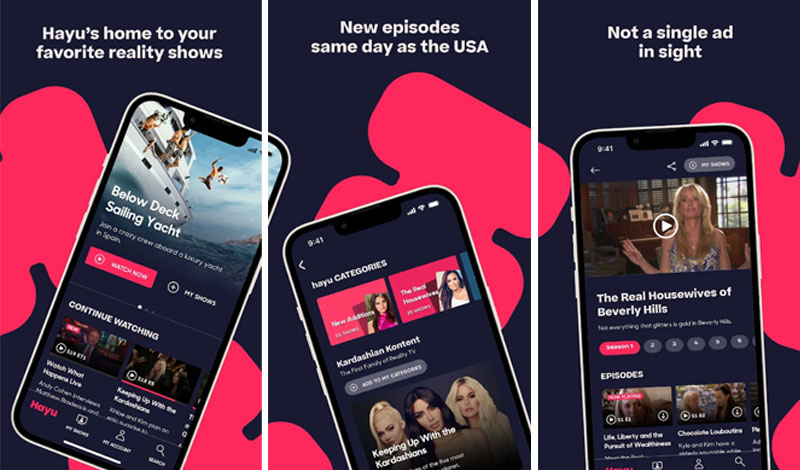 You can always download a series of your favorite shows and watch them on the go. Over 6000 episodes are available to stream or download. So download the ones you like and watch them everywhere you go without any problem whatsoever!
There is nothing worse than watching a series only to find out there is no full-season available. You will never have such an issue on the Hayu app. There are complete seasons of the most popular reality TV shows. If you do not want to wait for every new episode, you can choose shows with full seasons and enjoy binge-watching them.
How much does the Hayu app cost?
The Hayu app is subscription-based. You can access hundreds of TV shows for just $6.99 (AUS) per month! Currently, the app is available only in the UK, Ireland, Norway, Denmark, Finland, Sweden, and Canada. So if you live in one of these countries, you can enjoy Hayu and watch all your favorite TV shows on a single app. You will never want to switch to other platforms, as everything you love is on the Hayu app!
Get your free month now
If you love binge-watching TV shows, you are going to love Hayu. With various categories and hundreds of shows, you can always find something you like to watch. There are tons of new episodes and shows added to the app, so you will never get bored of it! Download the Hayu app from Google Play or App Store today and find your next favorite show; you will get one month free!
Was this article helpful?