Playing bingo could be a fun addition to your collection of time-honored pastimes if you already appreciate card games like hearts and solitaire. In many cases, you may play these games without spending a dime by downloading the corresponding app to your phone. Playing a certain mobile app becomes exponentially more exciting when real money is on the line.
If you're looking for a way to have some fun while also having the possibility to win some cash, go no further than Blackout Bingo. You can earn money whilst enjoying your favorite games. Naturally, this causes most smartphone users and bingo fans to ask themselves whether this isn't too good to be true. Thus, we decided to invest 20 days into the Blackout Bingo app to find out if Blackout Bingo is a SCAM or not.
It's not. But there are certain specifics around making money with it, so read further to find those out.
What is Blackout Bingo?
Blackout Bingo, formerly known as Blackout Blitz, is a mobile app game that can be downloaded on iOS and Android devices, often via the Apple App Store and Google Play. Big Run Studios Inc., founded in 2019 and headquartered in Oakland, California, developed the game. This company focuses on the development of mobile games that provide an entertaining opportunity to win real-world gifts and cash awards. In addition to Blackout Bingo, they have developed Big Hearts, and Farm Sweeper, Big Cooking, Big Run Solitaire, and Word Star.
Blackout Bingo is a free game that can be downloaded and played on the Skillz platform. Skillz is a firm that assists game developers in integrating social competition into their titles. Dominoes Gold and Solitaire Cube are both well-liked Skillz games. Create a Skillz account within the app in order to preserve your progress in Blackout Bingo.
After creating an account, you have the choice of participating in a variety of bingo game modes. This comprises practice rounds, head-to-head (where you compete against a single opponent), brackets, and tournaments. Each game mode has an admission price, typically a number of Z coins (the game's money) or bonus cash. In each mode, you will compete against other actual players who should have a comparable skill level.
You can deposit real money into your Blackout Bingo account, which may allow you to participate in more competitive game modes and cash games. But if you don't want to use real money, you can still earn cash if you win enough games using z coins.
With tens of thousands of above-average ratings throughout the App Store and Google Play, Blackout Bingo is a popular game overall. Currently, it is the No. 3 Casino app on the App Store. Its attractive graphics, which depict exotic locales like Mexico City and Hawaii, may contribute to its attraction.
What does Blackout Bingo offer, and how does it work?
You can play games in Blackout Bingo using either z coins or bonus cash. Games with bonus cash entry requirements typically feature greater and more costly prizes, but you must first earn bonus cash to participate. The simplest approach to getting bonus funds is to put actual money into your account, which you may not be eager to do. After all, you are then paying actual cash to enjoy a game that is ostensibly free.
To avoid this situation, play games with Z coins. Doing so can earn you tickets – called "Ticketz" in the game -, which can be exchanged for prizes. Due to the fact that one of the available rewards is bonus cash, it is possible to acquire enough tickets to enter higher-tier games and perhaps win larger prizes. However, the procedure could be lengthy because certain low-level games only award one ticket for a victory, and 20,000 tickets are required for $1 in bonus cash.
Earning Z coins involves winning games, collecting bonuses, viewing advertisements, and earning trophies. Trophies contain accomplishments such as winning three games in a row, tournament victories, and changing your username.
If you only use z coins to gain tickets as opposed to real money, it can take a long time to make any progress toward earning real money. However, if you're playing for recreation, this shouldn't matter too much.
Who is eligible to use the Blackout Bingo app?
The App Store has rated Blackout Bingo as suitable for users 17 and older. It is compatible with iOS 10.0 or later on both iPhones and iPads. The languages available are English, French, German, Italian, Japanese, Portuguese, Russian, and Simplified Chinese.
Nevertheless, if you reside in the USA, keep in mind that in these states, it is illegal to play online bingo as a form of gambling:
Illinois
Indiana
Louisiana
Nevada
Michigan
Manhattan
Oregon
West Virginia
Wisconsin
Washington
As a game that can be played with real money, Blackout Bingo is most likely intended for individuals without a history of gambling problems who enjoy mobile games.
If you have or have had gambling debt or gambling addiction, this game may not be the ideal choice for you. It may be too tempting to wager real money for the chance to earn cash awards.
Blackout Bingo could be a good choice, mainly if you want to play bingo games for the fun part of it. It adheres to the same rules as playing with actual bingo cards; only you may find the speed faster. Consistently winning requires a combination of skill and luck. The quicker you can respond by dotting or clicking the called numbers, the more points and bonuses you can win.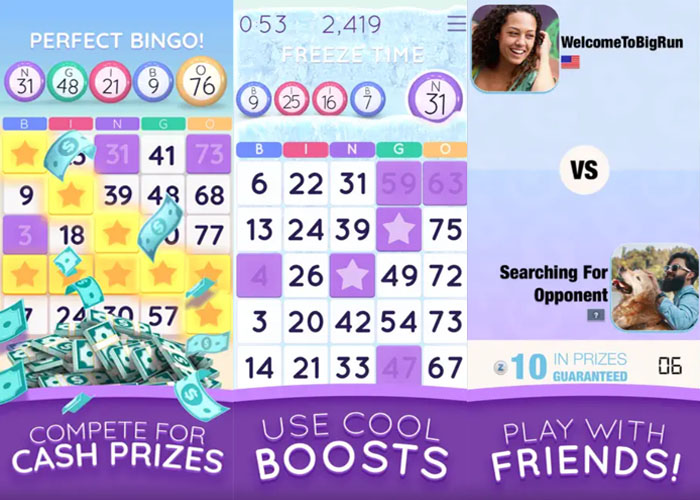 How much money can you make playing Blackout Bingo?
Similar to other games of this type, Blackout Bingo rewards players who are able to consistently win their matches. If you understand how to play this fast-paced game and familiarize yourself with how the power-ups and bonuses function, you may be able to win real money.
However, if you do not deposit any of your own money into the game, this is unlikely to occur for a while. It can be time-consuming to accumulate enough tickets to access bonus cash. Once you have earned some bonus cash, you can play games with cash prizes. But until you have cash, you can only play games that award Z coins.
However, it does not take much bonus currency to begin playing cash-prize-based game variants. For example, to play a head-to-head game against another player, only a 60-cent investment is required to play. In return, you could win $1. Or, you could participate in the "brackets" game style, in which there are several other participants, the reward is $8, and the entry fee is $3.
Blackout Bingo also offers limited-time game variants, such as "Big Money Mondays," in which the prize pool might reach $3,000 in value. This type of cash tournament often has variable rules, however, in one instance, it may be a $5-entry timed event open to anybody. The players with the highest scores at the conclusion of the competition win the prizes. If you wish to attempt a higher score during the event, you must pay an additional $5 registration fee. This event permits an unlimited number of entries.
Using a referral link to invite others to play a game like Blackout Bingo could be one of the easiest ways to earn money from the game. For instance, if you encourage a friend to play using your Blackout Bingo promo code, and they sign up and make a deposit, you and your friend might each receive $20.
Your balance is accessible at any moment. The withdrawal will be processed back to the original deposit method, such as PayPal or a credit card, up to the initial deposit amount. Any withdrawal amounts in excess of your original deposit will be mailed to you by check. Any withdrawal under $10 is assessed a $1.50 processing fee. You may also exchange your prizes for gift cards on networks like Amazon and PayPal.
How to play Blackout Bingo?
To begin playing Blackout Bingo, complete these steps:
Download the Blackout Bingo app from your respective app store.
Launch the application and then select an avatar, and input a username.
Begin a practice game and gain initial experience with Blackout Bingo.
After the warm-up game, play another match.
Then, when you are ready with the last step, select "My Account" from the Main Menu and then "Save Account" to create your account.
Enter your date of birth and further information to complete the account creation. You will soon be required to authenticate your email address.
Begin the game by picking a game mode.
Additional FAQs about Blackout Bingo
Blackout Bingo is a legitimate app available on the App Store and Google Play. It is normal to question whether or not online money games are scams. In this instance, Blackout Bingo has a rating of 4.5 out of 5 based on over 75,000 ratings and reviews. It is the third-ranked casino app on the App Store.
What is a bingo blackout?
A blackout in bingo is when you cover all the spaces on your card, as opposed to only one line, like in traditional bingo. This form of bingo game is commonly played in online bingo games and is known as "blackout bingo."
Can you really win money on Blackout Bingo?
You can win real money playing Blackout Bingo, but it may not be as simple or fast as you'd want. If you do not wish to make a cash deposit, it may take some time to collect enough tickets and redeem them for bonus cash in order to engage in game modes with cash prizes. If you deposit your own money, you can immediately play games for cash prizes at your own risk.
Blackout Bingo Review Summary
Blackout Bingo may not be suitable for all players. If this particular blackout bingo game does not make sense for you, there are other possibilities you can explore to learn how to generate money in your leisure time.
Was this article helpful?