A website called Freecash.com (formerly known as Freeskins.com) advertises that by doing various online microtasks, users can earn cash, cryptocurrency, and free skins. It's a rather easy way to make money. At the very least, they guarantee it.
---
But is Freecash a legitimate option for making extra money online, or is it a fraud to avoid?
---
In order for you to know exactly what to expect and decide whether or not this site is worth your time, this Freecash review will give you an inside look and explore all the site has to offer. In addition to testing it myself, I also compared it to the thousands of other websites that are similar that I have evaluated over the past few years.
So, let's get right to it and begin the review.
What exactly is Freecash.com and what services does it provide?
To minimize misunderstanding, let's begin with the name. Freecash began as Freeskins.com until its rebranding in August 2021. It is the same platform whether you hear about Freeskins.com or Freecash.com, however, it has now officially changed its name to Freecash.
---
Let me state right away that Freecash.com is a legitimate Get-Paid-To (GPT) service that will pay you to complete surveys and offers.
---
It is a very new site in comparison to many others, but so far I am happy with what they have accomplished, and one thing I particularly enjoy is that the individuals behind it appear to put a lot of effort into consistently improving the platform. When it was launched, it was primarily focused on gamers, offering them the opportunity to earn free skins (that was why it was called Freeskins.com). However, it later began giving a variety of fantastic possibilities and benefits for all (more on this later) and relaunched itself to reflect this.
Now, Freecash offers a variety of ways to earn and be rewarded, regardless of who you are or how you choose to be compensated. But, in order to properly grasp how well you may earn from this site and whether it is the appropriate option for you, let's look at the income chances it provides.
Earn money with Freecash's Paid Offers
Paid offers are one of the finest ways to earn money on Freecash. These offers can be found in the Offer Walls area.
---
If you're unfamiliar with offer walls, they're basically in-site advertising systems that promote specific websites and apps through paid offers.
When you click on an offer, you will be given instructions or steps to do in order to finish the deal. As a result, make sure to follow the directions. If you overlook one step, you will be unable to finalize the offer.
---
These paid offers will typically require you to complete a survey or quiz, play a mobile game, download a mobile app, sign up for a website, and a variety of other tasks. Every paid offer on Freecash's offer walls will tell you how many coins you will receive. As a result, you can easily prioritize which offers to accept.
One thing to include as a personal impression is that I did observe that Freecash does not have as many offer walls as some other GPT sites. However, the ones they have will give you access to a wide range of offerings. The good news is that most of their offer walls have reasonable payouts. As a result, completing these compensated offers will allow you to earn decent pocket money. In fact, I compared the rewards they provide to some of the greatest paying GPT sites, and in most cases, Freecash pays far more for identical offers.
Also, they occasionally give bonuses, such as a 50% bonus on any offers you take on a specific offer wall for a limited period. This is something to keep an eye out for because it has the potential to significantly increase your earnings.
Furthermore, Freecash provides something that I have not seen on other GPT sites. They have a section called featured offerings at the very top of the dashboard. This section shows the highest-paying tasks completed by Freecash users in your nation. This makes it much easier to identify the offers and surveys you're most likely to complete and earn money from. So, in my opinion, this is a lovely little extra touch.
Earn prizes with Freecash's Paid Surveys
You can also earn money through Freecash by taking paid surveys.
---
The paid surveys, like their paid offers, will come from other platforms.
---
Their paid surveys are similar to offer walls in certain ways. The only difference is that instead of sponsored offers, you will have access to various surveys. Before you can respond to a survey, you must first create a profile. This is to select which surveys will be sent to you. After you've finished answering their profile questions, you'll be able to access the surveys. Every survey will inform you how long it will take to finish it and what reward you will receive for completing it. So, if you are short on time, you can just select surveys that are quick to complete.
When you click on a survey, you will be asked a series of qualifying questions. This is to see if you fit the demographic for which the survey is designed. If you qualify, you will be able to take the actual survey. If you do not qualify, you must just go on to the next open survey.
---
One advantage of their survey system is that the more surveys you complete, the more high-paying surveys you will be offered. As a result, it will be more useful to complete as many questionnaires as feasible.
---
One thing to keep in mind about this earning possibility is that some survey routers will only be available after you've earned a particular quantity of coins. In comparison to many other sites, the surveys on Freecash.com pay rather significantly for your time. Yet, you must remember, as with many other GPT and survey sites, that you will not qualify for all surveys. That is completely normal, so don't be discouraged if you don't qualify for any surveys. Just keep going until you locate available ones, which normally offer fairly good rewards.
Earn cash with Freecash's Referral Code Program
You can gain extra points by inviting others to join their site. This is known as a referral scheme. All you have to do is share your invite referral link, and whoever joins up using your link will become your referral.
According to the official website, you will get 5% of anything they make on the site, which will be borne by Freecash. It will not be taken from the revenue of your referral. In addition, your referral will earn 100 coins as a welcome bonus for signing up using your link. So it's a win-win situation for both of you.
Earn extra with Freecash's Leaderboard Contests
If you are active on the site, Freecash is a terrific method to earn extra money. In addition to all methods above, it offers daily and monthly leaderboard competitions. At the time of writing, they are giving away free coins to the top 250 persons on the leaderboards. And some of the rewards are really significant, with thousands of dollars given out every month. This is something to keep an eye on because you can make some pretty nice extra money by remaining active and winning a portion of these awards.
Earn money by staying active on Freecash.com
You can obtain free coins by just clicking a button on Freecash's incentives area. As long as you remain active on the site, you can click this once per day to receive some free money. The more days you complete this in a succession, the larger the award.
You can also choose between taking the free coins every day or using the daily bonus ladder to increase your chances of winning even more. In the latter case, you also run the danger of not receiving the points if you use this, but if you're lucky, you can quadruple your free points, and, after enough days in a row, you can even win more than $5 just by clicking a button like this. So this is an option worth remembering to look at because it only takes a few seconds.
Earn prizes with Freecash's Promo Codes
Last but not least, you can locate Freecash promo codes to receive some additional easy free points. The website admins frequently post these several times every week on their social media channels. They won't give you many points, but all you have to do is enter the promo code in the bonus code form in the reward section, which will just take a few seconds.
---
You should be aware that these codes are usually only available to a few people, so you must act quickly to obtain the points.
---
Freecash releases distinct codes on Facebook, Twitter, and Instagram, so keeping an eye on all three platforms for a chance to get these free points is recommended.
How are you paid on Freecash?
Freecash provides a variety of incentive choices. You can either change your coins to cash via PayPal or to cryptocurrencies such as Bitcoin, Litecoin, or Ethereum. You can withdraw your bitcoin to a wallet of your choosing, such as Binance, which I prefer, but the fees will be waived if you withdraw to Coinbase. You can also exchange your coins for Amazon gift cards or other gift cards.
For PayPal withdrawals and gift cards, you must earn at least 5,000 coins, each worth $5. You will just need $0.10 to convert your money to Bitcoin, Ethereum, or Litecoin. So, basically, you can withdraw funds using Bitcoin, Litecoin, or Ethereum whenever you want. As previously stated, there is no cost for Coinbase withdrawals. To make your first withdrawal, you only need to earn $0.20 through offers.
As previously said, the site also provides a plethora of excellent reward alternatives designed exclusively for gamers. For example, you can exchange your coins for Steam credits. The minimum amount redeemable is $6, which requires 6,000 coins. You may also redeem Fortnite currency, and the minimum amount is $10, which requires 10,000 coins.
Finally, as the site's original name implies, you can redeem skins. For instance, they have a large selection of CS: GO skins to choose from. So, if you play CS: GO, you will find this option really useful.
Every time you complete a paid offer or survey, a set number of coins will be awarded to your Freecash account balance. The coins can then be exchanged for several types of incentives. I've been paid by it numerous times, so I know it's legitimate and will pay you. They also provide instant withdrawals for many of their prizes, so if you claim them, you will receive them right away.
How much money can you expect to make on Freecash?
The amount of money you can make from Freecash is primarily determined by how frequently you complete their paid offers and surveys. As I already stated, they do pay well. Their polls normally pay between 100 and 1,000 cents. And some of the premium offerings may pay you significantly more if you select the proper ones. As a result, you'll be able to earn decent pocket money from them.
All in all, to give you some real data I tested Freecash for 20 days. Although a bit lazy on the surveys, I did 2 android games that added 6400 points to my account, which translates to $6.4 in 20 days.
Every day, the site suggests surveys based on your profile that pay 1k or 500 coins depending on length. I haven't done many of them because I was getting denied, perhaps because of how I set up my profile, but the fact is that they appear every day, so it's an excellent chance for $1/day for a 20-minute survey or $0.5 for a 5-minute survey. Also, I found that some survey providers offer a small number of coins (5-10) if you get rejected mid-way.
Can you use Freecash on your phone?
Freecash recently launched its own Freecash app, so you can now conveniently access the many tasks from your mobile device. The app is currently only available for Android smartphones. However, you can still use a web browser to view their site from an iOS device or another device.
Still, with that said, there are good news and bad news for all mobile users. At the time of writing, the application for Freecash is only available from third-party websites, since neither Google Play nor the official website provides download links. The good news is that their site is mobile-friendly, so you won't have any trouble utilizing it on mobile even if you don't have an app for your device.
What I enjoyed best about Freecash is that their website is highly user-friendly, both on the web and on mobile. The user interface is simple and straightforward. So you won't have too much trouble getting started.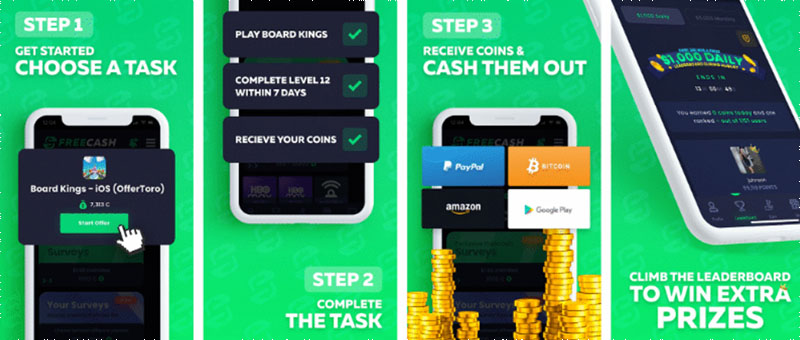 Who is eligible to join Freecash?
Free cash is available almost everywhere. With the exception of a few nations, you will be allowed to join regardless of where you live. Yet, to join, you must be at least 13 years old.
You can sign up as a member using your Google or Steam account. Freecash does not allow you to sign up using your own login information. So, if you don't already have a Google or Steam account, you'll need to create one before you can join Freecash.
Freecash: Pros vs. Cons
Advantages
The website is incredibly user-friendly.
Provides good rewards of up to $17.25 for each promo.
The payout threshold is as low as $0.10.
Payment options include PayPal and cryptocurrency.
Provides excellent assistance, such as 24/7 live chat.
Tasks can be completed using either the Freecash app or a web browser.
Disadvantages
There are fewer earning opportunities than on other sites.
Sign-up choices are limited.
The affiliate program only offers a 5% commission.
If you wish to cash out by PayPal, you must pay a 5% fee.
There have been complaints of accounts being banned despite having committed no rule breaches.
You get screened out from surveys frequently.
Freecash Review Summary
Freecash is a legitimate GPT site where you can earn money by simply completing paid offers and surveys. It has some wonderful features, but it also has some negatives to consider.
Overall, I believe Freecash is a decent service to join if your expectations are appropriately established. It is a good alternative to other GPT sites because it pays well. It also provides a variety of payment alternatives, which is a plus and offers a highly user-friendly website, which will improve your entire user experience. Furthermore, Freecash also works for Eastern Europe residents and provides superior assistance than most other sites. The disadvantage, on the other hand, is that you may run out of things to do to earn rewards because it does not offer as many as some other renowned GPT sites.
If you have any comments, questions, or experiences using Freecash, please leave them in the comments section below.
---
If you decide to give Freecash a try make sure to use our link – this way you support us and we get a small commission. Thank you!
---
Was this article helpful?