Nowadays, many people prefer to rent a car instead of buying. You can save a lot of money and still be able to drive whenever you need, thanks to the rental apps. Renting is a great option when you are traveling in another city too. If you are a frequent traveler or do not own a car, you might be interested in the Zoomcar App!
What is Zoomcar?
Zoomcar is an app that allows you to rent a self-driving car in India. So whether you are going on a well-planned road trip, want to have a spontaneous weekend gateway, or need a ride to the airport, you can rent the car that fits your needs the best on the Zoomcar app.
You can get a car wherever it is convenient and pay the price without any extra charges or hidden fees! There is a wide choice of rental vehicles, with more than 7800 available for you! So just book your ride, get a car and enjoy your trip!
Let's see how the app works and what are the best features you can get your hands on.
How does the Zoomcar app work?
Ordering a car with the Zoomcar app is quite simple. You must follow five easy steps, and you are good to go! First, choose the right vehicle for your trip and pay the security deposit. Next, upload your driver's license so the app can ensure that the service is not used by someone who does not have the right to drive.
After these two steps, you have already booked your car successfully. Then, you can get your vehicle delivered to the most convenient place for you. For example, it can be one of the Zoomcar parking stations close to your house or office, or you can order the car to arrive directly at your doorstep.
The Zoomcar app will send you details of the car twenty minutes before it arrives. Unlock the vehicle using these details and find the keys in the glove box. Before you start your trip, you should fill out a checklist that indicates that you have received your car and are ready to go on a journey. When you finish your trip, you need to return the car to where you picked it up and fill out the end checklist. It will indicate that you have completed your journey.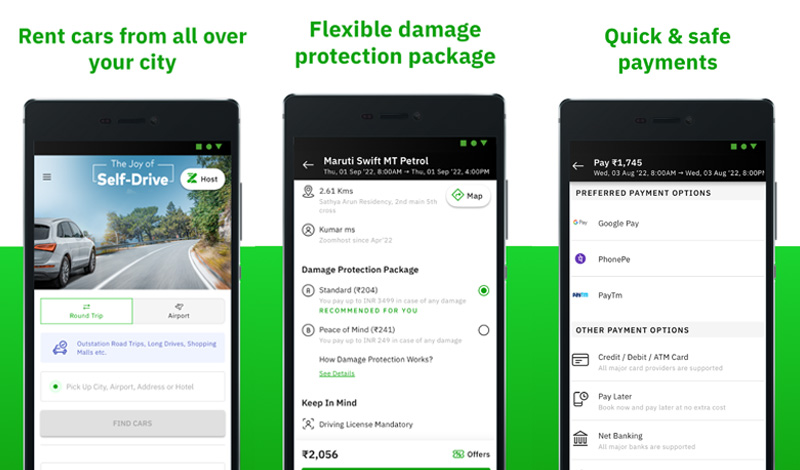 What kind of car can you order?
The Zoomcar app offers a wide choice of rental cars. You can rent a sedan, hatchback, SUV, or luxury car. The car brands available on the app include Ford Figo, Maruti Swift, Maruti Ciaz, Mahindra Scorpio, and Ford EcoSport. Zoomcar can provide more than 7800 cars in total. So you can be sure that you will get the one you want whether you want the vehicle to move in the city, go from one town to another, or even if you want to have a roundtrip through the whole of India.
Suppose you have a business meeting scheduled and want to make an impression or have a special event and want to enjoy your day to the fullest. In that case, you can order a luxury car. You will find the relevant car for every occasion!
Where can you use the Zoomcar app?
The app is available only in India. You can order a car from the Zoomcar app in more than 45 cities. The most popular cities where the app is available are Delhi, Mumbai, Pune, Kolkata, Bangalore, Chandigarh, Chennai, Hyderabad, and Vadodara. However, it is accessible in other cities as well, like Coimbatore, Guntur, Surat, and more. It does not mean you can only travel to these cities with the Zoomcar. You can order the car and go anywhere you want! But do not forget to deliver a car to the exact location once you finish your trip. You can find all available cities on the Zoomcar app or its website.
How much does it cost?
The price plays a significant role when you are renting a car. The Zoomcar app has a transparent price policy which is very convenient for its users. The cost of the rental depends on the type of car you order. For example, the price of the Hatchback car starts from 40 Indian Rupee/hr, While the price for the SUV starts from 55 Rs/hr. You do not have to worry about mileage or fuel. The price includes the cost of fuel; if you run out of it and add some, the Zoomcar app will reimburse the money you.
The price also includes taxes and insurance. There are no hidden charges; you only pay what you see on the app. This is one of the many reasons why so many people love using the Zoomcar app!
If you need a car frequently, you can benefit from the Flexi pricing packages that Zoomcar offers. There are three options you can choose from Zoom Lite, Zoom XL, and Zoom Classic. In addition, you can get 5, 10, and 15 km free driving. To get the most from the Zoomcar app, choose the car and package that fits your planned budget and destination!
Order Zoomcar and get rewarded
Those who love using the Zoomcar app can get plenty of great deals and rewards from the app. You can get referral benefits if you invite your friend to use it. You will receive Rs 500 driving credits from the app, and your friend will receive a 30% flat discount! Sounds great, right?!
That's not all; you can join the Supermilers club and enjoy zero security deposits on every booking. It means that you will not have to pay anything in advance for security whenever you order a car. Moreover, the more you use the Zoomcar rental, the more you can get! For every rental, you earn Z points that can be redeemed for free rides.
Why should you use the Zoomcar app?
Apps that allow you to order a ride or rent a car are not new. However, The Zoomcar app has one of the best features you can think of. It allows you to order at the most convenient place and use it as long as needed. The price policy is unambiguous and includes every necessary charge, including taxes.
All cars have damage insurance, so you do not have to worry about anything; just drive safe wherever you are heading! Thanks to Zoomcar app partners all around India, you can get 24/7 road assistance wherever you might be!
These are just some reasons why more than 3000 users rent a car on Zoomcar daily. Join them by downloading the Zoomcar app on Google Play or App Store today, and have a safe ride!
Was this article helpful?