The newest video game investment from Netflix is the launch of its first internal game development studio, which was created just for the streaming behemoth.
The fourth games studio that Netflix owns will be situated in Helsinki, Finland. According to the vice president of Netflix's Game Studios, the studio will help the company's attempts to provide "interesting original games" to its hundreds of millions of members worldwide.
To date, the company's investment in game development has mainly consisted of purchasing existing studios. Earlier this year, the firm bought Next Games, another Helsinki-based studio; it had previously acquired Night School Studio, the developer of Oxenfree, and Boss Fight Entertainment.
Subscribers to the streaming service have access to a growing library of games on iOS and Android devices at no extra charge and without advertisements. Highlights include Before Your Eyes, a game you can play by literally blinking, and the endearing cartoon platformer Poinpy. Immortality, a suspenseful narrative adventure from Sam Barlow, will also soon be available on the streaming site.
Here's a snapshot of the full statement by Amir Rahimi, VP of Game Studio at Netflix: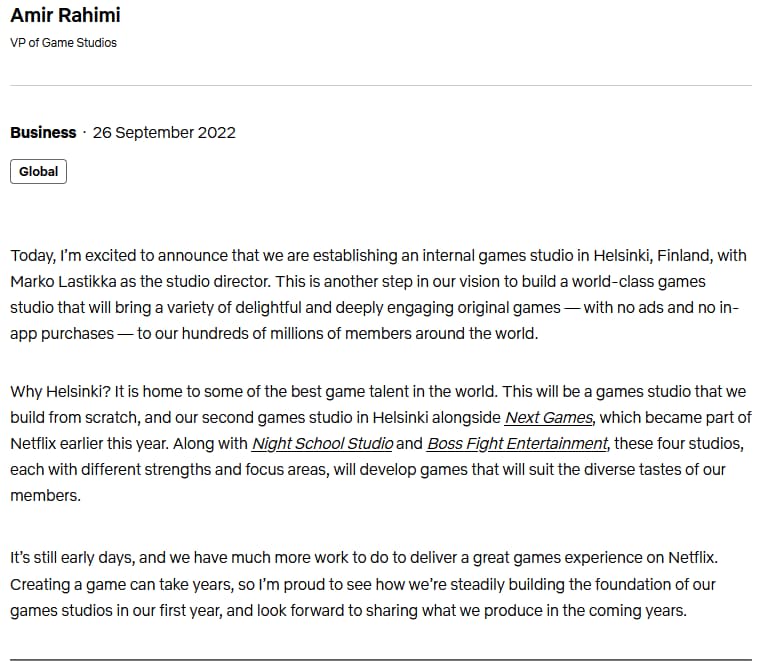 Was this article helpful?