The war for battle royale domination has entered a new area, with PUBG Mobile and Fortnite competing for a larger slice of the mobile gaming pie. Both games are hugely successful and apparent genre pioneers. Still, despite their obvious similarities, there are some essential differences between the two most popular battle royale apps for mobile devices.
Of course, comparing Fortnite vs. PUBG cannot clearly determine which game is superior because many distinctions are stylistic. Yet, here are all of the characteristics that distinguish the two most popular smartphone battle royale games.
#1: PUBG vs. Fortnite: Gameplay Comparison
It has been a long time, but Fortnite was previously thought to be a carbon replica of PUBG. Epic may have appeared to be copying PlayerUnknown's Battlegrounds' homework. Still, the addition of construction revolutionized the formula – there are numerous games like PUBG, but few use Fortnite's building concept.
The most significant difference between the two is constructing when it comes to the Fortnite vs. PUBG gaming fight. When it comes to the latter, you must use the wood, stone, and metal you should have gathered at the start to build your own structures and gain a decent viewpoint. However, unless you have the necessary talents, building at any other time is fatal: player-made structures are visible, and you will be discovered. In PUBG, you don't have that luxury: you must make do with the cover given by the map.
Fortnite has also borrowed several strategies from Apex Legends. For example, Epic's build 'em up now adds a ping mechanism, allowing you to alert your team to loot and enemies without having to speak to them – joy. Another Apex characteristic in Fortnite is the ability to resurrect your buddies if they die, implying that you always have a chance to snatch victory from the jaws of defeat.
Limited-time event modes add another wrinkle to the Fortnite vs. PUBG argument. Fortnite variations like Blitz, which features shorter storm periods, more frantic encounters, and matches with 50 and 20-player teams, have neatly varied up the battle royale model. Bluehole, not to be outdone, replied with their own time-sensitive modes, the first of which included a flare cannon to summon supply drops.
PUBG's gameplay is a more intense, profound experience, with matches lasting longer if you stay alive. In addition, Fortnite is faster and more accessible, and avoiding the heavily disputed locations makes it simpler to reach the top 30-or-so players. However, construction is critical to victory once there, so read up on our best Fortnite building techniques.
#2: PUBG vs. Fortnite: Maps and Game Modes Comparison
The number of maps and game modes available in Fortnite and PUBG is significantly different. Fortnite uses the same map as the PC version. However, it alters slightly as the game progresses.
With each new season, the Fortnite map changes, frequently adding or eliminating entire areas. This keeps gaming interesting, albeit there will never be a second area for players to explore, aside from other modes such as Creative and Save the World.
Having said that, Fortnite periodically offers limited-time game modes like '50 vs. 50′ or 'sniper shootout.' They add some flavor to the game for a short time before disappearing. Instead, PUBG provides a variety of maps, including Erangel, Miramar, Vikendi, and Sanhok. PUBG Mobile also has a mobile-only arcade mode with fewer players to shorten matches to a more mobile-friendly length.
#3: PUBG vs. Fortnite: Graphics Comparison
We believe Fortnite is a far more visually appealing game than its battle royale counterpart. It also performs better in terms of performance, as operating PUBG is likely to be more difficult than Fortnite Battle Royale. But, of course, PUBG Corp is a considerably smaller team, lacking Epic Games' financial might.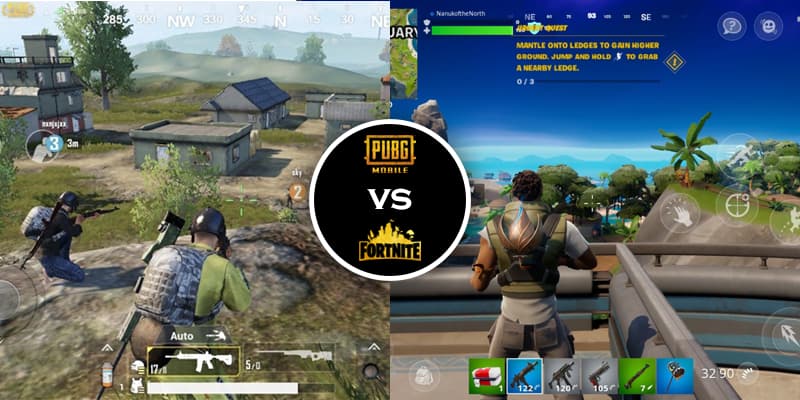 PUBG has obviously mastered the grim, militaristic design, but Fortnite opts for a much lighter, Pixar-esque cartoon style comparable to Team Fortress 2 or Overwatch. However, this can have a negative impact on gameplay. You are much easier to spot when you stand out so brilliantly against the rest of the world. In PUBG, on the other hand, it is simpler to blend in with Erangel's greys, browns, and dark greens.
Fortnite may appear more appealing, but who wins the Fortnite vs. PUBG aesthetics battle is primarily a matter of personal opinion.
#4: PUBG vs. Fortnite: Controls Comparison
The controls are where it becomes clear which studio has more expertise with mobile games. Tencent is the undisputed king of mobile games, and PUBG Mobile exemplifies this.
When it comes to mobile shooter controls, you won't find a better system than the one used in PUBG Mobile. Furthermore, many control schemes are pre-installed, with the possibility to totally configure them to your preference.
Fortnite ultimately provided control customization, but the default controls are unsatisfactory. Part of this is due to the game's more intricate structure, with constructing, traps, and so on, but part is due to specific design decisions. For example, in order to build, which is Fortnite's trademark feature that distinguishes it from other battle royale games, you must first enter build mode by tapping a button. This exits battle mode, and while you can still shoot, you can't change weapons, reload, or use your scope.
Fortunately, both games now have incorporated controller support, so any suitable bluetooth controller should work.
#5: PUBG vs. Fortnite: Weapons and Inventory Comparison
Weapons are a vital aspect in the great Fortnite vs. PUBG battle: the two games are significantly different in this regard. In essence, you must choose between accessibility and intricacy when comparing both games.
There is a wide variety of weaponry and goods in PlayerUnknown's Battlegrounds, with cosmetics available in PUBG crates. PUBG is a military sim for avid shooter aficionados; after all, Arma is in its DNA. If you want a battle royale game with a rich and intricate weapon system that takes into account bullet velocity, firing modes, and DPS, PUBG is the game for you. However, things might become complicated for gamers who have never played a military sim before.
Meanwhile, the weaponry in Fortnite is quite different and far more accessible than those in PUBG. First, owing to the color-coded rarity system, you can tell whether your newly looted weapon is good or bad right away: grey, green, blue, purple, and orange represent common, uncommon, rare, epic, and legendary, respectively.
In addition, there are much fewer weapons and stuff compared to PUBG, with Epic Games vaulting goods on a frequent basis to keep the game fresh and relatively balanced. Furthermore, you do not need to worry about which mods to equip or which ammo type is best: each weapon class has its own ammo type. As a result, Fortnite is far more approachable than PUBG, so if you're new to shooters, Epic's battle royale game might be the one to start with. That is not to imply it will be easy, but it will take less time to get used to in the beginning.
#6: PUBG vs. Fortnite: Performance Comparison
PUBG Mobile and Fortnite are powered by the tried-and-true Unreal Engine 4, which was developed by Epic Games, the creators of Fortnite. As a result, it's not surprising that both PUBG and Fortnite were highly optimized right out of the gate on PC.
In fact, one of the critical reasons Fortnite surpassed PUBG in the first place is because it can be played on considerably less capable PCs than PUBG. However, Epic Games hasn't gone to the same lengths to make Fortnite available on mobile devices. It's not in the Google Play Store, so if you want to play it on Android, you'll have to sideload it on any Android device that meets the following minimum hardware and software requirements:
Android 8.0 Oreo or higher
3GB of free onboard storage
At least 4GB of system RAM
GPU requirements: Qualcomm Adreno 530 or higher, ARM Mali-G71 MP20, ARM Mali-G72 MP12 or higher
Fortnite on mobile looks eerily similar to the PC version, but you can modify your graphical settings to boost performance.
PUBG Mobile, on the other hand, has powerful visual settings that allow it to be adapted to almost any device. Unlike the original PC version, it's reasonably well-optimized, albeit low-res textures detract from the game's realistic feel. PUBG Mobile Lite, which operates on almost any device, is available for individuals with extraordinarily low-end or outdated handsets.
Lightspeed and Quantum Studios have released many improvements to PUBG Mobile, including support for both higher and lower-end Android devices. Both games, though, will deplete your battery faster than you can say "winner, winner, chicken dinner."
#7: PUBG vs. Fortnite: Player Count Comparison
When it comes to PC gaming, you should aim to avoid crowds. While it helps if the lobbies of the top multiplayer games, like Fortnite and PUBG, are crowded, these games are so large that you'll always get a game.
Epic Games' battle royale attempt has been a bigger beast than PlayerUnknown's Battlegrounds for some time now, dominating the battle in terms of Fortnite vs. PUBG player count. When the firm last released its stats, Fortnite had at least 250 million players. Meanwhile, PUBG's sales have struggled to keep pace. However, you should not let the number of players influence your choice of battle royale game. You will have a fantastic time with either and should have no issue locating plenty of opponents to viciously butcher.
#8: PUBG vs. Fortnite: Map Size Comparison
The diversity in their maps is one of the most important reasons for differentiating the gameplay experiences in Fortnite and PUBG. In PUBG, you'll drop into one of four locations – the most extensive maps are Miramar and Erangel at 8x8km, both of which have just been upgraded and refreshed, with Miramar receiving a facelift in PUBG Season 5. The snow-covered Vikendi – the latest PUBG new map – is 6x6km, while the smallest at 4x4km is PUBG's Sanhok map.
In comparison, all save Sanhok are much smaller on the Fortnite Chapter 2 map. Traversing the new Fortnite battlefield is an entirely different endeavor; before the black hole, we had an infinite number of mobility options, such as drift boards, gliders, launch pads, and Rifts, but now all of those vehicles and things are locked away in the vault. The only vehicle access at the moment is a motorboat that can carry four people and shoot missiles. Fortunately, the new map is filled with lakes and rivers to navigate by boat or to dive into and swim across – just be mindful of which way the water is flowing.
Despite the now-restricted mobility accessible in Fortnite, the size of the area compared to PUBG means you're not as much at the mercy of the circle. If you're unlucky with the distance to the safe zone, it's a far more significant concern in PUBG, where you might have to abandon everything in search of a vehicle or risk death. The high-level loot accessible in the map's outskirts, such as Sosnovka Island in Erangel, may make the risk worthwhile.
Overall, the Fortnite map is denser, and you will only die in the circle if you are incredibly unlucky or have poor time management. However, while the increased open area in Erangel may make it more difficult for players to conceal, you can only go prone in PUBG. Each of the multiple Fortnite skins and cosmetics will make you stand out.
Miramar, Vikendi, and Sanhok provide a welcome change of pace. If you're looking for a larger map but are tired of Erangel, consider Miramar. Sanhok, on the other hand, is your best pick for smaller, more action-packed terrain. While Fortnite packs more variety and personality into its single map, PUBG has more map selection and scaling options.
In any case, when it comes to a Fortnite vs. PUBG map battle, those looking for a frantic, high-risk fix should opt for PUBG. On the other hand, stick to Fortnite if you want a more straightforward map with endearingly named townships like Misty Meadows and Pleasant Park.
#9: PUBG vs. Fortnite: Microtransactions Comparison
Another distinction between Fortnite and PUBG is how their content is monetized. To begin with, both mobile games are free-to-play.
The only paid material in PUBG and Fortnite is the cosmetics that provide no competitive advantage. In that aspect, Fortnite has a lot more to offer, with thousands of skins, dances, emotes, and now sprays to unlock. Some of these can be obtained through gameplay, while others must be purchased.
For cosmetic things like parachutes, jackets, and basic clothes, PUBG Mobile initially used a more traditional appearance box system. However, as of update 0.6.0, it now includes the same Battle Pass mechanism that Epic Games has utilized to bolster its coffers.
PUBG vs. Fortnite: Which is better?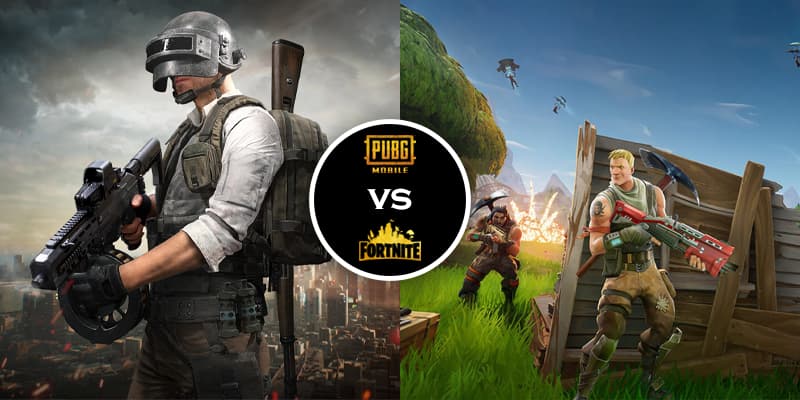 PUBG is gritty, complex, stressful, and has several maps, but Fortnite is colorful, accessible, and has a denser map.
If you are more of a casual player, we would recommend Fortnite, and not only because you can download it for free.
If you are a seasoned shooter veteran looking for a more profound experience, you should choose PUBG.
Both games have a considerable number of players for a good reason: they are wonderful games. We wish you luck in reaching a famous chicken feast, or triumph royale, in whichever battle royale game you select between Fortnite and PUBG.
Was this article helpful?